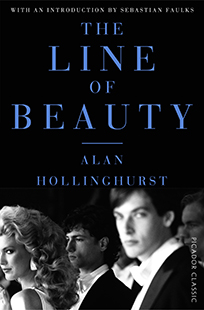 Starting at the moment The Swimming-Pool Library ended, Alan Hollinghurst's The Line of Beauty traces the further history of a decade of change and tragedy.
Richly textured, emotionally charged, disarmingly comic, it is a major work by one of the finest writers in the English language.
It is the summer of 1983, and young Nick Guest, an innocent in the matters of politics and money, has moved into an attic room in the Notting Hill home of the Feddens: Gerald, an ambitious new Tory MP, his wealthy wife Rachel, and their children Toby and Catherine.
Nick had idolized Toby at Oxford, but in his London life it will be the troubled Catherine who becomes his friend and his uneasy responsibility.
As the boom years of the mid-80s unfold, Nick becomes caught up in the Feddens' world.
In an era of endless possibility, Nick finds himself able to pursue his own private obsession, with beauty – a prize as compelling to him as power and riches are to his friends. The Line of Beauty is a novel that defines a decade, exploring with peerless style a young man's collision with his own desires, and with a world he can never truly belong to.
Lifting the veil on the Conservative elite, and the relationship between politics and sexuality in 1980s London, Alan Hollinghurst's Man Booker Prize-winning masterpiece has been adapted into a BBC three-part series, written by Andrew Davies and directed by Saul Dibb.
Alan Hollinghurst ss an English novelist, poet, short story writer and translator. He is the author of six novels, The Swimming-Pool Library, The Folding Star, The Spell, The Line of Beauty, The Stranger's Child and The Sparsholt Affair. His short stories include A Thieving Boy, Sharps and Flats and Highlights. He is the recipient of numerous awards, including the 1989 Somerset Maugham Award, the 1994 James Tait Black Memorial Prize and the 2004 Booker Prize.
---
The Line of Beauty is published by Pan Macmillan Australia (Picador Classic) and is available from Dymocks.
Image: The Line of Beauty – courtesy of Pan Macmillan Australia