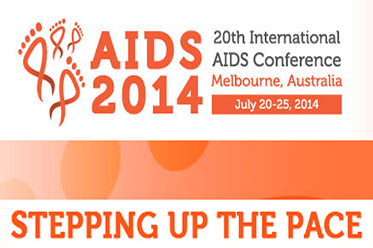 Leading researchers, community leaders and policy makers will come together in Melbourne in July to discuss the HIV epidemic and steps forward at the 20th International AIDS Conference (AIDS 2014).
Organizers of the conference recently announced 19 major plenary presentations, focusing on the primary issues facing the global response to HIV and AIDS. Plenary sessions will open each day of the conference, which is expected to bring together more than 14,000 participants from over 200 countries.
"We are excited to have such a strong roster of eminent speakers as part of our conference programme," said Professor Sharon Lewin, Local Co-Chair of AIDS 2014, Head of the Department of Infectious Diseases, Alfred Hospital and Monash University and Co-Head of the Centre for Biomedical Research at the Burnet Institute in Melbourne.
"The selected plenary topics and speakers will set the tone for a wide range of other sessions. AIDS 2014 will put focus on the most pressing issues related to HIV, including paediatric HIV, Key Affected Populations (including men who have sex with men, sex workers, transgender people, and people who use drugs), new developments in HIV cure and vaccine, and social and legal barriers to prevention and treatment."
"The global response to the HIV epidemic has registered many great successes in recent years," said Professor Françoise Barré-Sinoussi, AIDS 2014 International Chair, President of the International AIDS Society (IAS) and Director of the Regulation of Retroviral Infections Unit at the Institut Pasteur in Paris.
"Recent data from UNAIDS show significant reductions in new HIV infections and AIDS-related deaths, but we cannot let our guard down, we need to build on the present momentum to make sure that scientific advances are effectively implemented."
"By bringing together all stakeholders in the field of HIV, including scientists, people living with HIV, activists, policy makers, political leaders and young people, AIDS 2014 will provide an unique opportunity to discuss collective challenges and successes and, most importantly, new strategies on how to address the epidemic".
The full programme is now under development, including the selection of scientific abstracts and workshops and other programme activities. Programme details will be available on the conference website, in the coming months, with the full programme, including all confirmed speakers, available in June.
The AIDS 2014 Global Village will be a space for the community to meet, share lessons learned and build coalitions. It is also a space that invites conference participants to see how science translates into community action and intervention. AIDS 2014 will also feature a variety of activities, including many planned by and for young people as part of the official Youth Programme.
The 20th International AIDS Conference (AIDS 2014) runs from 20 – 25 July 2014. For more information, visit: www.aids2014.org for details.