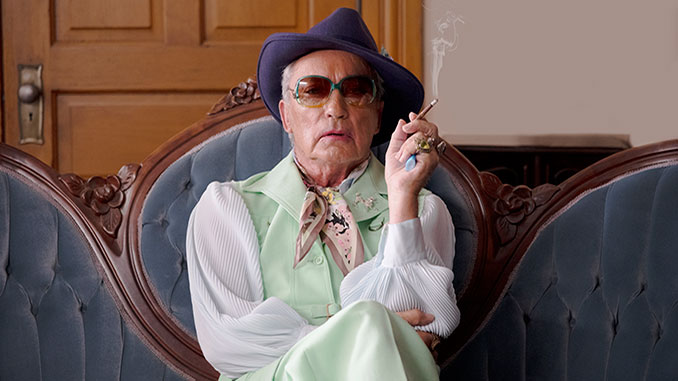 After a two-year hiatus, older LGBTQ people and their friends are set to once again celebrate all things queer on the silver screen, with the highly anticipated return of Afternoon Delight on Sunday 3 April 2022.
Produced by ACON, NSW's leading LGBTQ health organisation, Afternoon Delight is a movie matinee, afternoon tea and social gathering event for older LGBTQ people and their friends in Sydney. Marking an important return to in-person events for ACON's LOVE Project, the event is presented in partnership with City of Sydney and the NSW Seniors Festival, and in association with Queer Screen.
Older LGBTQ people will be treated to a selection of LGBTQ-themed shorts, followed by the feature film Swan Song starring the iconic actor Udo Kier. The acclaimed film from director Todd Stephens tells the true story of Pat Pitsenbarger, a retired gay hairdresser who, in his final days, escapes from a nursing home to style a former client's hair for her funeral, in a journey that takes him back home.
"Celebrating its 13th year, this is ACON's annual premiere event for older LGBTQ people, their family and friends. We are excited that the event will be an important opportunity for older LGBTQ people to once again meet up in-person following two years of restrictions," said ACON CEO Nicolas Parkhill.
"Following the difficult times we have all experienced over the past few years, events like Afternoon Delight allows for older members of our communities to get together in a welcoming environment, enjoy movies about their lives and also reduce a very real sense of social isolation that many can experience – an experience of which we know was heightened during pandemic restrictions."
"It remains vital that we help connect older LGBTQ people with each other and maintain healthy social lives, as they can bring so much benefit to our health and wellbeing," said Parkhill.
The screening will be followed by a delicious afternoon tea served by local drag queens, which will give attendees the chance to mingle, chat and pick up local health information about living well and healthy.
"Since it was first held in Sydney in 2007, Afternoon Delight has grown so much over the years and we thank everyone for their getting behind this important event throughout the years, as well as for their continued support for the health and wellbeing of older members of our communities," said Parkhill.
"NSW has a significant older LGBTQ population and they continue to play a vital and valued role in our communities – a role that must be celebrated and treasured. We thank our partners and supporters for continuing to recognise the LGBTQ community in their celebrations."
"As a sense of normality starts to return to our lives, we look forward to working more closely with a range of community organisations to help provide more opportunities for older LGBTQ people across NSW," said Parkhill.
---
Afternoon Delight is a free community event on Sunday 3 April 2022 (2.00 – 5.00pm) at Event Cinemas, George Street, Sydney for older LGBTQ people, their family and their friends – young and old, and bookings are essential. For more information and to register, visit: www.acon.org.au for details.
Image: Udo Kier stars in Swan Song (supplied)