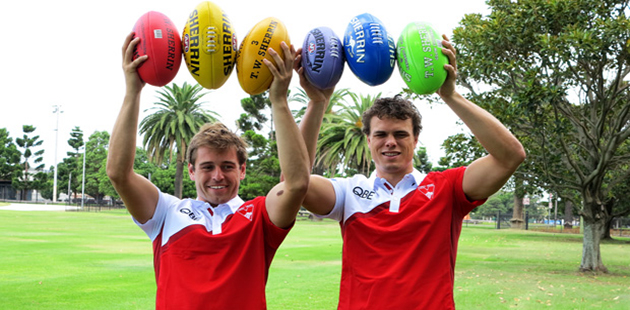 The Sydney Swans and Fremantle will compete in the AFL's first pride match next weekend after the League was approached to introduce the concept and celebrate diversity.
Major sponsor NAB last year spoke to the AFL about using the NAB Challenge to raise awareness of the lesbian, gay, bisexual, transgender and intersex community and prevent homophobia. The AFL has nominated the pre-season game between the Swans and Dockers on Sunday 15 March at Drummoyne Oval in Western Sydney, as the first AFL-sanctioned match to stand for the cause.
AFL football operations manager Mark Evans said the inclusive nature of the Australian game lent itself to the idea.
"The AFL is proud to be hosting this game, and in doing so we are saying to our community that we want to be part of change in Australia," Evans said. "Diversity and inclusion is essential to our game. We say 'no matter who are, where you are from or who you love, we can all love footy'."
The 50-metre arc, goal post pads and goal umpire flags will be decorated in rainbow colours for the game.
NAB Group CEO Andrew Thorburn said the introduction of the game was in line with the company's values. "At NAB we believe in diversity – we want everyone to be themselves at work, home and at the footy," Thorburn said.
"The NAB Pride match has been created because at NAB, we don't just sponsor the game. We want to use football's reach to demonstrate our support for our people and our customers in the communities we serve, regardless of their gender diversity or sexual orientation."
For more information, visit: www.afl.com.au for details.
Editorial / Image: www.afl.com.au