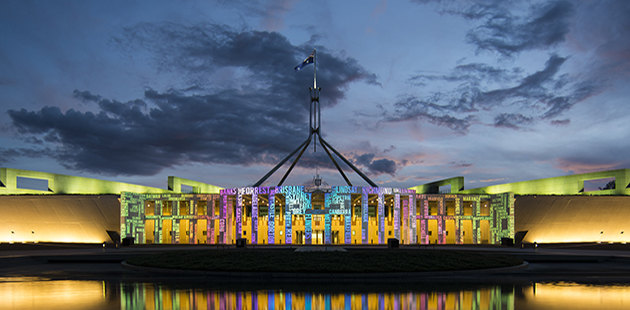 Marriage equality advocates who have campaigned against a plebiscite and for a free vote are elated that Labor says it will vote to block a plebiscite on the issue.
"Labor's announcement that they are going to block the Plebiscite was extremely emotional for me," said National spokesperson for Parents and Friends of Lesbians and Gays, Shelley Argent. "After the many years of meeting with MPs and Senators I can now see that we just need the Coalition to do what it knows is right, not necessarily easiest and allow a Free Vote."
Long-time marriage equality advocate, Rodney Croome, said he is also happy with Labor's decision but warned the plebiscite isn't dead yet.
"Labor is helping to avert what would have been a disaster for the LGBTI community and for Australian society, but I am not celebrating yet, not until the last vote is taken on this pernicious plebiscite," said Croome. "I urge everyone concerned about a plebiscite to keep speaking out against it to ensure the Senate votes it down."
Ivan Hinton-Teoh, spokesperson for LGBTI lobby group, just.equal, said there is an alternative way forward for marriage equality.
"Not only is there a way forward, it is already taking shape with Liberal backbenchers talking privately about revisiting a free vote and with various supporters of marriage equality talking about a cross party bill in the Senate," said Hinton-Teoh. "If supporters of marriage equality across all parties work together to move legislation forward I am confident we will see the reform sooner rather than later."
Mr Croome was critical of the Government's proposed amendments to the Marriage Act that allow civil celebrants and church-owned businesses to refuse service to marrying same-sex couples.
"Churches should be free to refuse to marry same-sex couples but church-owned businesses should abide by the same rules as every other business, including equal treatment of all customers," said Croome. "Civil celebrants are registered to discharge an important legal duty on behalf of the Government and should also be bound to treat everyone fairly and equally."
Image: Parliament House Canberra