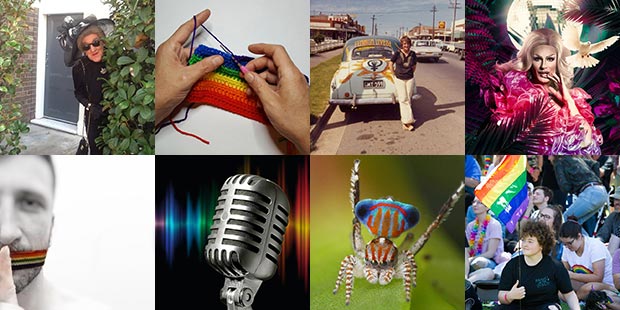 Feast, Adelaide's LGBTIQ Queer Arts and Cultural Festival has launched its 2019 program with a brand-new concept to underpin the Festival – Pridevember – a celebration of Feast and all that is Queer in South Australia for the whole month of November.
The concept of Pridevember has been derived from the important role Feast still plays within the LGBTIQ+ communities and to continue building relationships, visibility and trust with the wider Australian community. Pridevember will celebrate and reflect on key milestones that have faced the LGBTIQ+ communities over many years.
From the horrific murder of Dr George Duncan in 1972 that pushed for major homosexual law reform that was passed in 1975, making South Australia the first State to decriminalise homosexuality, right through to 2017, where the Australian Government passed the Marriage Amendment Bill making same-sex marriage legal.
This year's Festival program will bring Pridevember to life and is full of unique, new and thought provoking LGBTIQ artists and events from across Australia. Championing this year's program are three fabulously flamboyant Ambassadors including Internet sensation and star of the incredibly hilarious YouTube series Complete Drivel Live, Christian Hull.
"I'm putting the ass in ambassador and I'm coming to party with you as Ringmaster for the first ever, Feast Carnival Party," said Hull.
Hull will be joined by seven-time Women's National Basketball League champion Natalie Hurst, who has recently been signed with the Adelaide Lightning and will be playing in this year's Basketball Pride Match, as well as a pair of pink same-sex attracted flamingos from the Royal Zoological Society of Scotland's Edinburgh Zoo – who became world famous in 2014 for adopting an abandoned flamingo egg.
Appropriately, the iconic and majestic pink flamingo returns as the Festival theme, following its success in 2018 along with a new initiative with SA Power Networks, which have enabled Feast to become more accessible, offering free entry to people carrying valid concession cards to a range of Festival events.
Feast's brand-new event, Carnival will be an unforgettable night of queer entertainment featuring F*cking Adelaide star, Brendan Maclean and Triple J Unearthed High finalist Lupa J. Set over two courtyards at the Migration Museum on Saturday 9 November, Carnival will feature magical attractions, roving entertainment and a glorious line-up of South Australian artists.
A range of entrée events will kick off Feast's Pridevember from the beginning of November, followed by a variety of events including cabaret, theatre, comedy, music, literature, conversations and concluding with the family friendly event Picnic in the Park on Sunday 24 November.
A great day out in the sun where you can bring along your picnic blankets and baskets and enjoy the serenity of Pinky Flat/Tarntanya Wama. There will be an assortment of local market stalls, food vendors and community information stands. The day is fun for the whole family – with the annual dog show taking place, as well as the SA firefighters tug-of-war and music by Hit 107.
As always, Feast celebrates all that is Queer Culture including outrageous Drag Queens and inclusive community events to gut-wrenching performances that examine what it means to be queer. Below is a small snapshot of what you'll get to see in the 2019 Guide. Highlights include:
Daring to be Different
Migration Museum: continues to 24 November
What a difference a Lesbian, Gay, Bisexual, Trans, Intersex, Queer person makes! This exhibition showcases the lives and achievements of a group of South Australian Rainbow Elders associated with ECH. It highlights past and present inequalities, and celebrates the creative ways in which these have been challenged and, to varying degrees, overcome.
Buggery! The Very Queer Sex Lives of Bugs 'n' Slugs
Plant 4 Bowden: Sunday 3 November
So, someone told you that you're Queer? Well you might not be as queer as snail! In fact, it turns out that snails, spiders, stick insects, giant cuttlefish and a host of other mini beasts have sex lives much queerer than you could ever imagine. Join Kris Messenger and the crew from Bugs'n Slugs as they take you on a journey of discovery to reveal and explore the very queer sex lives of invertebrates.
Crochet with a Gay Hooker – The Exhibition
Adelaide City Library: 6 – 24 November
Gay, Disabled, Fibre-artist, Richard Boyle uses amigurumi (a Japanese knitted or crocheted small, stuffed yarn creature) to celebrate identity and to connect with the greater queer community. Richard's plush-portraits will be exhibited, celebrating LGBTIQ+ culture and queer people the world over. Featuring gay-icons like Madonna, Divine, and an assortment of favourites from the hit TV show, RuPaul's Drag Race. Checkout Richard's Crochet with a Gay Hooker Workshops and Seminars!
Nunsense A-Men
Holden Street Theatres: 7 – 9 November
Dan Goggin's Nunsense A-Men is his original Nunsense show… but the nuns are played by men! The Little Sisters of Hoboken are staging a talent show to raise funds to help bury the 52 members of their convent who recently died en masse from food poisoning. They sing, dance and pray for a miracle while celebrating convent life and keeping their deceased sisters on ice!
Close Encounters: Rainbow History Walks Season 23
Adelaide: Sunday 10 & Saturday 23 November
Life's a journey! Who's around that corner? Gertrude regales you with gay tales: pubs, Grammar, park lands, Himeji Gardens, Box Factory, Hurtle Square. We tour the gay sauna. We recognise a Hawke Labor Government legacy –  support for community-based, harm-reduction HIV/AIDS initiatives. We celebrate anniversaries: Uranian Society's Pearl; Parkestone Foundation's Ruby. There's always something new to discover with Gertrude!
Confessions at the Pub
The Kings Head Hotel: 12 – 21 November
After many years, Jess and Isaac have taken a bold step back in time to when they went to school together as friends but faced coming out to friends, peers and family as individuals. Similar yet vastly different stories retold from original journal entries showcasing the light and dark of a truly tumultuous time, performed intimately at the pub.
Ukulele Dream Girl
Sparkke at the Whitmore: 13 – 16 November
Sometimes, in a world promoting human connection via Instagram, the most genuine moments can still feel distant regardless of the space between us. Love is often modelled in rigid ways, but what about the stories beyond the honey moon or summer love phase? Join The Ukulele Dream Girl for a tour of new perspectives about love in all forms.
Dragapalooza:
Mary's Poppin: Friday 15 November
Beat your faces, get dusted and feel your fantasy – we've got a line-up fit for the GODS – it's the second edition of Dragapalooza. The most sickening line up of your fave SA Drag Artists take the stage for a mega-show that will leave you gooped, gagged and giving you life – all tea no shade. Dragapalooza will also be audio described, giving people with a vision impairment or low vision the opportunity to experience a drag show.
Considering Matthew Shepard
Flinders Street Pilgrim Uniting Church: Friday 15 & Saturday 16 November
A modern day passion, Considering Matthew Shepard tells the story of Matthew Shepard, a 21 year old, gay college student beaten and left to die in October 1998 in Laramie, Wyoming. Moving among styles ranging from Lutheran hymnody to blues to Broadway, this Australian concert premiere for choir and ensemble reaches beyond tragedy to find peace, understanding, and life-affirming joy.
The 2019 Feast Festival takes place across Adelaide throughout November. For more information, and complete program, visit: www.feast.org.au for details.
Image: 2019 Feast Festival events (supplied)