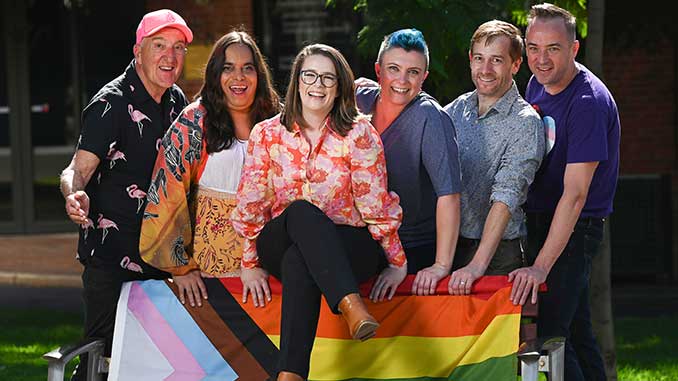 Adelaide's Feast Festival has announced the appointment of entrepreneur and community member Tish Naughton as its new CEO. This announcement is serendipitous with international Lesbian Visability Week this week!
Feast Festival is Adelaide's not-for-profit Queer Arts and Cultural Festival, bringing together LGBTQIA+ artists and community members to celebrate all things Pride.
Naughton is a visionary leader, and brings a wealth of experience in business and financial management including a decade of owning and operating small businesses in the financial and retail sector. She has been in the role of Operations Manager of Feast Festival since February 2023.
She is also an award-winning entrepreneur, having been named a finalist in the Business Blueprint Female Entrepreneur of the Year Awards in 2015, and in the Shoestring 2014 Top 50 Australian Female Entrepreneurs Under 40, and Anthill Australia's Top 30 Under-30 Entrepreneurs in 2013. She also won the In-Business Young Business Leader of the Year in 2011.
Naughton is excited for the opportunity to guide Feast Festival as a queer-run event. "Feast has had wonderful leadership in the past and I'm excited to stand up for the LGBTQIA+ community whom I am a proud member of, and guide this vibrant and promising festival to ensure it flourishes in the future," she says.
"Now more than ever we need a strong Feast Festival. We've come so far, but that progress cannot be taken for granted."
"Feast has had a wonderful 25 years and achieved so much for our community, and we need to honour that, as we move forward into the next 25 years. We must continue the fight for representation, visibility and celebration," said Naughton.
Feast Festival Chair Adam Gardnir said Naughton was selected through a nationally competitive process and was the standout candidate. "Tish is an inspirational business leader who has an ambitious vision for Feast Festival and proven abilities to achieve it," he said.
"I believe Tish's future-focus will open Feast up to new communities and I invite all members of our wonderful rainbow and our allies to get in contact."
"Feast is a strong and diverse festival with a boundless future ahead of it, particularly now with Naughton in the CEO role. Our new CEO is a jewel in our very colourful crown."
"I'd like to personally thank Feast Ambassadors Charlotte Coulthard-Dare and Will Sergeant for assisting the board and I in selecting Tish," says Gardnir.
---
The 2023 Feast Festival will take place in November. For more information, visit: www.feast.org.au for details.
Image: Feast Festival CEO Tish Naughton (centre front) with former Feast Ambassadors Will Sergeant and Charlotte Coulthard-Dare and Board Members Jo Robinson, Sam Silvester and Chair Adam Gardnir – photo by Naomi Jellicoe