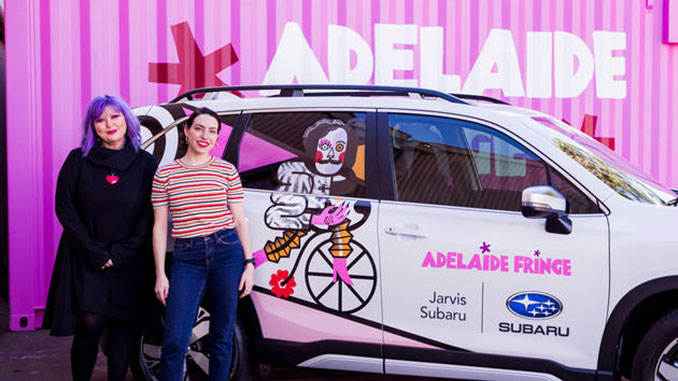 The festival season is one step closer with the launch of the official Adelaide Fringe program guide – which is now available.
Fringe is bringing the guide closer to audiences in 2021 with more than 100 collection points across South Australia including your local Drakes Supermarket and BankSA branch.
Close to 800 open-air, indoor and online events (over 22,000 performances!) are listed in the guide ready for festivalgoers to explore and experience Fringe in their own unique way.
Choose from 13 genres including comedy and cabaret, circus and physical theatre to magic, music and film that will see South Australia bursting with the arts once again.
Audiences can catch this year's ambassadors – comedian Ross Noble, musicians Electric Fields and Adelaide-born actor Tilda Cobham-Hervey's one-on-one with TODAY Show entertainment presenter Brooke Boney.
Adelaide Fringe Director and CEO Heather Croall says it's more important than ever for audiences to get out there and support artists, producers and venues this Fringe.
"The greatest annual celebration is nearly on our doorstep and we can't wait for audiences to get their hands on a copy of the guide, flick through the pages, booking their tickets and be captivated and thrilled by what artists will be bringing to Adelaide," said Ms Croall.
"It's always so exciting to see the amazing level of creativity and innovation in Adelaide Fringe, and especially this year with Fringe hosting a wide variety of shows, experiences and events with over 800 shows across 275 venues."
Fringe is ensuring audiences can engage with the festival in a COVID-safe way with the introduction of QR codes for contact tracing as well as following all current government guidelines across all venues.
Due to capacity restrictions, audiences are encouraged to get in early and buy tickets to ensure they don't miss out on their favourite artist or event.
---
The 2021 Adelaide Fringe runs from 19 February to 21 March. For more information and tickets, head to the Rundle Mall Box Office or visit: www.adelaidefringe.com.au for details.
Image: Adelaide Fringe Director and CEO Heather Croall with 2021 Fringe Designer Polina Tsymbal – photo by Rebekah Ryan