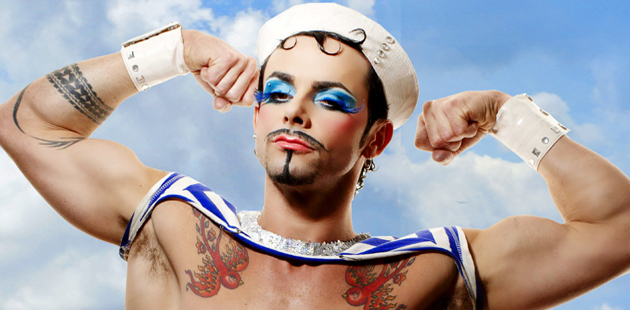 With the theme, Eyes Open, the world's largest cabaret festival returns to the Adelaide Festival Centre this June with a diverse program of music, comedy and cabaret.
The 2018 Adelaide Cabaret Festival features more than 330 artists from five counties (including 280 Australians and 116 South Australians artists) in 52 performances that includes 16 world, 10 Australian, and 11 Adelaide premieres as well as 10 exclusives and three original shows commissioned by the Festival.
"I wanted to capture the sense of change in the world at the moment and how cabaret is, and always has been, at the forefront of telling the stories of change, reckoning, futility, and fun," said Adelaide Cabaret Festival Artistic Director, Ali McGregor. "I am so proud that we have such a diverse and international cross section of the very best that the cabaret genre has to offer."
Festival headliners include Broadway royalty and two-time Tony Award winner Patti LuPone in Don't Monkey with Broadway and Tony Award winning and Golden Globe nominated co-creator of Hedwig and the Angry Inch, John Cameron Mitchell.
For one night only, The Cat Empire and a special guest line-up of cabaret artists will explore how we see music in Them There Eyes. Rock enthusiasts will flock to You Am I Plays Spinal Tap (with front man Tim Rogers). Known for her razor-sharp wit and sassy stage presence, Lea DeLaria (Orange is the New Black) brings jazzy reinterpretations of Bowie's greatest hits. New Zealand's charming rat pack, Modern Maori Quartet showcase Maori waiata, showband hits, pop classics, and originals.
Acclaimed artists Nancye Hayes and Todd McKenney share backstage confessions and decades of theatrical highs and lows in Bosom Buddies. Madeleine Peyroux delivers jazz and blues standards in a stunning Adelaide premiere. Joey Arias returns to the festival to revive the spirit of NYC's legendary Club 57 in Three Floors of Madness. Archie Roach and Tiddas reunite to play treasures from their long lost album Dancing with My Spirit.
A record number of performers with Adelaide connections have their own shows including Mark Holden who draws on his family's travelling circus history and his Countdown and Australian Idol days in Mark Holden's Greatest Show on Earth. Other stars with South Australian links are Libby O'Donovan, Joanne Hartstone, Carla Lippis, Cameron Goodall, Tom Flanagan, Johanna Allen, Michaela Burger and Adelaide's favourite German, Hans.
Artists channelling classic icons include Amber Martin (Janis Joplin in Janis: Undead), Matthew Floyd Jones of Frisky and Mannish (Richard Carpenter Is Closer to You), Queenie van de Zandt (Blue: The Songs of Joni Mitchell), award-winning actress Jane Clifton of Prisoner fame (Linda Ronstadt in Rock Venus), and Mikelangelo (Balkan Elvis in Eastern Bloc Rock and Tom Waits for No Man). Andrew O'Keefe "shouts" Johnny O'Keefe in a world premiere performance intertwining his own experiences with his uncle's legendary stories.
Comedic cabaret artists are a highlight this year. Australian comedian Lawrence Leung invites curious adventurers to step into his dubious, hilarious laboratory of Very Strange Things and Em Rusciano performs with an 18 piece band for the first time in Difficult Woman.
The bizarre story of a giant ape set to rock music is narrated by neo-punk cabaret diva Yana Alana joined by HOMOsapiens in The Legend of Queen Kong. Opera Australia soprano Antoinette Halloran's Taking it Up the Octave is hilariously risqué yet breathtakingly tender.
Artistic Director Ali McGregor will display her extraordinary vocals when she transforms into 1950s Peruvian songbird and Hollywood darling Yma Sumac. She will also re-embrace her circus days with a selection of mischievous burlesque acts for modern-day vaudeville sensation, Glorious Misfits.
Adelaide Cabaret Festival favourites are also back again this year – the opening night Variety Gala, the Closing Gala celebrating the winter solstice with soulful songs, and the Family Gala with a musical junkyard theme.
"Adelaide Festival Centre looks forward to delivering Ali McGregor's Adelaide Cabaret Festival program," said Adelaide Festival Centre CEO & Artistic Director Douglas Gautier. "This year all festival events are back under one roof at the Festival Centre and with our brand new Walk of Fame, foyers, bars and cafes open, we are ready to welcome some of the world's greatest cabaret artists and the audiences that love them.''
The 2018 Adelaide Cabaret Festival runs 8 – 23 June. Tickets are now on sale. For more information and complete program, visit: www.adelaidecabaretfestival.com.au for details.
Image: Captain Kidd (supplied)