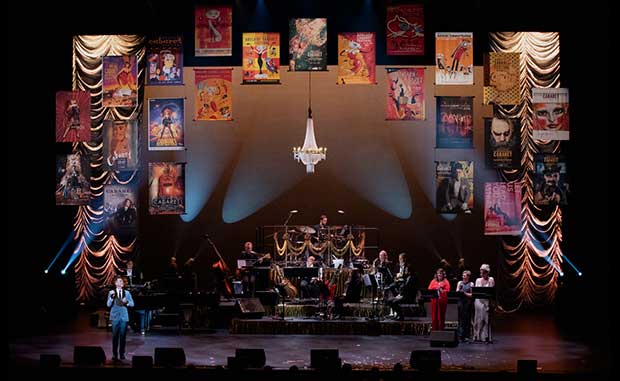 Adelaide Cabaret Festival 2023 has ended on a high, celebrating one of the most successful years yet, featuring more than 30 sold-out performances over 12 days and nights of glittering shows by a star-studded line-up of the brightest and boldest performers.
There were more than 50,000 attendances at the world's largest cabaret festival this year, which also celebrated Adelaide Festival Centre's 50th Anniversary with an all-star line-up of nine Artistic Directors, The Cabaret Collective – Julia Holt, David Campbell and Lisa Campbell, Kate Ceberano, Eddie Perfect, Ali McGregor, Julia Zemiro, Alan Cumming and Tina Arena.
With 34 sold out performances and countless standing ovations, the program featured 342 artists and musicians including 13 world premieres and 20 Adelaide premieres by a large contingent of Australian artists and performers from the USA, United Kingdom, and France. 
Sold out shows included: The 2023 Variety Gala on opening night, RocKwiz featuring Julia Zemiro and Brian Nankervis, Kate Ceberano's My Life Is A Symphony, Reuben Kaye's brand new show EnGORGEd, Paul Grabowsky's Edge of Reality Elvis Presley Songbook, An Evening Without Kate Bush featuring Sarah-Louise Young, Roscoe-James Irwin in Lost in A Dream and Comedians Auditioning For Musicals.
Recently announced during the second weekend of the festival, award-winning Australian stage and screen star, writer and consummate performer Virginia Gay will take on the role of Artistic Director for the 2024 Adelaide Cabaret Festival with the festival to take place next year from 7 – 22 June.
A popular face on televisions across the country through her roles in Channel 7's All Saints and Winners and Losers, ABC's Savage River and SBS' A Safe Home, incoming Artistic Director Virginia Gay has won accolades and hearts alike for her stage roles including in Calamity Jane and most recently in Cyrano, which she also wrote. 
Virginia has also performed at Adelaide Cabaret Festival several times over the years in shows including as charismatic host of this year's The Variety Gala, Dirty Pretty Songs, Songs to Self-Destruct To and Gentlemen Prefer Blokes.
"A huge thanks to our loyal audiences, incredible artists, supporters and wider team for being part of one of our most successful Adelaide Cabaret Festivals to date," said Adelaide Cabaret Festival Executive Producer Alex Sinclair.
"There is no denying this beloved winter festival is a highlight of the Australian arts calendar and you could feel the buzz among audiences and backstage. We can't wait to see you again in 2024, with Virginia taking the lead," said Sinclair.
"The 23rd Adelaide Cabaret Festival was incredible and once again put Adelaide on the map as hosting the best cabaret festival in the world," said The Hon. Andrea Michaels MP, Minster for Arts.
"My thanks to the nine Artistic Directors and all of the performers who sprinkled us with glitter and shared stories, songs, tears and laughter. I can't wait for 2024 with the inimitable Virginia Gay at the helm as Artistic Director," said Minister Michaels.
"We thank The Cabaret Collective for bringing their artistic visions to life this year and to the cabaret staff and team who continue to deliver this wonderful festival," said Adelaide Festival Centre CEO & Artistic Director Douglas Gautier AM.
"The feedback from audiences and artists alike has been nothing short of exceptional and a great continuation of Adelaide Festival Centre's 50th Anniversary celebrations," said Mr Gautier.
Produced and presented by Adelaide Festival Centre, Adelaide Cabaret Festival has grown from modest beginnings in 2001 to become Australia's major winter festival and the largest cabaret festival in the world.
The festival has been a platform for shows and performers who have achieved critical acclaim and featured world-renowned artists including Ms Lisa Fischer, Kristin Chenoweth, Idina Menzel, Tim Minchin, Dita Von Teese and Patti LuPone to name a few.
---
The 2024 Adelaide Cabaret Festival will be held from 7 – 22 June. For more information, visit: www.adelaidecabaretfestival.com.au for details.
Image: David Campbell with Ali McGregor, Nina Ferro and Virginia Gay perform at the 2023 Adelaide Cabaret Festival Variety Gala – photo by Kelly Carpenter