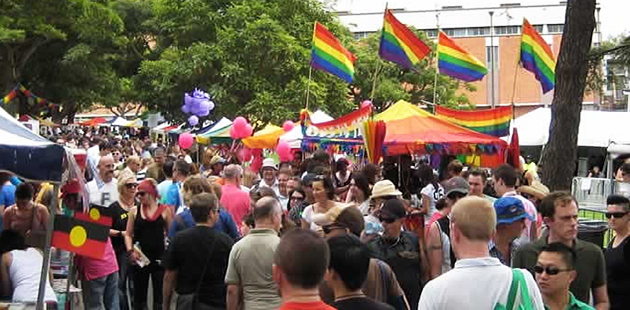 Visitors to this year's Mardi Gras Fair Day on Sunday 18 February are being urged to find out how to improve their health and wellbeing by visiting the ACON Zone.
Located near the Cleveland Street and City Road entrance of Victoria Park in Camperdown, the ACON Zone will feature an expanded footprint of activities, highlighting ACON's work in relation to HIV prevention, HIV support and LGBTI health.
Drop in and have your photo taken with the How Do You Do It? inflatables, find out more about other effective forms of HIV prevention, take part in vital health surveys, get more information about ACON's counselling, community care and Mardi Gras safety services, or chill out in the Gay Men's Sexual Health Marque.
"ACON is always thrilled to be a part of Mardi Gras Fair Day as it's an iconic event on our community's calendar," says ACON CEO Nicolas Parkhill. "Fair Day also provides ACON with a unique and effective platform to showcase the many and varied ways we work to improve the health of our community, celebrate our diversity, and commemorate our history."
"Our staff and volunteers will be on hand throughout the day to also provide information on how people can safely enjoy all that the Mardi Gras festival has to offer."
Staff will be promoting ACON's How Do You Do It? campaign, which raises awareness of the HIV prevention strategies now available to gay men such as condoms; PrEP – a pill taken daily by HIV-negative people to prevent HIV transmission; and UVL – where people with HIV take treatment that see viral loads suppressed to an undetectable level, meaning that transmission is virtually impossible. Visitors can help spread the word by having their photos taken with three large inflatables of a condom, a PrEP pill and an HIV treatment pill.
Visitors to the ACON Zone will also be able to make a vital contribution to community health research by taking part in several surveys including the Sydney Gay Community Periodic Survey, SWASH (Sydney Women and Sexual Health) Survey, the COUNT study and Asian Gay Men Survey. The surveys only take a few minutes and will help generate much needed data that informs important community health initiatives.
Other dedicated stalls within the ACON Zone will provide information about ACON's range of ageing and community care services such as counselling, care coordination, and home-based care and support for older people and people with HIV.
Visitors will also be able to find out more about ACON's services for women, young gay men and Asian gay men as well as how ACON promotes workplace, sporting and health inclusion for LGBTI people. Attendees will also be able to find out more about the ACON Rovers and the Fair Players, teams of volunteers who help keep partygoers safe and protected at all the big Mardi Gras events and parties.
For the second year, ACON will also take the lead on Doggywood – which will feature a host of activities that highlight the important role pets play in improving the health and wellbeing of people in our communities. "ACON is once again proud to bring back Doggywood to Fair Day, as we know that pets provide an important source of love and support for many people in the LGBTI community," said Parkhill.
"They keep us active and providing devoted companionship, so it's only fitting that we love them back and pay tribute to our furry friends with a fun celebration of all things canine. We invite all our friends, supporters and partners to join us on Fair Day, to make this year a special and safe Mardi Gras."
The 2018 Mardi Gras Fair Day takes place this Sunday 18 February at Victoria Park, Camperdown. To see ACON's full list of activities during the 2018 Sydney Gay and Lesbian Mardi Gras, visit: www.acon.org.au for details.
Image: Mardi Gras Fair Day