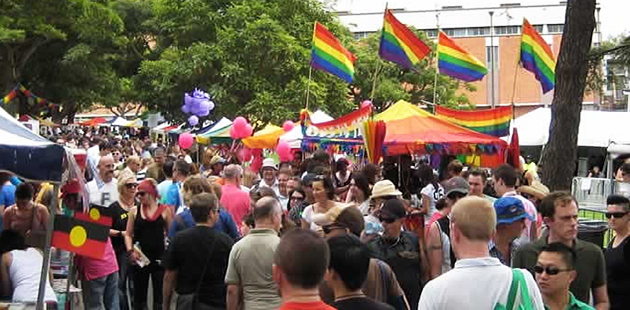 Visitors to the ACON Zone at this year's Sydney Gay and Lesbian Mardi Gras Fair Day on Sunday 16 February will get access to vital health and wellbeing information, resources and support.
Located near the Cleveland Street and City Road entrance of Victoria Park in Camperdown, the zone will showcase all of ACON's work in relation to how our communities respond to HIV, as well as in providing opportunities for sexuality and gender diverse people to live their healthiest lives.
Drop in and have your photo taken at the Ending HIV photo booth; find out more about other effective forms of HIV prevention; how to get support for living with HIV; take part in vital health surveys; learn about cervical health; pop into the Breast Screen NSW van and get a free mammogram; get more information about ACON's counselling, community care and Mardi Gras safety services; connect with ACON's work across rural and regional NSW; or chill out in the Welcome Here Marquee.
"Mardi Gras Fair Day is one of the most iconic events on our community's calendar every year, which really has the ability to bring everyone together," said ACON CEO Nicolas Parkhill. "Fair Day provides ACON with a distinctive and effective platform to showcase the many and varied ways we work to improve the health of our community and celebrate our diversity."
"Our staff and volunteers will be on hand throughout the day to also provide information on how people can safely enjoy all that the amazing Mardi Gras festival has to offer."
HIV and sexual health peer workers will be promoting ACON's new Ending HIV Thank You campaign, which acknowledges the efforts of gay and bisexual men in NSW in being proactive with testing and treatment, and continuing to care for each other by looking after their sexual health as well as that of their partners.
Along with a focus on ending HIV transmissions, tackling harmful and discriminatory stigma faced by people living with HIV is another prominent feature of the new campaign. Visitors can help spread the word by having their photos taken in front of a green screen which will overlay a range of campaign messages over the images.
ACON is proud to be collaborating with local Indigenous radio station, Koori Radio, who will be broadcasting live from the ACON Zone, in association with LGBTQ Indigenous community group, Blaq.
Visitors will be able to make a contribution to health research by taking part in the annual Sydney Gay Community Periodic Survey, and the Sydney Women's and Sexual Health Survey (SWASH). Responses from both surveys generate vital data that informs important community health initiatives.
ACON's LGBTIQ Women's Health Projects will be on hand raising awareness of ACON's work in improving the breast and chest health of our communities with its Our United Front campaign. The BreastScreen NSW van will be back again on site offering free mammograms all day.
The ACON marquee will once again showcase ACON's incredibly successful LGBTQ community safety program, the Welcome Here Project. Visitors can learn all about how businesses and organisations across Australia are building environments that are welcoming and inclusive of LGBTQ people. With fans and bean bags, the Welcome Here Marquee will be a great place to mingle, relax and socialise.
Visitors will also be able to find out more about ACON's services for LGBTIQ women, Aboriginal and Torres Strait Islander gay men, young gay men and Asian gay men, as well as how ACON promotes workplace, sporting and health inclusion for LGBTQ people.
Other stalls within the ACON zone will provide information about its range of ageing and community care services such as counselling, care coordination, home-based care and support for older people and people living with HIV, and ACON's teams of volunteers who help keep partygoers safe and protected at all the big Mardi Gras events and parties – the ACON Rovers.
"We invite all our friends, supporters and partners to join us on Fair Day, to make this year a fabulous and safe Mardi Gras," said Parkhill.
The 2020 Sydney Gay and Lesbian Mardi Gras Fair Day takes place on Sunday 16 February from 10.00am. For  more information, visit: www.mardigras.org.au or www.acon.org.au for details.
Image: Sydney Gay and Lesbian Mardi Gras Fair Day