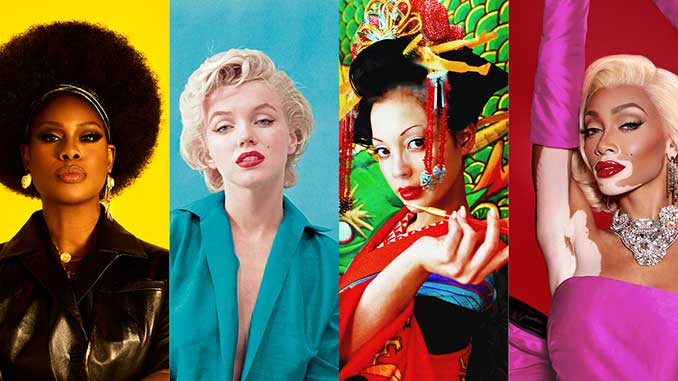 This April, ACMI is set to pay tribute to the formidable women of the screen in the Melbourne Winter Masterpieces blockbuster: Goddess: Power, Glamour, Rebellion.
Featuring never-before-seen costumes, cinematic treasures, interactive experiences and large-scale projections, this landmark ACMI-curated exhibition will unveil, examine and celebrate the changing representation of femininity across film history through provocative on-screen moments.
Presenting the daring, disruptive and defiant characters that have shaped our screen culture, the exhibition invites audiences to celebrate the power and complexity of the goddess on screen. ACMI will present Goddess in its world premiere in Melbourne, opening 5 April 2023, before the exhibition tours internationally.
"The women of Goddess are bold, rebellious and defiant. Their power is expressed in numerous ways – in what they wear, how they move and the stories they tell," said ACMI Director of Experience & Engagement, Dr Britt Romstad.
"ACMI's exhibition honours their influence and daring, and explores how they have transformed the face and expectations of on-screen femininity for audiences, time and time again."
From the icons of the silent era to classic Hollywood heroines to cinema's memorable villains and the stars of Bollywood blockbusters, Goddess is a powerful portrait of on-screen personas who have come to define and disrupt the feminine ideal.
Going behind the lens, Goddess will also examine the off-screen conversations – and even social rebellions – these portrayals often ignited, from the gender redefining sartorial statements of Marlene Dietrich in Morocco (1930) and Tilda Swinton in Orlando (1992) to Pam Grier's boundary-breaking Blaxploitation film career, the impact of Elaine Crombie in Kiki and Kitty (2017) and Margot Robbie in Birds of Prey (2020) to today's unfolding Me Too movement and the expanded representations of womanhood found in India, China and Japan's cinematic histories.
With more than 150 exhibition highlights, including lush costuming, immersive video works, evocative soundscapes by Melbourne-based composer Chiara Kickdrum, and props and sketches on display, Goddess will consider how screen culture has shaped and challenged audiences' views of gender and womanhood.
Showcasing a pair of sky-high heels synonymous with Mae West's on-screen personas, costumes worn by Geena Davis in the iconic road movie Thelma & Louise (1991) and the rich detail of Michelle Yeoh's fight-ready outfit in Crouching Tiger, Hidden Dragon (2000), the exhibition offers a fresh perspective on some of cinema's most memorable female characters.
ACMI has announced that two-time Academy Award winner Geena Davis has come on board as the exhibition's provocative new lead ambassador, and will  travel to Melbourne in April to open the exhibition.
She is globally renowned for her show-stopping performances in hits such as Thelma & Louise, A League of Their Own, Beetlejuice and The Accidental Tourist, Geena Davis is a true Hollywood movie star.
But beyond her impact on screen, Davis is also a leader in leveraging research, education, and advocacy to influence systemic change in onscreen character portrayals in global film, television, advertising, and gaming through her Institute on Gender in Media.
"We're backing another world premiere, Australian-exclusive for Melbourne, with ACMI's latest exhibition Goddess to celebrate game-changing women of the screen," said Minister for Creative Industries, Steve Dimopoulos.
"Winter in Victoria already brings a spectacular offering of events and activities, with this latest addition drawing more visitors to discover everything there is to love about Melbourne."
A vibrant Goddess events program, including late-night exhibition access, performances, talks and film screenings, will accompany the exhibition.
---
Goddess: Power, Glamour, Rebellion
ACMI – Federation Square, Melbourne
Exhibition: 5 April – 1 October 2023
Entry fees apply
Information and Bookings: www.acmi.net.au
Images: Laverne Cox Paper Magazine (Yellow Background) – photo by Joshua Kissi, Courtesy Atrbute | Marilyn Monroe – photo by Milton H. Greene © 2022 Joshua Greene. Marilyn Monroe™; Rights of Publicity and Persona Rights: The Estate of Marilyn Monroe LLC | © 2007 SAKURAN Film Committee © Moyoco Anno/Kodansha | Winnie Harlow – Arms Above Head (Photographer: Albert Sanchez). Courtesy Albert Sanchez, Inc.