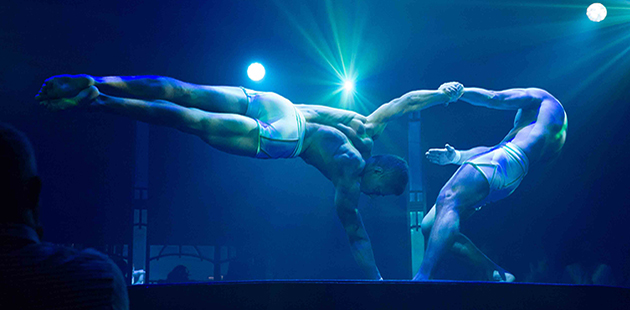 After wowing Australian audiences in Newcastle, Melbourne and Brisbane earlier this year, Spiegelworld is pleased to present its smash-hit award winning sensation Las Vegas show, Absinthe for Sydney audiences under the beautiful spiegeltent in Hyde Park from 15 September 2015.
Inspired by the absinthe-drenched cabarets of late 19th century Europe, Absinthe is an adult-themed cocktail of circus, comedy, burlesque and vaudeville for a 21st century audience, and the follow-up to Spiegelworld's record-breaking spiegeltent show, Empire – which was seen by an incredible 200,000 Australians last year. In Las Vegas, Absinthe has been playing to sold-out audiences at the world's most famous casino, Caesars Palace since 2011 and celebrated its fourth anniversary in April.
Absinthe is hosted by the filthy rich and just plain filthy Gazillionaire and his loyal assistant Penny Pibbets – who have become two of the most acclaimed and subversive comedy forces in Las Vegas in recent years. Intoxicating songs are performed live by the seductive sylph, The Green Fairy – played by Australia's own Karla Tonkich.
Sydney audiences at Absinthe will be treated to two new international acts, specially hand-picked for the Australian tour, which join the show's line-up of jaw-dropping acts which have been amazing Las Vegas crowds.
Cavea Aurea consists of Laura von Bongard and Luka Clayburn, from Germany, who have created a breathtakingly sexy aerial hoop duet. Los Dos Tacos (Andrei Sizonenka and Aliaksandr Yurkavets from Belarus) will astound audiences with their heart-stopping human foosball routine on the high bar. It is believed to be the first time a double Horizontal Bar act has been performed on the intimate spiegeltent stage where the audience are just inches away from the action.
Other acts include Oleksandr Volohdin (Ukraine) building an impossibly high chair mountain; The Lost Souls (Ukraine) with their stunning acrobatic Banquine Act; the sensuous Jacob Oberman and Maika Isogawa (USA) on the Duo Straps; Michal Nowosadko and Zbigniew Sobierajski (Poland) displaying extraordinary grace and strength with their Hand Balance; The Frat Pack (USA) on the daring High Wire; and Karla Tonkich performing the famous Balloon Strip, originally created by New York burlesque legend, Julie Atlas Muz – a star of the original production of Absinthe.
"Absinthe is a rare opportunity to see these kinds of extreme circus acts performed in an intimate environment by some of the world's most sexy and talented artists, says Spiegelworld's Australian Impresario, Ross Mollison.
"Having presented Absinthe in the iconic locations of Pier 42 under the Brooklyn Bridge in New York City, Miami Beach, the rooftop of Melbourne's Crown Casino and the forecourt of Caesars Palace right on the Las Vegas Strip, we are very excited to now be pitching our spiegeltent at Sydney's Hyde Park."
Absinthe plays under the beautiful spiegeltent in Hyde Park, Sydney from 15 September 2015. For more information, visit: www.absintheaustralia.com for details.
Image: Michal Nowosadko and Zbigniew Sobierajski in Absinthe – photo courtesy of Spiegelworld