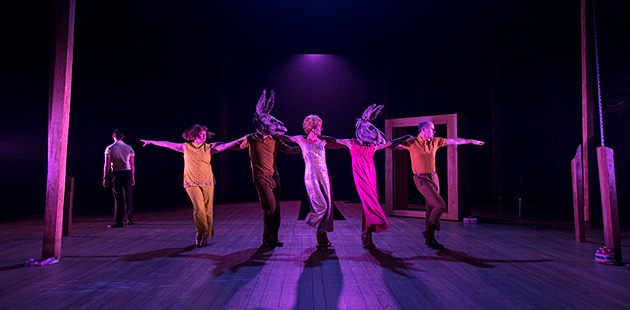 With the lights out in theatres and concert halls due to COVID-19, the ABC is bringing the best of the arts home to all Australians with performances by our leading arts and music companies, alongside new arts documentaries and radio programs.
ABC iview's new collection of Australian arts content across theatre, opera, ballet and classical music will keep artists connected with audiences during the pandemic. Performances available to watch on-demand from today include Bangarra Dance Theatre's landmark Ochres and The Australian Ballet's production of Romeo and Juliet, Australian plays Away and David Williamson's Emerald City and the Sydney Philharmonic Choir's performance of Handel's Messiah.
ABC Arts Manager Richard Buckham said the ABC was offering audiences premium seats in some of Australia's finest theatres and concert halls at a time when they cannot be there in person. "As the nation's biggest backer of Australian talent and creativity, the ABC is bringing productions by the nation's flagship performing arts companies to audiences everywhere," he said.
"The ABC is committed to keeping the arts alive in people's homes with an essential arts and cultural service across all our platforms. With all theatre and concert events cancelled due to COVID-19, the ABC is proud to offer our audience the chance to stay connected with the best of Australian performance."
The ABC has also launched the $5 million Fresh Start development fund to provide urgent and critical support to Australian producers and creatives, including the Arts Digital Fund for innovative new arts content and Australian Music Fund to support independent artists and musicians across all ABC music networks.
ABC iview's new arts and music collection features more than 40 works of ballet, opera, theatre and classical music rolling out over the next six weeks. Highlights include Opera Australia's Madame Butterfly and Carmen, and The Australian Ballet's productions of The Nutcracker and Sleeping Beauty. 
Classical concerts include performances from the Queensland, Tasmanian, West Australian and Melbourne symphony orchestras, the Australian World Orchestra and Australian Chamber Orchestra, as well as baroque highlights from Pinchgut Opera and Musica Viva.
The ABC is also launching new arts radio programs and documentaries in line with its Charter requirement to encourage and promote Australian music, drama and other performing arts. RN's The Bookshelf will host a monthly Book Club bringing together a panel of readers to discuss the books they're reading, recommending or have always wanted to get to.
This month, Australian writers Tom Wright and Ailsa Piper will share the reads that are getting them through isolation, while in the months ahead the Book Club will delve into Australian fiction, crime, fantasy and other genres.
Also premiering on ABC TV and iview this month are Australian arts documentaries Leplastrier – Framing the View, The Leunig Fragments and Getting Their Acts Together – a behind-the-scenes look at how artistic directors Rachel Healy and Neil Armfield put together the 2020 Adelaide Festival as coronavirus loomed.
ABC iview's arts collection also features outstanding programs and series such as Making Muriel, David Stratton's Stories of Australian Cinema,  Mystify: Michael Hutchence, Whiteley and China's Artful Dissident.
The ABC is also working with our partners across all platforms in the arts to co-host virtual festivals and events, from book festivals to live streaming performances. ABC Radio is increasing the proportion of Australian music featured and played on-air, while ABC Classic is keeping the music going as Australia's concert hall.
For more information, and to view ABC arts collection, visit: www.iview.abc.net.au for details.
Image: Malthouse Theatre and Sydney Theatre Company's production of Away – photo by Pia Johnson