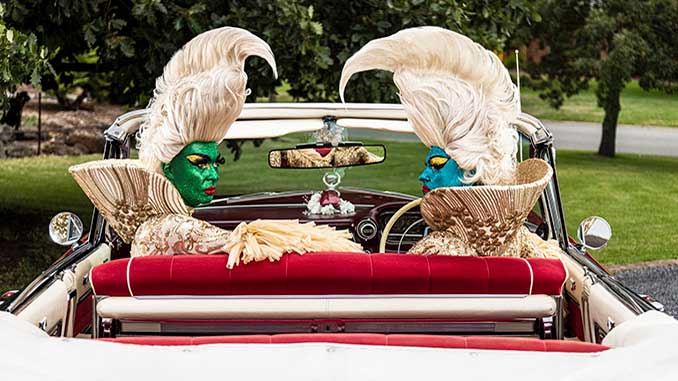 Abbotsford Convent will present the exhibition, DisGraceland by Melbourne-based collaborative performance and visual artists, The Huxleys, from 10 – 19 August, as well as a workshop and performance night with the dynamic duo, Will and Garrett Huxley (Aus/Yorta Yorta/Gumbaynggirr).
DisGraceland sees The Huxleys on a wild road trip across rural Victoria for a lurid fever dream capturing the story of two queer alien Elvis's trying to make it home. The Huxleys embrace the camp, unorthodox presence of how Elvis would have first appeared in small-town USA in the 1950s.
Rewriting the history of rock 'n' roll as a gay love story, The Huxleys have interpreted this in their own queer cosmic fashion. The duo created these photographs and costumes to speak to their continuing interest in escapism and otherworldly glamour.
In addition to the exhibition, audiences can take part in a crafting and bedazzling tea towel workshop with The Huxleys at the Convent: 6.00 – 8.00pm on Tuesday 15 August, and an Artist Talk: 1:30pm – 2:30pm on Saturday 19 August.
A special DisGraceland Performance Night will take place on Saturday 12 August where The Huxleys will be joined on stage by an exquisite lineup of some of Naarm's finest queer performers who will belt out some twists on classic Elvis tracks, including, Are You Loathsome Tonight?, Got Great Boobs of Fire, Come shake your Suspicious Behinds, and many more hits to get the audience up and dancing.
The Huxleys are long-time fans of Elvis and are inspired by the way he brought a decorative, ornate and sexually charged freedom to masculinity. Their photography and performance art traverses the classifications of costume, film and recordings.
A visual assault of sparkle, surrealism and the absurd, The Huxleys saturate their practice and projects with a glamorous, androgynous freedom which sets out to bring some escapism and magic to everyday life.
Since 2014 The Huxleys have performed, exhibited and participated in numerous exhibitions, projects and events in Australia, and internationally, including London, Berlin, Moscow, New York and Hong Kong. The Huxleys have been finalists in the National Portrait Prize in both 2022 and 2023 and Bowness Prize finalists in 2022.
This project is supported by the Victorian Government through Creative Victoria, the City of Yarra, and Abbotsford Convent. The Huxleys are represented by Murray White Room, Melbourne.
---
DisGraceland by The Huxleys
The Store – Abbotsford Convent, 1 St Heliers Street, Abbotsford
Exhibition: 9 – 20 August 2023
Free entry
For more information, visit: www.abbotsfordconvent.com.au or www.thehuxleys.com.au for details.
Image: The Huxleys, Drive in Saturday, 2022, (detail) from the series, DisGraceland