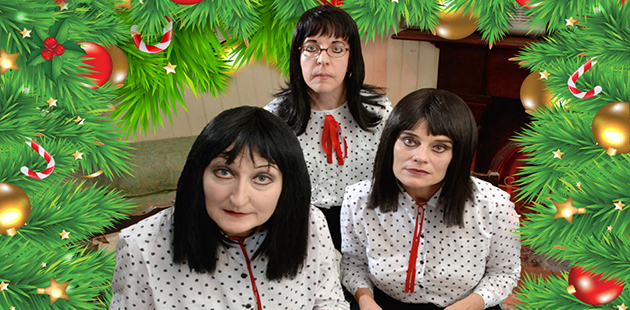 Australia's favourite 'twisted sisters' are back to spread their macabre brand of Christmas cheer across the country this November and December in their hilariously kooky show, A Very Kransky Christmas.
Hailing from the quiet town of Esk in the middle of South East Queensland, The Kransky Sisters have taken a break from tending ants, knitting egg warmers, and hanging out cane toad skins to dry, to travel around the country performing their popular Christmas show, once more – from Queensland to Sydney, Melbourne, Adelaide and everywhere in between! Santa's not the only one coming to town this Christmas!
The sisters – Mourne, Eve and Dawn – love Christmas because Christmas food is some of their favourite. They grow chokoes to use for Christmas decorations and eat them on Christmas day. They love Christmas pudding and white Christmas, and always copy the recipes that their mother had used.
They also like some of the songs they believe were written by Santa although they find some of his songs quite spooky, and it didn't go very well when the sisters met Santa some year ago. They prefer to sing their own songs for Christmas. But they hope one day to finally get presents in their stockings.
The sisters had never before shared their Christmas with anyone prior to when they first performed A Very Kransky Christmas at QPAC in Brisbane in 2015 before packing the show into their beloved 1958 Morris Major and touring the country spreading Kransky Christmas cheer to young and old.  A Very Kransky Christmas is fast becoming a delightful Christmas tradition for hordes of laughter-loving Aussies.
The Kransky Sisters will invite audiences into their world of eggnog, panty-hose and painted chokoes telling stories from their lives in their signature, dry-wit style that audiences all over the world have come to love. Interlaced with their storytelling is the sisters' unique music – singing their own hilarious versions of well-known songs, from Enya to Silent Night, Daft Punk to the Twelve Days of Christmas.
A Very Kransky Christmas features crowd favourites and Christmas numbers from this multi-award-winning trio, performed with joyful quirkiness on their favourite instruments the tuba, an old keyboard and guitar, the sisters round out their oddball orchestra with a musical saw, tambourines and a variety of everyday items including the cheese grater, a kitchen pot, sifters, a mincer and a biscuit tin rice shaker.
The combination of the sisters' sheltered view of the world seen through their superbly droll comic dialogue, together with their endearing and often bizarre stories and alluring musical sound makes this night out with your strange old aunts an unforgettable experience!
A Very Kransky Christmas is touring throughout November and December – including: Tasmania (15 – 18 November); Geelong Performing Arts Centre (19 November); The Alex Theatre, St. Kilda (20 – 26 November); New South Wales (28 November – 8 December); Seymour Centre (9 – 10 December); Canberra Theatre Centre (13 December); Adelaide Festival Centre (15 – 16 December); and the Queensland Performing Arts Centre (19 – 23 December).
For more information – including all performance dates and locations, visit: www.thekranskysisters.com for details.
Image: Mourne, Dawn and Eve star in A Very Kransky Christmas (supplied)