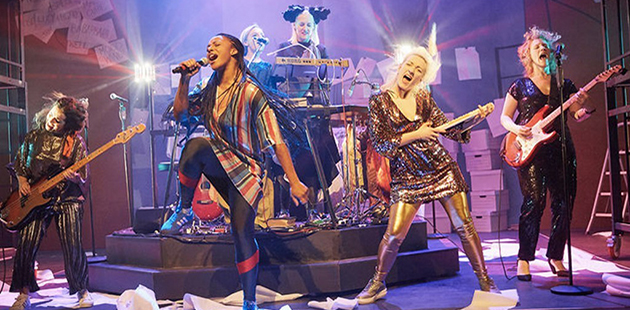 From boundary breaking artist Bryony Kimmings comes the Australian premiere of A Pacifist's Guide to the War on Cancer – a funny and provocative musical, confronting one of the scariest words we know – at Malthouse Theatre from 8 March, before playing the Seymour Centre, Sydney from 22 March 2018.
Bryony Kimmings wants to talk about cancer. She's busting through the myths and misconceptions to bring real stories about people from all walks of life who've experienced it first-hand as she looks at our generation's biggest killer straight in the face.
From the poster campaigns and pink ribbons to waiting rooms, chemo suites, changing bodies and family pressures, her fearless approach to a challenging subject will take us on a fascinating journey behind 'the big C'.
Complicité, the UK-based theatre company behind the 2017 hit, The Encounter (Sydney Festival, Malthouse Theatre, Perth Festival, Adelaide Festival), team up with Kimmings in this funny and moving show about newfound friendships, pain and death, mundane treatment cycles, hairlessness and scars… with songs.
Bryony Kimmings is famous for her unique takes on taboo topics – from her sexual health (Sex Idiot), to her boyfriend's depression (Fake It 'Til You Make It), to her search for positive role models for her teenage niece (Credible, Likeable, Superstar, Role Model).
"A powerful piece of concept art… a life lesson we should all see." – Echo (UK)
Director: Kirsty Housley Featuring: Eva Alexander, Bryony Kimmings, Gemma Storr, Lottie Vallis, Lara Veitch, Elexi Walker Set and Costume Design: Lucy Osborne Choreography: Sarah Blanc Lighting:Marec Joyce Music: Tom Parkinson Sound: Lewis Gibson Assistant Director: Michael Keyamo Writers: Bryony Kimmings and Brian Lobel with Kirsty Housley
Original Costume Design: Christina Cunningham Original Lighting Design: Paul Anderson Original Music Director: Marc Tritschler Original Choreography: Lizzi Gee
A Pacifist's Guide to the War on Cancer
Merlyn Theatre – The Coopers Malthouse, Sturt Street, Southbank
Season: 8 – 18 March 2018 (preview: 7 March)
Information and Bookings: www.malthousetheatre.com.au
York Theatre – Seymour Centre, Corner City Road & Cleveland Street, Chippendale
Season: 22 – 29 March 2018
Information and Bookings: www.seymourcentre.com.au
Image: A Pacifist's Guide to the War on Cancer – photo by Mark Douet
Note: Originally a Complicité Associates co-production with the National Theatre in association with HOME Manchester