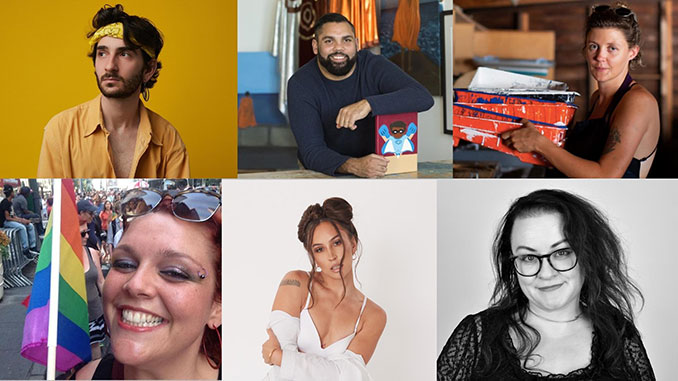 Sydney WorldPride has announced the six Curatorial Associates who will join Festival Creative Director – First Nations; Ben Graetz and Festival Creative Director; Daniel Clarke, to bring expertise across a wide range of artforms to the Sydney WorldPride Festival team.
Bhenji Ra, Dennis Golding, Jennifer Greer Holmes, Felicity Nicol, Harriet Gillies and Michael Kennedy each bring diverse professional and lived experiences to the team, ensuring a multiplicity of voices are contributing to the development of the Sydney WorldPride Festival Program.
The experience of these nationally recognised artists and curators span youth arts, literature, music, visual arts, dance, digital arts, contemporary performance and house-ballroom culture. The Associates were selected through a rigorous open EOI call-out during 2021.
"It was always our vision to ensure that we had diverse opinions, expertise and experiences contributing to the Sydney WorldPride Festival Program," said Festival Co-Creative Directors Ben Graetz and Daniel Clarke. "This team of Associates are exceptional and it is a privilege to have their minds on the Festival program with us."
"Their experience, connections, ideas, insights and passion will help us make sure that the Arts and Culture Program of the Sydney WorldPride Festival is relevant, inclusive and inspiring. We value their feedback on our programming ideas and look forward to rigorous discussions about the program as we develop it."
The arts and culture program will include performance, literature, digital art, visual arts, public art, food, fashion, film, parties, music, history and other arts and cultural experiences that reflect our diverse LGBTIQA+ communities with a strong focus on First Nations artists and the Asia Pacific.
The program will prioritise the development of events that provide a platform and opportunity for voices that have traditionally been under-represented whilst developing new audiences for LGBTQIA+ arts and cultural events.
The Curatorial Associates will assist with the development of the program through advice and feedback, project ideas, community connections and through the assessment of any open call out opportunities for inclusion in the Festival.
The team commenced work towards the end of 2021 when they contributed to the assessment of 63 applications that Sydney WorldPride received for investment into Creative Projects.
The Curatorial Associates join Ben and Daniel (Festival Co-Creative Directors), Liza Mare-Syron (First Nations Creative Consultant) the newly appointed Festival Producer; Lisa Freshwater, Alex Daoust (Executive Producer) Bonita Ayalon (Major Events Producer), and Laura Fazzolari (Festival Coordinator) to create and deliver the program of events for the Sydney WorldPride Festival in 2023.
"I'm thrilled to welcome our Curatorial Associates. Including their broad range of insights and life experiences will help us create a world-class Festival of LGBTQIA+ arts and culture that is inclusive, diverse and accessible, with something for everyone in our communities," said Kate Wickett, Sydney WorldPride CEO.
The Sydney WorldPride Festival will run from 17 February – 5 March 2023. For more information, visit: www.sydneyworldpride.com for details.
Image: Sydney WorldPride 2023's Curatorial Associates (clockwise from top left): Michael Kennedy, Dennis Golding, Harriet Gillies, Jennifer Greer Holmes, Bhenji Ra and Felicity Nicol (supplied)
---
Meet the Sydney WorldPride Festival Curatorial Associates:
Dennis Golding
Dennis is a Kamilaroi/Gamilaraay artist from the north west of NSW and was born and raised in Sydney. Working in a range of mixed media including painting, video, photography and installation, Golding critiques the social, political and cultural representations of race and identity. His practice is drawn from his own experiences living in urban environments and through childhood memories.
Golding was surrounded by art from his urban upbringing living in an Aboriginal community in Redfern (often referred to as 'The Block'). As a young child, he often watched his mother and grandmother paint on large canvas and sheen fabrics which depicted Australian native plants and animals, cultural motifs and human figures. Before entering his formal art training, Golding worked as an administrative trainee at Nura Gili Indigenous Programs UNSW. He later developed his professional practice in art school through mentorships with leading curators, educators and artists.
Golding graduated with a Bachelor of Fine Arts (Honours) at UNSW Art & Design in 2019 and now works independently as an artist and curator. Through his artistic and curatorial practice, Golding aims to present powerful representations of contemporary Aboriginal cultural identity that inform narratives of
history and lived experiences.
Harriet Gillies
Harriet is an award-winning performance artist working across a range of performance modes. She has performed in immersive and interactive projects such as Pony Express' Ecosexual Bathhouse, PVI Collective's Blackmarket and Hermann Nitsch 150 Actions. Backstage Harriet has been a man-wrangler for Nat Randall and Anna Breckon's The Second Woman and co-production manager and tour manager for Peaches' There's Only One Peach With a Hole in the Middle, which toured across Europe in 2019. She has completed artist residencies with Robert Wilson at the Watermill Centre and Marina Abramović at Kaldor Public Art Projects, as well as solo residencies with La Serre: Arts Vivants in Montreal, and the Bearded Tit in Sydney. Her own performances have been presented across Australia, New Zealand and North America.
Jennifer Greer Holmes
Jennifer is a producer of live performance and video, an artist and DJ. As a producer she works with Branch Nebula (SYD) and Vitalstatistix (ADL) and co-founded Replay Creative (ADL) in 2020 after maintaining an independent videography and arts documentation practice for over a decade.
Jennifer was the creative producer and manager of art music string ensemble Zephyr Quartet from 2012-2020 & sound artists Sweeney / König (fka GIRL & Winter Witches) from 2017-2020.
Jennifer was a founding board member of the Performance and Art Development Agency (PADA) and co-directed The Festival of Unpopular Culture (2011 & 2013). She has worked in the development and presentation of dozens of new Australian experimental performance works in a range of roles.
As one half of Bad Jelly DJs, she's curated music and artists for queer club nights, festival bars and art parties since 2013. Jennifer managed Feast Festival (Adelaide's queer arts and cultural festival in 2007/08) and has also worked in politics and the non-profit sector.
Michael Louis Kennedy
Michael Louis Kennedy is a playwright, writer and arts professional based in Sydney. In 2020 and 2021 he has served as the Co-Director of the National Young Writers Festival, an annual festival usually based in Newcastle, NSW. He is also currently the marketing manager of Performing Lines, the national producing organisation for contemporary performance. He has previously worked for the Sydney Fringe, Summerhall (Edinburgh Fringe) and Belvoir Street Theatre.
His writing has been featured in Overland, Voiceworks, Brag, Going Down Swinging, Transportation Press, Baby Teeth, Sydney Morning Herald and more. As a playwright he has had readings and productions on the Sydney Fringe Festival, at the Old 505, Sydney Mardi Gras's Playlist playreading festival, and the staple queer performance institution Queer Theory in Glasgow, Scotland. He is currently part of Sydney Theatre Company's Emerging Writers Group, as well as undertaking a mentorship through Kill Your Darlings to develop a new Australian novel.
Felicity Nicol
Felicity is a proud queer, disabled artist from Sydney's Inner West. After graduating from NIDA's Directors course, Felicity has gone on to work with prominent artists from around the world, including Ontroerend Goed (BEL), Punchdrunk & Gecko Physical Theatre (UK), Illutron (DEN) and Mammalian Diving Reflex (CAN). Felicity has been a recipient of Australia Council for the Arts Grants, a Mike Walsh Fellowship and the Sandra Bates Directors Award.
Felicity's mission as an artist is to interrupt our assumptions about people, and the world, in order to shift the cultural lens towards those who need it most. She does this by intersecting the political with the personal and flavouring it with queer theory, feminism and humour.
An award-winning performance director and Artistic Director, Felicity has been creating work with, by and for queer young people for almost a decade. This began by devising multi-disciplined work with local rainbow youth at the Q Theatre in Penrith. Since then, Felicity has gone on to make LGBTQIA+ work and partnerships with Mardi Gras, the 78ers, Spark Youth Theatre, Australian Theatre for Young People, headspace, City of Sydney, Inner West Council, Customs House and many more. Felicity is humbled and incredibly excited to join the talented team behind WorldPride 2023.
Bhenji Ra
Bhenji Ra is an interdisciplinary artist and community leader whose practice combines dance, choreography, video and event making. She is the mother of the House of Sle as well as the pioneer to the Australian ballroom community. She has been a pivotal voice in shaping the community and creating events such as the award-winning Sissy Ball, which she was the director from 2018 – 2020. Her own artistic work is often concerned with the dissection of cultural theory and identity, centralizing her own personal histories as a tool to reframe performance.
With an emphasis on occupation and at times collective action, her work plays with the multiplicities of spectacle while offering strategies to disrupt normativity and western dance convention. Collaboration is key to her work as she regularly accesses her own community as an essential critical voice. She is also a co-founding artist in the collective Club Ate.