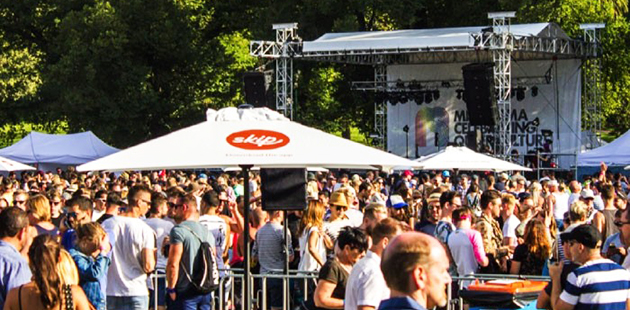 With fine weather forecasted this weekend, organisers of Melbourne's Midsumma Festival are expecting a large turnout this Sunday 17 January at the Alexandra Gardens for Carnival – the opening event of the 29th Midsumma Festival.
All your Carnival favourites are back including the Team Melbourne Sporting Precinct; the annual Midsumma Dog Show; and JOY 94.9 broadcasting live from the Main Stage. The Premier of Victoria, the Hon Daniel Andrews MP, and the Minister for Equality, the Hon Martin Foley MP will join Midsumma Champions Carlotta and Paul Zahra in officially opening this year's festival.
The Main Stage will feature five hours of free entertainment with a great mix of festival favourites and emerging LGBTI talent including performances from Carlotta and Michael Griffiths, Slinkee Minx, Frock Hudson and the winners of 2015 Miss Gay & Miss Transsexual Australia.
Get to know your community at one of the 130 stalls in the Carnival Village including Australian Marriage Equality, Gay and Lesbian Tourism Australia (GALTA), Melbourne Rainbow Band, Beyondblue, Australian Lesbian and Gay Archives, and GLOBE – just to name a few…
As the day starts to fade, the Carnival Main Stage is taken over by an amazing team of DJs and bands to generate the ultimate summer soundtrack at T Dance. Grab a drink from the bar and watch the sun set over our beautiful city skyline, as Midsumma presents for the third year in a row, this free dance party in the park – the ultimate way to kick start your 3 weeks of festival fun!
The 2016 Midsumma Festival runs from 17 January to 7 February. For more information, visit: www.midsumma.org.au for details.
Image: courtesy of Midsumma