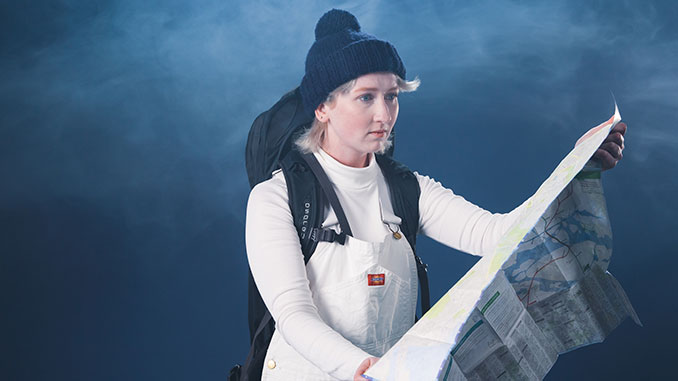 Theatre Works in association with Gavin Roach proudly present the Australian premiere of A Hundred Words for Snow by Tatty Hennessy at the Explosives Factory from 2 May 2022.
Third time's a charm for this Australian premiere season, now finally trekking onto the stage at Theatre Works' new Explosives Factory this May.
With two previous season cancellations due to Covid lockdowns, A Hundred Words for Snow is a complex, epic, and undulating work that pitches themes of death and rebirth against a shifting backdrop of climate change, exploration, and the uncertain geography of the North.
Winner of a VAULT Origins Award for outstanding new work from the VAULT Festival theatre program in 2018, A Hundred Words for Snow is the story of Rory and her dad. Who was an explorer. Well, not literally.
Literally, he was a geography teacher, but deep inside she knew he was Bear Grylls and when he dies suddenly in an accident she understands there's one last important expedition she must make.
With a plastic compass in her hand and Dad's ashes at her side she sets off in the footsteps of all the mighty, dead, beardy explorers before her, to get Dad to the North Pole on one crowning adventure.
"We're incredibly excited to finally be able to bring this superb season to Melbourne audiences," explains Producer/ Director Gavin Roach. "The production has brought together an exciting creative team, each adding their unique talents to the work."
"Of particular note, the Sound Design by Connor Ross is quite remarkable. The wind, the cold, the cracking Artic ice – it transports the audience into the world of the North Pole."
"The impressive script and moving performance of Eddie Pattison as Rory also both provide room to grow the journey; creating a world of sound and music that follows the emotional arc of the piece through its innocence, fear, and (most of all) love," said Roach.
A Melbourne-based writer, performer, producer and director, Gavin Roach has over a decade of experience championing Australian creatives – both nationally and internationally. He works tirelessly to develop, support, and deliver works to the arts landscape that shine a light on the vast creative talent in Australia.
With audiences having enjoyed over 25 of his productions, he has given a voice to many unheard stories that allow creatives to flex their artistic muscles and embrace narratives of our past, present, and future.
Informed by writer Tatty Hennessy's own trip to the Artic, A Hundred Words for Snow is a compelling coming-ofage story (with polar bears) that earned acclaim across the UK. Now an engaging and delightful addition to the Theatre Works 2022 season, this premiere production is not to be missed!
Director / Producer: Gavin Roach | Featuring: Eddie Pattison | Lighting Design: Spencer Herd | Sound Design: Connor Ross | Stage Manager: Andrew Hughes
---
A Hundred Words for Snow
Explosives Factory – 67 Inkerman Street, St Kilda (enter via rear of Thrifty-Link Hardware)
Season: 3 – 7 May 2022 (preview: 2 May)
Bookings: www.theatreworks.org.au
For more information, visit: www.gavinroach.com for details.
Image: Eddie Pattison – photo by Underground Media