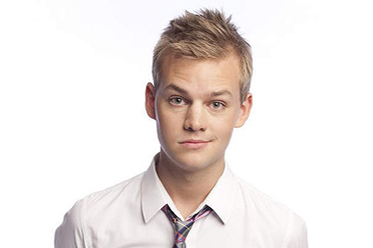 Celebrating its 28th year in 2014, the Melbourne International Comedy Festival is one of the three largest comedy festivals in the world, alongside Edinburgh Festival Fringe and Montreal's Just for Laughs Festival.
Featuring more than 450 shows, the 2014 program is an eclectic mix of familiar and not so familiar local artists and performances with a good sprinkling of international treats. Australian Pride Network takes a look at some of the gayest performances that are worth checking out.
Bob, Sweat and Tears
Athenaeum Theatre: 28 March – 20 April 2014
Cabaret fans will rejoice as beloved gay icon Bob Downe returns to Melbourne bringing audiences his new production Bob, Sweat and Tears. Australia's Prince of Polyester is finally manning up, performing a brand new bunch of classic hits and offering up a laugh-a-minute roller-coaster ride of shocks and frocks!
Boy Next Door
Melbourne Town Hall: 27 March – 20 April 2014
Nath Valvo found himself on the singles table at his friend's wedding yet again, he forgets to floss, and still hasn't returned a library book from 2001. He'll do it tomorrow! Boy Next Door is the follow up to Nath's critically accliamed 2013 show, Almost 30.
Gaypocalypse
Melbourne Town Hall: 28 March – 20 April 2014
Zombies are coming. And they're fabulous. Adam Richard (Spicks and Specks) returns to the Comedy Festival with an outrageous new show. Are there boatloads of gay zombies trying to enter Australia illegally? Will gay marriage be the end of civilization as we know it? Adam will be answering none of these questions in his new stand-up comedy show Gaypocalypse.
God, Save the Queen
Gold Room – The Portland Hotel: 27 March – 19 April 2014
Thomas Jaspers grew up in a nursing home and most of his friends were little old ladies. Now he is obsessed with one little old lady in particular – the one on the back of our five dollar note. Following on from his critically acclaimed 2013 Melbourne International Comedy Festival show No Place Like Homo, Thomas is back for another fabulous night of limp wristed laughs. Join Thomas on this camp romp from retirement to royalty; a beginner's guide to becoming Queen.
Hans: Like A German
GH Hotel, St. Kilda: 11 & 12 April 2014
The hit sell-out show of the Adelaide Cabaret Festival hits Melbourne! Join Hans, his band The Ungrateful Bastards and dancers The Lucky Bitches for an evening of hotpants, feathers and accordions. Hold on to your boyfriend and sit in the front row…he dares you!
HashFagz
The 86, Fitzroy: 11 – 13 April 2014
Cabaret and comedy combust thanks to the humorous escapades of cheeky comedy duo Jonathan Duffy & Dean Arcuri with their modern-day survival guide to fun, flamboyance and very large hats. Confused and confounded by the hashtag haze of a world we live in? Well enter the world of the professional homosexual, where no one's safe and everything's a little bit brighter in this modern-day tweet-tastrophy of skits, songs and stand-up.
MDMA: Modern Day Maiden Aunt
Melbourne Town Hall: 27 March – 20 April 2014
MDMA: Modern Day Maiden Aunt is the latest production from Golden Gibbo Award winner Geraldine Quinn. Do you have to have kids? What's wrong with being an aunt or uncle? Most importantly: will any of her nieces and nephews buy a ticket? She doesn't have any good stuff to leave them in her will yet. Don't miss this a glittering celebration of modern aunt-hood, not breeding and the fine art of embarrassing other people's children.
Rock God
Swiss Club, Melbourne: 27 March – 20 April 2014
Joel Creasey is one of Australia's youngest, brightest and most sought-after comedians. Appearing seemingly out of nowhere at the Melbourne International Comedy Festival, Joel quickly became the talk of the town. Creating controversy and gathering legions of new fans wherever he goes, Joel recounts stories of his run-ins with celebrities, politicians, football teams, regional towns and of course his parents. Lovingly referred to as Australia's 'Acid Tongue Prince', in only a short time Joel has built a cult following that is rapidly growing into the wider Australian community. People everywhere are falling in love with his intelligent observations, acerbic style and pop-culture expertise.
The Exhibitionist
Melbourne Town Hall: 27 March – 20 April 2014
Hannah Gadsby is back with a brand new show, The Exhibitionist. Hannah's shows are remarkable for their intellect, clarity and her capacity to turn heartbreaking true stories into soaring and hilarious monologues.
UnAustralian(ish)
Melbourne Town Hall: 27 March – 20 April 2014
Tom Ballard was the youngest every host of triple j breakfast show at the age of 20. After four years of his alarm going off as his contemporaries were coming home, he's hung up the triple j headphones to return to his main squeeze – stand-up. UnAustralian(ish) is a joyous and personal show about a family holiday, history, bullshit, flags and blood.
The Melbourne International Comedy Festival runs from 26 March – 20 April 2014. For more information, visit: www.comedyfestival.com.au for details.
Image: Joel Creasey