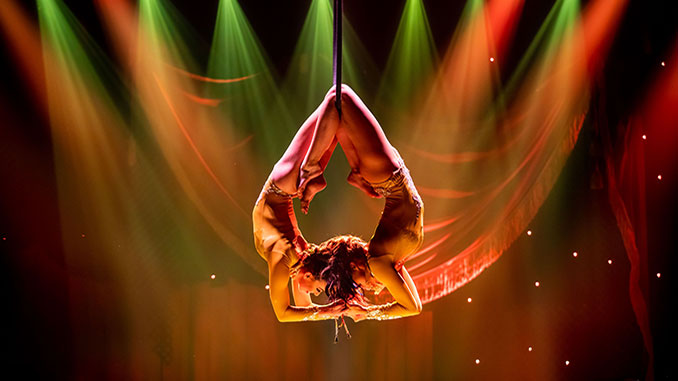 After a sold out National Tour in 2019, a world wide pandemic, and after a sold out encore season in Brisbane in 2021, an award winning debut at Adelaide Fringe, and a sold out return Melbourne season at Her Majesty's Theatre as part of Midsumma Festival, MATADOR returns for one more shot at love to end 2021 at Melbourne's Athenaeum Theatre in December.
Inspired by a tale as old as time, MATADOR is a fiery fusion of burlesque, dance and jaw-dropping circus acts. Set across a fiery Spanish sunset, this is a thematic tale of forbidden love, carnal desires, passion and pain, a tale of a love torn bull & the seductive Matador!
The show takes us on an emotionally charged journey through love and it's many faces; from the first moments you lay your eyes on that someone special, the butterflies, the flirting and sometimes, the doubt.
A journey of self-discovery, identity and sexuality, of lust, sex and passion. The show also explores the trials and tribulations of love, from the pain of unrequited love to the effects of infidelity on a relationship.
Created by Bass Fam Creative, MATADOR is a celebration of love, friendship and the bonds that hold us together. Comprising a colourful cast of 14 incredible performers, MATADOR features non-stop entertainment from start to finish.
High energy commercial dance pieces, beautiful, touching contemporary and ballet acts as well as steamy Latin numbers intertwine with saucy burlesque acts, pole dancing and hair raising aerial and circus acts.
Critics have consistently raved about the various seasons of MATADOR:
"Matador is a very fine-tuned production where the amazing dance choreography, aerial acts, performances, music, and lighting all work together to create a thrilling experience" – The AU Review
"A thrilling piece of entertainment with a lot of heart" – Australian Arts Review
"Come for the gorgeous and diverse dancers, and the sexually charged performances, and stay for the messages of self-love and self-determination" – Star Observer
---
MATADOR
Athenaeum Theatre, 188 Collins Street, Melbourne
Season: 1 – 4 December 2021
Bookings: www.ticketek.com.au
For more information, visit: www.facebook.com/matadortheshow for details. Checkout the trailer here!
Image: MATADOR – courtesy of Bass Fam Creative