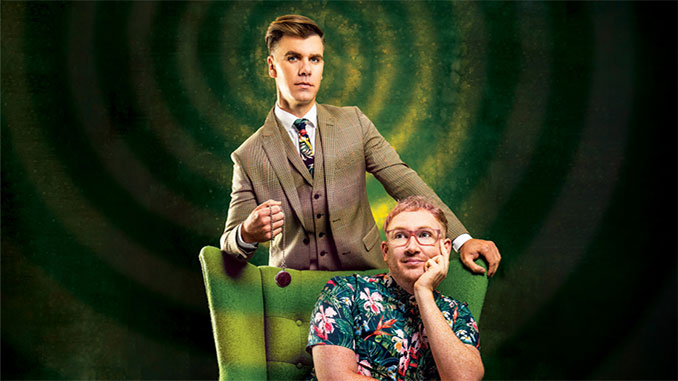 As part of the 2023 Seymour Season, Squabbalogic and Seymour Centre are proud to present On A Clear Day You Can See Forever, in the Reginald Theatre from 17 March 2023.
In an effort to quit nicotine, David Gamble enlists the services of psychiatrist and hypnosis researcher, Dr Mark Bruckner.-
But what begins as a simple regression soon turns into something otherworldly as the doctor discovers inside David the presence of Melinda Welles, a sparkling woman who died tragically a century earlier.
As Mark continues to meet with and fall for the scintillating Melinda via David's subconscious, the unaware David finds that he himself is falling for the handsome doctor – thus creating a comic love triangle with only two bodies.
On A Clear Day You Can See Forever was written for Broadway and adapted into a cult favourite film starring Barbra Streisand. This all-new take, adapted from Alan Jay Lerner and Burton Lane's original by Jay James-Moody (The Dismissal, Herringbone), is an hilarious and heart-warming comedy of errors, exploring modern themes of sexuality, gender, and ethics in a joyous, fast-paced  musical delight.
Quirky, supernatural, and utterly charming, this brand-new adaptation features an outstanding cast including Blake Bowden (Opera Australia's The Phantom of the Opera), Natalie Abbott (Bell Shakespeare's The Lovers), Madeleine Jones (STC's Muriel's Wedding), James Haxby (9 to 5: The Musical), Lincoln Elliott (Performing Lines/MTC/State Theatre Company South Australia's Sunshine Super Girl), Billie Palin (Hayes Theatre Co's Godspell), and Jay James-Moody.
"While backstage for a year on The Book of Mormon, Blake Bowden and I often talked about reuniting later for something special," said Squabbalogic's Jay James-Moody. "On A Clear Day is a real return to Squabbalogic's roots, rediscovering a lost gem and polishing it up for a modern audience."
"Just like Melinda in the show, it's a thrill to return not only from postponement in 2022, but to our natural home in the Reginald Theatre where we can share this unexpected musical intimately."
Director: Jay James-Moody | Featuring: Natalie Abbott, Blake Bowden, Lincoln Elliott, James Haxby, Jay James-Moody, Madeleine Jones, Billie Palin | Musical Director, Orchestrations and Arrangements: Natalya Aynsley |  Choreographer: Leslie Bell | Set & Costume Design Concept: Michael Hankin | Set And Costume Design Realisation: Bella Rose Saltearn | Lighting Design: James Wallis | Sound Design: Oliver Brighton | Casting Director: Daisy Hicks, CGA | Book And Lyrics: Alan Jay Lerner | Music: Burton Lane | Revised and Adaptation: Jay James-Moody
---
A Clear Day You Can See Forever
Reginald Theatre – Seymour Centre, Corner City Road and Cleveland Street, Chippendale (Sydney)
Season: 21 March – 15 April 2023 (previews: 17 – 20 March)
Bookings: www.seymourcentre.com
For more information, visit: www.squabbalogic.com.au for details.
Image: Blake Bowden and Jay James-Moody star in A Clear Day You Can See Forever (supplied)