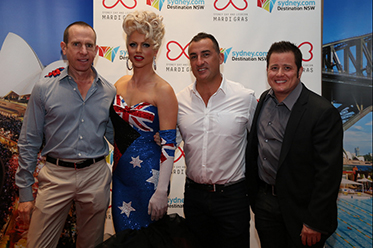 As news broke on social media this week that the mighty Tina Arena will be performing at this year's Mardi Gras Party on Saturday 1 March, the team behind Sydney Gay and Lesbian Mardi Gras were already looking ahead, announcing the news that 4,000 travellers will be visiting for the 2015 Mardi Gras festival.
Fabulous Australian icon and upcoming contender in season six of RuPaul's Drag Race, Courtney Act, welcomed travel agents and media at a special event at the W Hollywood Hotel in Los Angeles where Sydney Gay and Lesbian Mardi Gras CEO Michael Rolik and Atlantis Events CEO Rich Campbell announced the new venture.
At a time when America is coming out of one of its coldest winters in history, the news that an Atlantis Events cruise ship and Olivia cruise ship would be in sizzling Sydney around Mardi Gras time warmed the hearts of many. The exciting new initiative marks the first time in history that two gay and lesbian cruise ships have docked on our shores in Sydney and boy 'o' buoy this party is going to be huge!
"An influx of 4,000 people at Mardi Gras time in 2015 is incredibly thrilling," says Sydney Gay & Lesbian Mardi Gras CEO Michael Rolik.
"The impact that this will have on not just the scale of our 2015 celebrations, but also the NSW economy, is huge."
The world's largest company dedicated to creating unique vacations for the gay and lesbian community – Atlantis Events – announced that reservations are being accepted now. The cruise will take place over 12 days, from Auckland to Sydney for Mardi Gras, staying overnight during the night of the Parade and Party.
As an extra incentive for travel agents, Mardi Gras is offering commissionable tickets to their key events in 2015. Olivia – the travel company for lesbians, have already started selling their tickets.
Atlantis Events CEO Rich Campbell says "We're thrilled to sail into Mardi Gras for our third all-gay cruise into Sydney.  This cruise marks a milestone of 20 years bringing guests from around the world to the most spectacular gay event on the planet."
For more information about Mardi Gras' jam-packed calendar of summer events, visit: www.mardigras.org.au for details.
Image: courtesy of Sydney Gay & Lesbian Mardi Gras