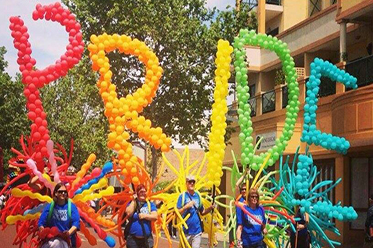 Perth's Pride Parade will return to its evening time slot this year to celebrate the 25th staging of the popular event. The move was announced following a planning session in which the organisation's Committee of Management considered the findings of community consultation undertaken since the daytime staging of the event in 2013.
Pride Co-President Daniel Smith said Pride WA was working hard to identify the best model to take the event into the future.
"Funded by Lotterywest, Pride WA is undertaking a strategic review into our organisation and its operations, to guide what we do going forward," said Smith.
"While our reviewers have a lot more work to do before they present their final findings and recommendations to the organisation, some preliminary findings from a survey of almost 700 people indicate that the Parade, along with Fairday and the Festival, is valued highly by our community and is an event people would like to see continue.
"The results also indicate that the community is evenly split over whether the Parade should be held during the day or at night. However, through workshops and discussions with the various community groups and businesses who actually put entries in the Parade, our feedback is that participation will be best maximised at night, and so we will work to return the event to this time slot this year.
"Pride WA will do everything we can to make this event a success, including expanding and improving the float building program that we piloted in 2013, but the long term future of the Parade is really in the hands of the community.  If we want the Parade to continue to remain viable, then each of us needs to contribute to making the event a visually spectacular and entertaining event."
Mr Smith said returning the Parade to a night time event was one of a number of changes Pride WA was implementing this year.
"The Parade will also return to being the last event in Pridefest, with a new spectacular launch event created to open the festival," he said.
Pride WA had also decided to discontinue its Celebration event, introduced in 2013.
"Despite all the positive feedback we received for Celebration and the headline acts we presented at the event, we have made the difficult decision to discontinue this event", he said.
"While the event was generally successful, it tied up significant human and financial resources, which we believe would be better spent on making Fairday, the Parade, the Festival and our new launch event the best events they could possibly be."
Mr Smith said Pride WA would be talking to its stakeholders about sponsorship and logistical issues involved in implementing the decisions outlined and hoped to make an announcement about dates in the weeks ahead.
The calendar of events presented by Pride WA from 2015 on would be guided by the findings of the strategic review, which will report this year.
For more information, visit: www.pridewa.asn.au for details.
Image: courtesy of Pride WA
Image: