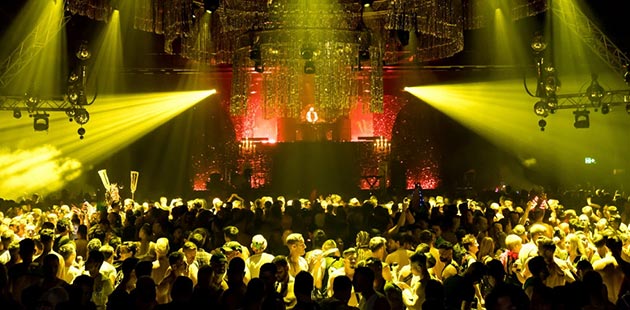 The biggest LGBTQI Party of the year, the spectacular Mardi Gras Party is confirmed to be held at the Hordern Pavilion and surrounding precinct after the Parade on Saturday 29 February 2020.
The Royal Hall of Industries (RHI) will be under redevelopment in summer 2020, so next year's Mardi Gras Party will transform the Hordern Pavilion, Max Watts, PJ Gallagher's, Backyard Burger Bar and other new event spaces, uniting over 10,000 partygoers with sensational shows from visiting stars, the best local/international DJs, plus stunning lighting and sound production.
The Mardi Gras team continues to work closely with Playbill Venues to ensure the annual Party remains the biggest and best in the southern hemisphere and continues to be held at the Hordern Pavilion and surrounding precinct for as long as possible into the future.
Following a NSW State Government tender process, both the Hordern and RHI are now under lease by the PlayOn Group, a partnership between Playbill Venues and the Sydney Swans. $65 million will be invested to revitalise the Hordern and RHI.
Playbill Venues will rejuvenate the Hordern – making it even better as a Party space with vastly improved facilities – while the Sydney Swans will repurpose the RHI as their new headquarters and community centre. The RHI plans include a multipurpose indoor recreation space which will be available for community events, and a forecourt plaza offering a new outdoor event destination.
The multipurpose space within the RHI will be available for use at future Parties should Mardi Gras wish to continue using it. It's expected the multipurpose space will be available for use from the 2021 Party onwards.
The Hordern Pavilion has recently submitted a Development Application to the City of Sydney to allow the planned refurbishment works to commence. Some minor works will be undertaken prior to February 2020 with all significant works scheduled to take place post the 2020 Mardi Gras Party. Playbill Venues has guaranteed that the Hordern Pavilion will be fully operational for the 2020 Party.
"Both buildings (Hordern & RHI) will remain available for the annual Sydney Gay and Lesbian Mardi Gras, which has been an important part of the precinct since the 1980s," say the Centennial Park & Moore Park Trust.
Further information about the 2020 Mardi Gras Party and many exciting announcements about the guest entertainment line-up will be made in spring when the 2020 season of events is launched. For more information, visit: www.mardigras.org.au for details.
Image: The Mardi Gras Party – courtesy of Sydney Gay and Lesbian Mardi Gras