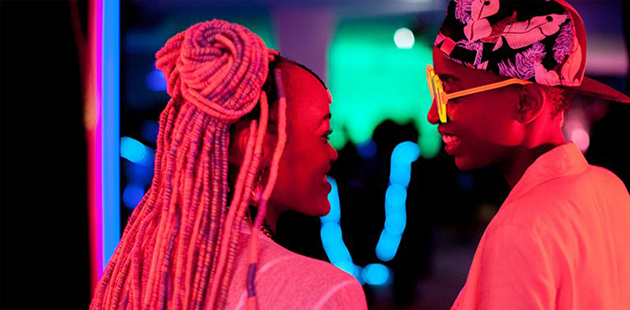 The 2019 Melbourne Queer Film Festival (MQFF) kicked off in spectacular style last Thursday evening with the Australian premiere of Papi Chulo. With over 141 features, documentaries and shorts, including 9 Australian Premieres, 28 Melbourne Premieres, the Australian Pride Network takes a look at 10 films worth checking out:
Allure:
Evan Rachel Wood stars in this dark, psychological drama, as a troubled woman who seeks sexual and emotional fulfillment through a series of failed relationships. Her life changes, however when she befriends and convinces an unhappy sixteen year-old girl (played by Julia Sarah Stone) to run away with her, but it soon becomes clear that there are disturbing power dynamics at play as their friendship morphs into something else. (Australian Premiere)
Bright Colors and Bold Patterns – 2019 MQFF Centrepiece Presentation
This hilarious filmed version of comedian Drew Droege's one-man smash off-Broadway show takes the audience on a wild ride as we spend an evening with an outrageous house guest who has been invited to a gay wedding in Palm Springs. The invitation dissuades guests from wearing bright colours and bold patterns, which acts as a red flag to a bull for the progressively drunk and drugged-up Droege to proudly wave his flamboyant gay flag. Non-stop zingers aside, Droege's sharp script explores pertinent issues on internal biases within a community often celebrated for inclusivity and diversity.
Canary:
Set against the backdrop of apartheid in South Africa this heartfelt drama follows Johan – a shy 'small town boy' who finds himself drafted into the military. In this harsh, macho environment he finds an oasis in the Defense Force Church Choir, the Canaries. Through this group of motley men he discovers camaraderie, the liberating freedom of music and eventually love. (Melbourne Premiere)
Dykes, Camera, Action:
Directed by Caroline Berler, this delightful and absorbing documentary about queer female identity and representation in film includes a look at activist works of the 1970s such as Barbara Hammer's experimental films, the boom in lesbian cinema in the 1990s, and the mainstreaming of contemporary queer narratives. (Melbourne Premiere)
Jeremiah Terminator LeRoy – 2019 MQFF Closing Night Presentation
Kristen Stewart is at her charismatic best in this wilder than fiction true account of the infamous literary scam that fooled Hollywood. Stewart plays the androgynous Savannah Knoop who spent six years pretending to be the celebrated male author JT LeRoy, the made-up literary persona of her sister-in-law Laura Albert, played here by Laura Dern at her prickly best. Featuring Courtney Love, Jim Sturgess and Diane Kruger and directed by Justin Kelly (I Am Michael, King Cobra, MQFF 2017), Jeremiah Terminator LeRoy is an intriguing and provocative tale on the slippery nature of celebrity, gender and sexuality.
Rafiki
When teenage Kena spots free-spirited Ziki dancing on the streets of Nairobi,the euphoric rush of first love hits her right away. The two begin to flirt, and soon they're sneaking off for secret dates. The girls know they're taking a huge risk by being together in their deeply conservative community. To complicate matters further, their dads are running against each other in a local election. Rafiki is a defiant and ultimately hopeful tale of first love, with blistering chemistry between the two leads. It has won countless awards and been a festival favourite all around the world, but remains banned in its home country of Kenya.
Sauvage:
Leo is a young gay sex worker, unaccountable to anyone, who sleeps rough and often puts himself in dangerous situations with his male clients. When he meets another sex worker, a straight Moroccan man, the pull of attraction, intimacy and commitment begin to chip away at his uncompromising lifestyle. (Melbourne Premiere)
Scotty and the Secret History of Hollywood:
Based on his scandalous, dirt-dishing memoir, Full Service, this eye-opening documentary follows former WW2 Marine Scotty Bowers around Los Angeles as he recounts his wild, sexually explicit exploits during Hollywood's Golden Age as sexual procurer to the stars. (Melbourne Premiere)
The Happy Prince:
Written and directed by Rupert Everett, this bittersweet film is the untold story of the last days of the legendary Oscar Wilde. Although wracked by financial and social ruin, this great wit nevertheless retains his incorrigible humor right to the bitter end. Co-starring Colin Firth as best friend Reggie Turner and Emily Watson as Wilde's unfortunate wife, Constance.
When the Beat Drops
Take one part the legendary Paris is Burning (1990) and add in the frenetic energy of Kiki (MQFF 2017) and you'll get a good sense of this exhilarating documentary. Directed by Jamal Sims (famed RuPaul's Drag Race choreographer), this exciting film introduces you to the world of 'bucking', a style of dance that riffs off Majorette routines from college football games. This wild style of expression was created by gay African American men in the south over two decades ago and this once underground subculture is now entering into the mainstream. This electrifying glimpse into its major players features some ecstatic dance sequences and culminates in an edge-of-your-seat 'sickening' competition.
The 2019 Melbourne Queer Film Festival (MQFF) continues at the Jam Factory, Australian Centre for the Moving Image (ACMI) and Cinema Nova in Carlton until Monday 25 March 2019. For more information and full program, visit: www.mqff.com.au for details.
Image: Rafiki (supplied)