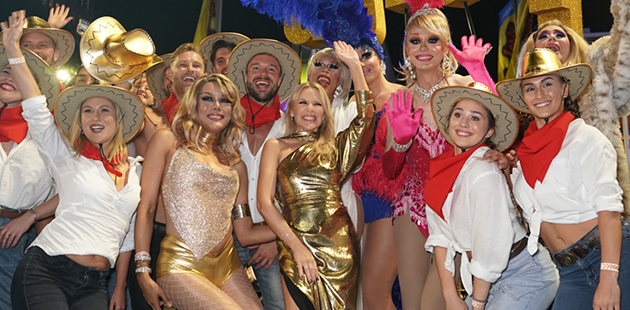 A fearlessly fabulous Sydney Gay and Lesbian Mardi Gras Parade took place last night with an estimated 500,000 spectators lining the streets and on the rooftops and balconies of Oxford Street to cheer on over 12,500 marchers taking part in the world's biggest celebration of the LGBTQI community.
Mardi Gras' 2019 theme was Fearless – a poignant acknowledgment of the way LGBTQI people across the globe courageously express who they are. The theme Fearless was taken up as a call to action by many of the floats in the Parade, calling on the LGBTQI community to be strong, live brave, be proud and celebrate fearlessly.
"People from all around Australia came together on this glittering night to witness a colourful spectacle of protest and celebration," said Sydney Gay and Lesbian Mardi Gras CEO, Terese Casu. "In total there were 197 groups represented in the 2019 Mardi Gras Parade, sharing a stunning array of creative concepts, with many incorporating the Mardi Gras theme Fearless."
"After last year's Mardi Gras Parade celebrated its 40th Anniversary by looking back at our rich history and the pioneers of change that made it all happen, the 2019 Mardi Gras Parade was a moment for LGBTQI people, young and old, to come together and move fearlessly into the future."
"This year we reflected on issues that are still faced by the LGBTQI community. Sydney's Indonesian community group Selamat Datang GLBTIQ brought to light the struggle for equality that people in other parts of the world face."
"Trans Australia Pride marched proudly towards a future in which trans acceptance and equality is a reality for all, while youth support group Twenty10 were a sea of fluorescent colour, a bright and shining hope for the years ahead."
"And of course, having LGBTQI icon Kylie Minogue join us for a special Parade tribute on Taylor Square, complete with 45 Kylie Minogue dancers and drag queens, was a highlight that many will remember," added Casu.
As the last shimmering float made its way to the end of the Parade route, more than 13,000 revellers continued to celebrate at the Mardi Gras Party – which took over several venues in Moore Park until 8.00am this morning.
This year's Party, Australia's biggest LGBTQI Party of the year, featured 10 spectacular live shows, 20 DJ's and five incredible dance spaces. The main dance spaces were given a makeover to create three totally different immersive worlds in which everyone could come together to dance, play and be fearless in.
Artists who performed at The Party included international pop star Kim Petras, Jake Shears (Scissor Sisters), Leiomy Maldonado and local legends PNAU, Courtney Act, Paul Capsis, HANDSOME and Briefs.
On the eve of the 41st annual Parade, Sydney Gay and Lesbian Mardi Gras announced that their bid to secure the hosting rights for WorldPride 2023 had received a $192,000 funding boost from the NSW Government.
A successful bid would see Sydney become the first destination in the Southern Hemisphere to host WorldPride, the marquee international lesbian, gay, bisexual, transgender, queer and intersex (LGBTQI) pride event. WorldPride 2023 would coincide with the 45th anniversary of the first Mardi Gras Parade.
SBS will broadcast the Sydney Gay and Lesbian Mardi Gras Parade tonight (Sunday 3 March) at 8.30pm and on SBS On Demand. For more information, visit: www.sbs.com.au for details.
For more information about Sydney Gay and Lesbian Mardi Gras, visit: www.mardigras.org.au for details.
Image: Kylie Minogue with Sydney Gay and Lesbian Mardi Gras Parade Participants (supplied)