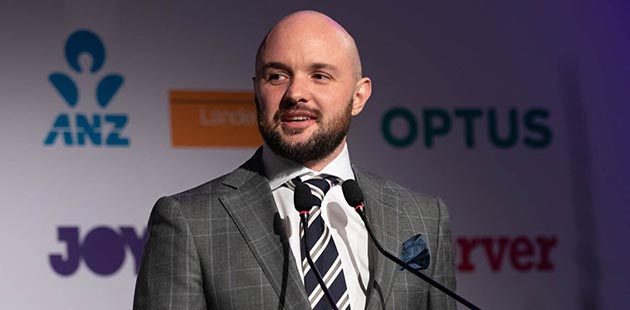 GLOBE Melbourne have announced the finalists for this year's GLOBE Community Awards – highlighting the amazing and inspirational work happening across Victoria's lesbian, gay, bisexual, transgender and intersex communities.
Twenty-nine finalists have been chosen with business leaders, volunteers, sports people, artists and community groups all making up the incredible list across ten categories, including the major award – GLOBE LGBTI Person of the Year.
Winners will be announced at the GLOBE Community Awards Gala on Friday 11 October 2019. For more information, visit: www.globemelbourne.com.au for details.
Image: Jeremy Wiggins – 2018 LGBTI Person of the Year – courtesy of GLOBE Melbourne
---
The finalists of the 2019 GLOBE Community Awards are:
Artist of the Year: (sponsored by RMIT University)
Peter Waples-Crowe
Gender Euphoria
James Welsby
A Healthy Community: (sponsored by VicHealth)
Dr Cal Andrews, LGBTQI+ Homelessness Program
Australian GLBTIQ Multicultural Council – AGMC Conference Living and Loving in Diversity
Dr Catherine Barrett
Connecting the Community: (sponsored by Optus)
Minus18
Switchboard Victoria – Out & About LGBTI Community Visitors
Headspace Bendigo – HEY Diversity Program
Excellence in Small Business: (sponsored by ANZ Australia)
Hares Hyenas
Gaytimes Festival
CentreStage Pty Ltd
John Marriott Sportsperson of the Year: (sponsored by Proud 2 Play)
Stella Lesic – Bushrangers Basketball Victoria
Kay Gravell – Glamourheads
Erik Manjushri Denison
Media Excellence: (sponsored by thrive pr + communications)
James McKenzie – 3CR In Ya Face
Chicks Talking Footy – JOY 94.9
Adrian Murdoch
Protecting our Community: (sponsored by City of Melbourne)
Switchboard Victoria
LGBTI Legal Service
VincentCare – Rainbow Tick Accreditation
Straight Ally of the Year: (sponsored by Crown Melbourne)
Melissa Tandy
Beck Robertson
Jo Hirst
Volunteer of the Year:
Erik Manjushri Denison
Toni Paynter
Nathan Duong
2019 GLOBE LGBTI Person of the Year:
Adele "Delsi Cat" Moleta
Jo Bangles
Judy Tang