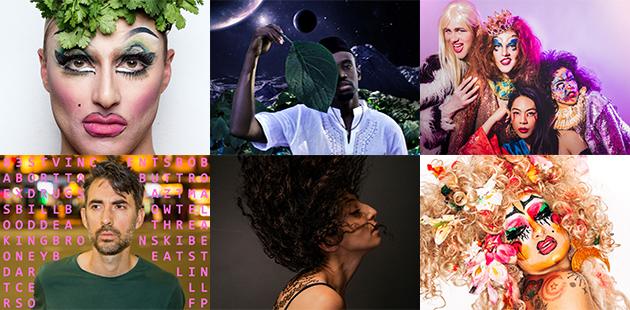 A three-week fiesta of category defying performances from some of the freshest and most inventive talent in the country, Griffin Theatre Company presents the 2019 Batch Festival at the SBW Stables Theatre until 11 May. The Australian Pride Network takes a look at some highlights:
Lady Tabouli 
On the night of his engagement party, Danny decides it's time to break it off. This isn't right. Or true. Back at home and living with his ultra-religious Lebanese parents, he starts to collide his culture and queerness one lip-sync and lipstick at a time. Unapologetic, piercing and deliciously camp, Lady Tabouli is James Elazzi's unflinching look at a life desperate for freedom, truth and a little more mascara. Directed by Dino Dimitriadis, this world premiere features Nisrine Amine, Paul Capsis, Deborah Galanos and Antony Makhlouf. (1 – 4 May)
Tales of an Afronaut
Melbourne-based poet wani Le Frère transports audiences through the world of a third-culture generation, delivering a raw performance of vulnerability, resilience and honesty in an evening of spoken word poetry. Through a lens both retrospective and current, Tales of an Afronaut stems from a need to reclaim self and that space in which self exists. It's a journey of learning, sharing, vulnerability and survival, a love letter to black people. It's an evening like nothing else. (1 – 4 May)
Lou Wall's Drag Race
Comedy superstar Lou Wall brings this award-winning, binary smashing extravaganza to Sydney, featuring Melbourne's fiercest and freshest Drag Royalty. Faux queens, bio queens, female female impersonators – it's time for a new Queen Bee to rule this cis-gendered monarchy of men. Everything you know about drag is about to get stabbed in the d*ck tuck by an all-inclusive, queer-not-just-gay, binary-busting, stabby stiletto. (3 – 4 May)
Don't Knock Your Granny
A highly entertaining socio-political parody cabaret which brings elder abuse out of the shadows and into the spotlight. Through laughter and tears, in sketches, song and puppetry, the show explores real issues affecting the older members of our society, from inter-generational challenges to family violence. Directed by Jo-Anne Cahill, Don't Knock Your Granny will be performed by formidably feisty females aged 60-90 from the Older Women's Network – a national body that researches and advocates for issues that impact older women. (4 May)
Never Let Me Go
Adriano Cappelletta's Never Let Me Go chronicles the history of the AIDS epidemic in Sydney from the early '80s as gay community groups mobilised to save lives and the Australian government fought religious dogma, moral crusaders and a fearful public to educate and quell a plague that could have ravaged many more. Directed by Johann Walraven and set to a soaring '80s soundtrack performed by an A capella choir, Never Let Me Go dramatises a tumultuous decade that saw the soldiers of AIDS fight fear with enlightenment and love. (8 – 11 May)
Sauvage (WILD)
Meet Sauvage. Wild woman. Myth. A new work by Aanisa Vylet (The Girl/The Woman), Sauvage (WILD) is a mashup of primal female storytelling, drums, belly dancing, physical theatre and song. Spoken in English, Arabic and Spanish, this is a tribute to those fighting for the right to return to their natural skin. Directed by Shy Magsalin. (8 – 11 May)
Grumble 'n' Friends
A genre smashing variety evening that whirls the worlds of performance art, club art, art art and heart art together in a womb of possibility. Birthed by totem critter Betty Grumble, Grumble 'n' Friends will make a great beautiful mess of your evening. All are welcome. (9 May)
Never Trust a Creative City
A little bit TED talk, a little bit buddy comedy and a little bit dystopian science fiction, Never Trust a Creative City untangles the complex relationship between artists and gentrification. Laugh, rail and weep with protagonists Emma McManus and Maria White as they embark on a comedic journey through rising rents and social dislocation, arts-led urban renewal, pop-up galleries and 'really dumb things on the internet.' (11 May)
A Little History Play
Bringing together theatre, indie role-playing games and board game design into three glorious nights of revolution – each night, participants form a newly elected government tasked with steering a fledgling nation through uncertain times, reacting to crises and passing laws, knowing full well their actions will reverberate through history. At the end, each group will commemorate its reign, leaving a monument for future generations. (continues to 5 May)
Unite Project (ongoing)
Todd Fuller's participatory artwork surveys a range of responses to same-sex love and marriage equality. Members of the public are encouraged to respond to a drawing depicting two men engaged in a passionate kiss, by colouring in the figures. The resulting images are then compiled into a compelling animation. To date, over 1,000 people have engaged in the process of receiving, responding to and returning a drawing, each one becoming a single image in the thousands of stills edited together into the animation. (continues to 11 May)
The 2019 Batch Festival continues at the SBW Stables Theatre, Kings Cross until 11 May. For more information, visit: www.griffintheatre.com.au for details.
Image: Lady Tabouli, Tales of an Afronaut, Lou Wall's Drag Race, Never Let Me Go, Sauvage (WILD) and Grumble 'n' Friends (supplied)