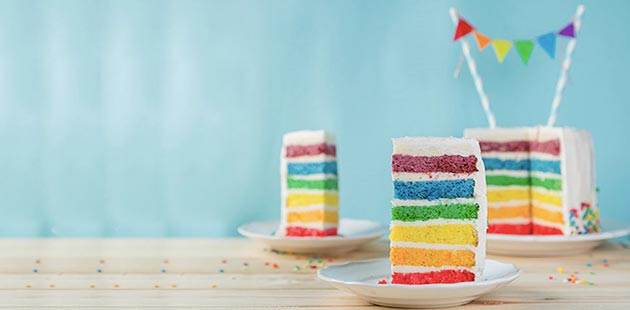 Prime your piping bags and get baking to be crowned Midsumma Bake Off Royalty as DT's Hotel in Richmond hosts the annual Midsumma Pride March Fundraiser on Saturday 12 October 2019.
In 2020, Pride March will celebrate its 25th anniversary. For 25 years Pride March has been parading the streets of St Kilda to show pride and celebrate our communities. Help make Pride March the grandest celebration yet!
Hosted by MC Dean Arcuri, grab yourself an apron, roll out the marzipan and beat those eggs! There have been some glorious and elaborate cakes in the past, so the bar has been set high – the competition is sure to be fierce. Midsumma is encouraging all LGBTQIA+ community groups, individuals, companies, venues, media and allies to get baking and enter their cakes in the following categories:
The Most Fabulously Delicious Cake:
May not look like much, but this cake will make your mother proud. This is the kinda cake you ask for as your last meal.
The Most Marvellously Stunning Cake:
In this category, the cakes will be so pretty you will not want to look away. Technique is everything for a master cake decorator, or maybe it is just a case of 'Every parent thinks their child is the most beautiful of all.'
Best Melbourne Cup Cake (Best Bite-Size Sweets):
If you can squeeze it all in one or two mouth-fulls then you are welcome in this category.
Queerest Concoction:
Unleash your queer genes and let your imagination run wild!
Perfect Pastry:
If pastry is your thing, then this brand new category will be perfect to get your creative juices flowing.
The Bruce McKenzie Award – People's Choice – Best Looking Cake:
Everyone can be a judge for a day – audience members will be invited to select the creation that most impresses them. Named in honour of the late Bruce Mckenzie – who was a great supporter of Midsumma and Pride March.
If baking isn't your scene, then come along to the auction for your chance to take home a show-stopper. All cakes competing in the competition will be auctioned off, with all funds raised going towards the running of Midsumma Pride March. So whether your passion is baking or eating cake, be sure to come along and support this much-loved community event.
---
2019 Bake Off – Midsumma Pride March Fundraiser
DTs Hotel, 164 Church Street, Richmond
Event: Saturday 12 October 2019 – Registration: 2.00pm / Event begins: 3.00pm / Auction: 3.30pm
For more information, visit: www.midsumma.org.au for details.
Image: courtesy of Midsumma