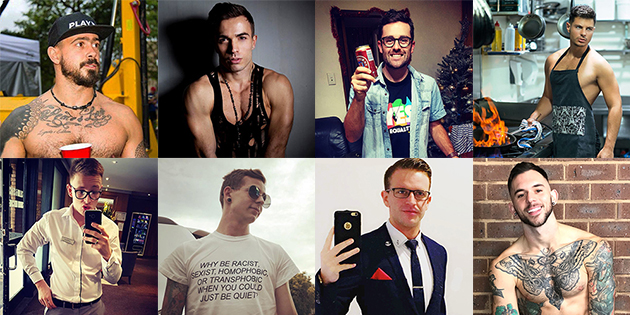 After receiving more than 30 applications from across the country, the hunt for Australia's next Mr. Gay Pride Australia is one step closer with 8 finalists being selected to compete in the competition which will culminate at Melbourne's Midsumma Carnival on Sunday 14 January 2018.
Finalists will compete in two online challenges where they will write an opinion piece to be published and then be subjected to a public vote. When the finalists come together in Melbourne the challenges will include a photo shoot, written test, a personal interview, public speaking at Midsumma Carnival and a charity challenge.
All challenges will be scored by a judging panel and the winner will get the chance to attend Mr Gay World 2018 as Australia's representative in South Africa from 20 – 26 May 2018. For more information, visit: www.eikonline.com for details.
Image: Top (l – r) Daniel Megson, Daniel Pasquali, Jonny Watson, and Jordan Bruno. Bottom (l – r) Jordan Hubbard, Nicholas Steepe, Steven Bruni, and Troy Griffiths (supplied)
---
The 8 Mr. Gay Pride Australia finalists for 2018 are:
1. Daniel Megson
Age: 31
Calls home: Annandale, New South Wales
Why he wants to win: For a long time I struggled with my sexuality growing up in a bad part of town in London it was never accepted by those around me and I lived in fear of people knowing my sexuality, in fear of being judged on who I loved instead of who I was as a person. I moved to Australia 2 and a half years ago and I now call this amazing country home. When I moved here I vowed to be myself and to not hide who I was anymore. I would use this opportunity to be a figure of inspiration and hope for others in similar circumstance. To promote an inclusive lifestyle across the whole of Australia. Love is love and love always wins. Let's Get Better Together.
2. Daniel Pasquali
Age: 33
Calls home: Newstead, Queensland
Why he wants to win: The reason I would like to become Mr Gay Pride Australia 2018 is because I will make a great titleholder. To me a great title-holder understands that being Mr Gay Pride Australia 2018 is a job and I have to actively and creatively promote it. So if I were to be chosen, I would bring more awareness to this event by actively recruiting boys to try to win my title next year.
3. Jonny Watson
Age: 29
Calls home: Richmond, Victoria
Why he wants to win: Simply, I want to help young guys and girls going through the same struggles that I did. I believe we have had the most amazing progressive year in 2017, and it will do wonders for the young people growing up in this more accepting society.
4. Jordan Bruno
Age: 25
Calls home: Perth, Western Australia
Why he wants to win: I take huge pride in representing the broader LGBTI community across Australia. I have released a cookbook with all profits going to LGBTI charities, I run an LGBTI cooking school, I have been a vocal advocate for same-sex marriage (giving countless speeches), I write for DNA magazine, have hosted countless fundraising dinners (including private dinners to raise money for marriage equality) and I consider it my duty to be a role model to future generations of LGBTI youth who are discovering who they are. It would be nothing short of an honour to continue my work, and I believe I can achieve great things with the platform.
5. Jordan Hubbard
Age: 22
Calls home: Beecroft, New South Wales
Why he wants to win: I want to stand for those who may be too scared to be themselves. I want to show everyone that being Mr Gay Pride Australia isn't just about abs or how skinny you are. It's about YOU I want the opportunity to help the gay community be EQUAL. No more "no Asians", "no fems". I want to break down these stereotypes and express its okay to be YOU.
6. Nicholas Steepe
Age: 23
Calls home: Dubbo, New South Wales
Why he wants to win: I want to be Mr Gay Pride Australia because I believe that I have a universal story to share with others, of identity and resilience. I feel that Mr Gay Pride Australia will allow me to reach more people, and allow me to further expand on the current work that I am doing.
7. Steven Bruni
Age: 25
Calls home: Wentworth Point, New South Wales
Why he wants to win: For me to apply for Mr Gay Pride Australia, and be even considered would be a privilege. What I am looking to get out of the competition is the ability to learn as much as I can, continue giving back to the LGBTI community and hopefully bring more awareness to the LGBTI issues sounding the ADF (although the ADF has come a long way with their diversity network, I feel the LGBTI part is lacking by the ADF, and a lot more can be done). Who better to assist my fellow brothers and sisters in arms than a fellow Veteran.
8. Troy Griffiths
Age: 27
Calls home: Altona North, Victoria
Why he wants to win: I would like the opportunity to meet fellow gay men from around the world and share what makes us the same and also different. I wish to further use my social media platform to support and play a good role model for queer people as well as raising awareness for mental health issues, especially amongst the queer community. The opportunity to network, travel and show the world what I have to offer is one not to be passed up.