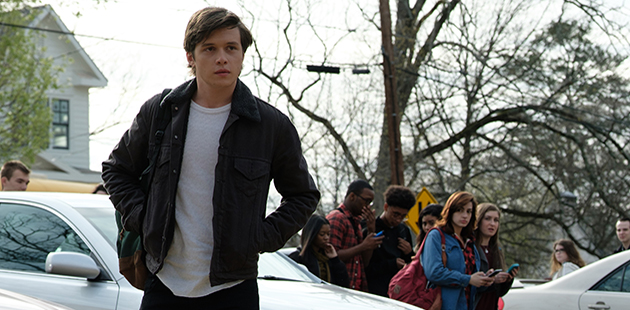 Building on its reputation for showcasing the finest, contemporary queer cinema from Australia and beyond, the 28th Melbourne Queer Film Festival kicks off tonight with a delicious line-up of evocative titles that explore and celebrate the rich diversity inherent throughout the LGBTIQ spectrum. The Australian Pride Network takes a look at fifteen films worth checking out:
Abu
ACMI: Saturday 24 March
Director Arshad Khan bravely puts himself front and centre as he documents his family's move from Pakistan to Toronto. This compelling documentary offers an intimate insight into a Pakistani immigrant exploring his sexuality while ruminating on his complex relationship with his conservative father. Using an inventive blend of animation, home movies and clips from old Bollywood movies, Khan has crafted a powerful look at the toll of migration and a personal portrait of liberation and acceptance.
A Moment in the Reeds
Cinema Nova: Saturday 17 March / ACMI: Saturday 24 March
Possibly the first ever Finnish LGBT romance, this beautiful love story, set against an idyllic Finnish summer, explores the intense affair between Leevi who is visiting his estranged father and Tareq, a Syrian architect, now refugee, employed to repair the family's lake house. (Melbourne Premiere)
Becks
ACMI: Sunday 25 March – Closing Night
Awarded Best Film at the 2017 Los Angeles Film Festival, and featuring a terrific cast including Tony Award winner Lena Hall in the titular role, along with Christine Lahti and Mena Suvari. Moving to LA to be with her girlfriend, Becks is crushed to find that she's been two-timed. With no money and diminished confidence, she retreats to the conservative Midwest to live with her mother, where she forms a clandestine relationship with a restless housewife, coincidentally married to Becks' high-school tormenter.
Desert Hearts
ACMI: Wednesday 21 March
Groundbreaking at the time for its explicit depiction of attraction between women, Desert Hearts recently celebrated its 30th anniversary. Set in the 1950s and adapted by the book Desert of the Heart by Jane Rule, the film follows University professor Vivian Bell (Helen Shaver) as she uproots her life to move to Nevada while waiting for a divorce. At a local ranch Vivian meets free-spirited Cay (Patricia Charbonneau).
Freak Show
ACMI: Thursday 15 March – Opening Night (Sold Out)
The critically feted, coming-of-age comedy based on the cult novel by James St. James – it follows fashion-forward teen, Billy, who, on moving to a new school, sets his sights on becoming Homecoming Queen. Directed by Trudie Styler with an amazing central performance by Alex Lawther, Freak Show features some unforgettable cameos by Bette Midler, John McEnroe and Laverne Cox.
Ideal Home 
ACMI: Friday 16 March / Cinema Nova: Sunday 18 March 
Extravagant, bickering long term lovers, Erasmus (Steve Coogan) and Paul (Paul Rudd), are unexpectedly plunged into parenthood, when the grandson Erasmus never knew he had, lands on their doorstep. From director Andrew Fleming, this dramedy is a bawdy and surprisingly touching look at the many variations that define a family. (Melbourne Premiere)
Love Bites
ACMI: Sunday 25 March
To commemorate the 40th anniversary of the Sydney Gay and Lesbian Mardi Gras, ABC Arts and Screen Australia commissioned 10 five-minute documentary shorts from LGBTIQ filmmakers across Australia. Love Bites is a celebration and insight into the lives of the LGBTIQ community and a showcase of great queer filmmaking talent.
Love, Simon
ACMI: Thursday 22 March – Centrepiece
Exploring the oft-fraught journey to self-discovery Based on Becky Albertalli's acclaimed novel, Simon Vs. The Homo Sapiens Agenda, and directed by Greg Berlanti (The Broken Hearts Club, Life As We Know It), this heartfelt tale follows seventeen year-old Simon Spier (Nick Robinson) who is yet to 'come out'; a fact complicated by his feelings for the anonymous classmate he's fallen for online.
Mansfield 66/67 
ACMI: Friday 23 March
A doco so drenched in camp that you may need to come up for air, this is an uproarious look at the final years of Hollywood starlet, Jayne Mansfield and her scandalous associate, Anton LaVey, founder of the Church of Satan, both of whom shared an unquenchable thirst for publicity. (Australian Premiere)
McKellen: Playing the Part
ACMI: Sunday 25 March
A unique journey through the landmarks of Ian McKellen's life from childhood to his candid thoughts on his own 'coming out' against the backdrop of the encroaching AIDS epidemic. (Melbourne Premiere)
Postcards from London
Cinema Nova: Saturday 17 March / ACMI: Friday 23 March
Seeking his fortune in London, beautiful teenager, Jim, portrayed by Harris Dickinson, star of the 2017 drama Beach Rats, lands in Soho, broke and jobless. An innocent, he falls in with a group of high-class male escorts specialising in post-coital conversation, and rapidly becomes the star attraction for an exclusive coterie of prominent clients, who find his ethereal beauty a perfect canvas upon which to project their fantasies. (Australian Premiere)
Signature Move
ACMI: Friday 16 March / ACMI: Monday 19 March
As a Pakistani Muslim lesbian living in Chicago, Zaynab (played by Fawzia Mirza) is out and proud – to everyone except her newly-moved-in mother. When artfully dodging her mother's attempts to find her a husband becomes too much, Zaynab copes by taking up Lucha-style wrestling. Her life climbs the turnbuckle when she meets Alma, a Latina bookstore owner, and the two fall head over heels into bed and relationship drama. With the spirit and spunk of '90's New Queer Cinema, Signature Move revitalises the classic lesbian rom-com by crossing cultures and body slamming its way into your heart.
Susanne Bartsch: On Top
Cinema Nova: Sunday 18 March / ACMI: Sunday 25 March
A star-studded, behind-the-curtains look that explores NYC culture through the influence of legendary club promoter, Susanne Bartsch, who over four decades hosted some of the most famous parties in New York city to rightly claim the title 'Queen of the Night.' (Melbourne Premiere)
The Fabulous Allan Carr
ACMI: Tuesday 20 March
Featuring interviews with those that knew him intimately, this is fascinating portrait of larger-than-life Hollywood producer and marketing genius, Allan Carr, who built his bombastic reputation against the success of hit musical Grease and Broadway triumph La Cage Aux Folles. (Australian Premiere)
The Feels
ACMI: Friday 16 March / Tuesday 20 March
In this racy, hilarious ensemble comedy, a group of friends gather for a weekend away to celebrate an impending wedding. However, as the weekend progresses, marriages unravel and sexual tensions boil over with wickedly comic results! (Melbourne Premiere)
The 2018 Melbourne Queer Film Festival continues to 26 March. For more information and complete program, visit: www.mqff.com.au for details.
Image: Love, Simon – courtesy of Melbourne Queer Film Festival