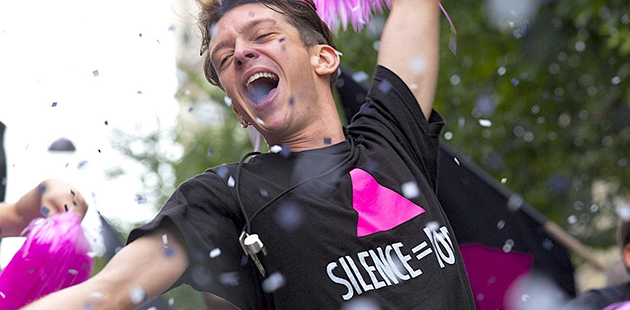 Now in its fifteenth year, and running 27 – 29 April 2018, the Bendigo Queer Film Festival (BQFF) is one of the few regional centres Australia wide to host its very own queer film festival.
Organisers have promised there will be something for everyone in this year's program including short films; Australian and foreign features; gripping and fun docos; youth oriented content; serious drama; and comedy.
A favourite with film festival regulars, the Patrons Breakfast on Sunday 29 April at The Capital will feature BQFF 2018 Patron, Ro Allen – Commissioner for Gender and Sexuality. A passionate advocate for rural and regional LGBTI and LGBTI youth, Ro will present a keynote address followed by a Q & A.
In addition, the Queer Country Art Exhibition at Dudley House demonstrates and celebrates the talents, vision and experiences of queer artists from Bendigo and rural Victoria. Running from Friday 20 April to Sunday 29 April, the exhibition is a platform for queer artists to express themselves, showcase their creativity, offer another perspective and educate the broader community about GLBTI arts and culture.
Highlights of the 2018 Bendigo Queer Film Festival include:
The Feels
Friday 27 April – 7.00pm
In this racy, hilarious ensemble comedy, a group of friends gather for a weekend away to celebrate the impending wedding of Andy and Lu. On the first drunken night Lu confesses that she's never had an orgasm, much to Andy's dismay. As the weekend goes on Lu's admission isn't the only thing that transpires, as marriages unravel and sexual tensions boil over.
A Moment in the Reeds
Saturday 28 April – 10.30am
Leevi returns to his native Finland for the summer to help his estranged father renovate the family lake house so it can be sold. Tareq, a recent asylum seeker from Syria, has been hired to help with the work. When Leevi's father returns to town on business, the two young men establish a connection and spend a few days discovering one another during the Finnish midsummer.
The Gospel According to Andre
Saturday 28 April – 1.30pm
This inspiring portrait chronicles the meteoric rise of André Leon Tully, the operatic style icon and fashion industry trailblazer, from segregated North Carolina to the highest echelons of the fashion world, and is a heartwarming story of a man with a fearless determination to remain true to himself.

Australian Shorts
Saturday 28 April – 3.30pm
A diverse showcase of queer stories and a celebration of local filmmakers. GQFF proudly present nine new shorts that will take you inside the Australian Sharpie scene of the 1970s, the grunt and sweat of the Australian Women's Football League, the inner life of a Melbourne bear, a transgender kid's first day at school, the alien abduction of a drug addicted drag queen and the rush of getting high and doing crime with your girlfriend.
Signature Move
Saturday 28 April – 5.00pm
As a Pakistani Muslim lesbian living in Chicago, Zaynab is out and proud – to everyone except her newly-moved-in mother. When artfully dodging her mother's attempts to find her a husband becomes too much, Zaynab copes by taking up Lucha-style wrestling. Her life climbs the turnbuckle when she meets Alma, a Latina bookstore owner, and the two fall head over heels into bed and relationship drama.
BPM (Beats Per Minute)
Sunday 29 April – 12.30pm
Director Robin Campillo (Eastern Boys) draws on his own experience as an ACT UP member in Paris in the early '90s. Driven by a pulsating house music score by composer Arnaud Rebotini, this passionate, moving and urgent call to arms delves deep into the politics and commitment of this group of people who were literally fighting for their lives.
The Fabulous Allan Carr
Sunday 29 April – 3.15pm
Featuring interviews with those that knew him intimately, this is fascinating portrait of larger-than-life Hollywood producer and marketing genius, Allan Carr, who built his bombastic reputation against the success of hit musical Grease and Broadway triumph La Cage Aux Folles.
The 2018 Bendigo Queer Film Festival runs 27 – 29 April. All films are screened at the La Trobe Art Institute. For more information, visit: www.bendigoqueerfilmfestival.com.au for details.
Image: BPM (Beats Per Minute)