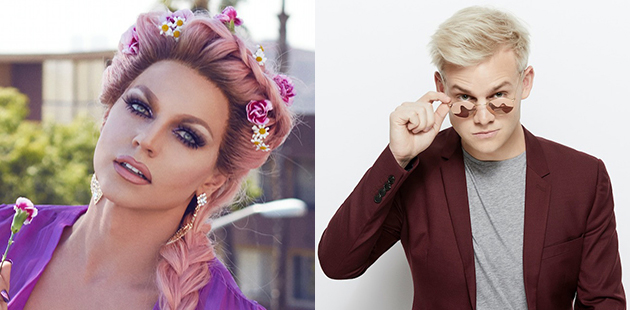 International drag performer Courtney Act and Australian comedian Joel Creasey are set to dazzle and delight as official Ambassadors for the 2018 Adelaide Fringe.
The two compelling entertainers are performing at next year's Adelaide Fringe and will help promote Australia's largest arts festival to national and international audiences. Adelaide Fringe Director and CEO Heather Croall said securing Act and Creasey as Ambassadors was a major coup for next year's Fringe.
After growing up in Australia, Act now lives in Los Angeles and has spent the last few years touring around the world in the wake of making the top three on US reality TV show RuPaul's Drag Race. Act, who will perform Under the Covers for two nights only on the Fringe's opening weekend, said she had a lot of respect for the Adelaide Fringe's inclusive nature.
"As an open access arts festival, the Adelaide Fringe has such a diverse and engaging line-up of artistic talent and I'm always honoured to be part of that – especially with Joel," said Act. "We're like the Scott and Charlene of Adelaide Fringe… I hope he's happy to get a perm! I had a blast touring The Girl From Oz this year and I'm excited to tour Under the Covers across Australia in 2018. I'll be stripping down songs and flipping them on their back to show just how gender-fluid they can be."
Meanwhile Creasey will be adding 2018 Adelaide Fringe Ambassador to a long list of achievements over the past year –  from releasing his first memoir, Thirsty, to commentary duties at Eurovision and being named GQ Comedian of the Year. He'll bring his new show Blonde Bombshell to the Garden of Unearthly Delights from 5 – 11 March, in which he slices and dices celebrities, pop culture and even himself.
"I've been performing at Adelaide Fringe since 2013 and it's always a thrill because the audiences are so willing to take risks and give off such a great energy. With everything I've had going on over the past year it's going to be a lot of fun to rip back the curtain and fill everyone in on all the juicy behind the scenes action," said Creasey. "Plus the opportunity to work with fellow blonde queen Courtney is a treat. It's going to be the naughtiest Fringe ever!"
Ms Croall said to keep growing audiences, the Adelaide Fringe needed to attract more interstate and overseas visitors. "The Ambassador program is supported by the South Australian Tourism Commission and is an important part of boosting our visitor numbers," she said. "We're delighted to have Joel and Courtney on board for the 2018 Adelaide Fringe – they are both fabulous entertainers, so I'm sure they'll do us proud."
The 2018 Adelaide Fringe will run from 16 February to 18 March. For more information, visit: www.adelaidefringe.com.au for details.
Image: Adelaide Fringe Ambassador's Courtney Act and Joel Creasey (supplied)