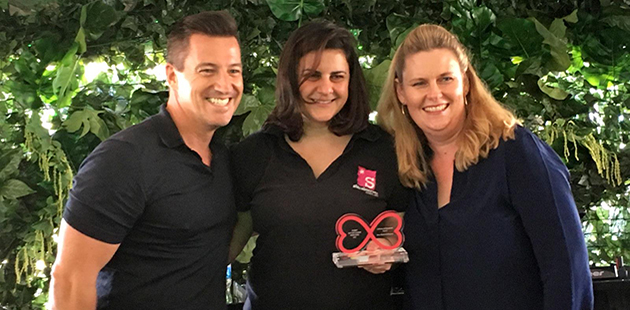 Volunteers, Parade entrants, Fair Day and Festival participants, staff, board and community supporters came together on Saturday afternoon at The Star, Sydney to celebrate this year's spectacular season and the announcement of the 2017 Sydney Gay and Lesbian Mardi Gras Awards.
The Awards Ceremony signifies the official end of the 2017 season, and an opportunity to recognise excellence across the huge season of events, honouring those individuals and groups among us who go above and beyond to make the festival extra special. The 2017 Sydney Gay and Lesbian Mardi Gras Award Winners are:
Fair Day:
Best Commercial Food Stall: Berlin Bangers
Best Commercial Stall: University of Sydney
Best Community Stall: The Gender Centre
Special Commendations: Pink Mountains, Rainbow Store, and Rainbow Families
Stall of the Year: Uniting
Parade:
Best Choreography: Glamcocks
Ron Muncaster Award for Best Costume: The Force of Love
Best Float Design: Poof Doof
Best Individual or Small Group: Wonder Mama and Friends
Special Commendations: Northern Territory Hepatitis and AIDS Council/Departure Lounge, Sydney Rangers, Sydney Queer Irish, and Sydney Trans Pride
Ron Austin Award for Fabulous Parade Entry: Oceania Rainbow Network
Workforce:
Excellence in Innovation: Alan O'Riordan and Rick Stone
Excellence in Leadership: Kim Williams
Excellence in Service: Adrian Hinder
Excellence in Teamwork: Louis Hudson
ICARE Award: Laura Fazzolari
Volunteer of the Year: Daniel Lester
Lifetime Achievement Award:
Ann-Marie Calilhanna – photographer
For more information, visit: www.mardigras.org.au for details.
Image: Ann-Marie Calilhanna (centre) with SGLMG Co-Chairs Damien Hodgkinson and Fran Bowron – courtesy of Sydney Gay and Lesbian Mardi Gras