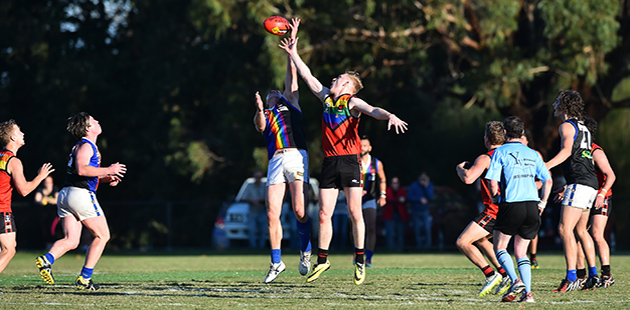 The fourth annual Pride Cup has been announced that will see champions Yarra Glen take on the Yea Tigers in a match that will showcase the Yarra Valley Football and Netball League's support for diversity and inclusion in sport.
To be held on Sunday 7 May 2017 at the Yarra Glen Recreation Reserve, this year's Pride Cup will include a range of football and netball games throughout the day. The football ground will feature rainbow colours, the international symbol of gay pride, at the 50m line in a show of support for LGBTI inclusion that has been embraced by the teams, the local community and the AFL.
Pride Cup celebrates diversity and inclusion in sport for those who identify as lesbian, gay, bisexual, transgender and intersex (LGBTI). Now in its fourth year, Pride Cup was the inspiration behind the AFL Pride Match in 2016 between the St Kilda Football Club and the Sydney Swans to start a national Pride Cup.
Teams who participate in the Pride Cup receive diversity and inclusion training in the lead up to the event by Gay and Lesbian Health Victoria with support from Yarra Ranges Council, AFL and Netball Victoria.
Pride Cup organiser Jason Ball says the Pride Cup continues to have an impact at the grassroots and the national level. "The Pride Cup is continuing to grow and have a positive influence on Australian rules football. We are heartened to see both the AFL at a national level but also other leagues around Victoria showing their interest in promoting and supporting diversity in the sport," said Jason.
"The Pride Cup is not just a show of support for the LGBTI community, it is about educating our clubs, our coaches and our players about the diversity and sporting talent that exists in our community. It is about making sure that our local footy and netball clubs are open for all."
The 2017 Pride Cup on 7 May 2017 will include a range of football and netball games ending with the senior Pride Cup football match at 2.10pm and the presentation of the Pride Cup at 4.30pm.
For more information, visit: www.pridecup.org.au for details.
Image: Pride Cup Match – photo by Theo Karanikos / AFL Media