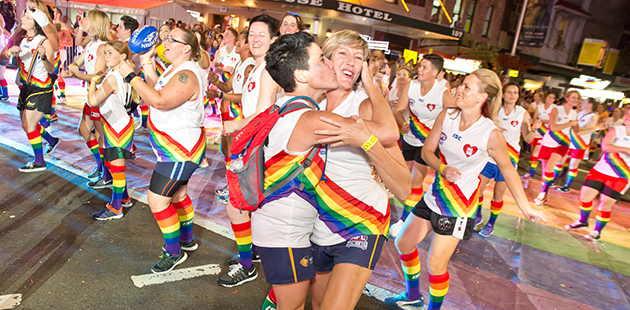 With just three more sleeps until over 12,000 dazzling parade entrants will skip, saunter and sashay their way up Oxford Street for the 39th annual Sydney Gay and Lesbian Mardi Gras Parade. On Saturday 4 March 2017 more than 100,000 people will line the streets of Sydney in support of the LGBTIQ community.
So, you've picked your spot, got a rainbow flag at the ready, glitter face paint and a smile, all you need to know is who to look out for as you cheer on the Parade from the sidelines. With 186 floats in total, this year's Parade promises to be a stunning display of celebration, passion and support. Here are a few floats to watch:
MARDI GRAS PRODUCED FLOATS
Equality – this stunning float, produced by the Mardi Gras team features 8 x 2.4 metre high 3-D equality letters on wheels that will span over 20 meters. A cross between a moving sculptural installation, Parade float and giant photographic exhibition each letter features a different participant from the My People My Tribe Photography project titled #barenakedtruth.  Accompanying the giant letters as they travel up Oxford Street will be 60 participants from the LGBTIQ community in Sydney that have participated in the My People My Tribe project.
Andy's Shoe – created in collaboration with the AGNSW and Mardi Gras, this float features a giant sparkling gold women's shoe inspired by Andy Warhol's beautiful 1950's illustrations of women's shoes.  Inside the shoe will ride four Andy Warhol's, each an Andy from a different decade – 50's, 60's, 70's and 80's.
A Fabulous Future – the third float Mardi Gras has created for the Parade will feature two hoop aerialists and 40 community dancers in a spectacular float that depicts a Barberella styled future where everyone is equal, respects and loves each other and anyone can be married. The two hoops represent rings of love and commitment and the aerialists, the sparkling diamonds in the rings.
COMMUNITY FLOATS
Northern Territory AIDS and Hepatitis Council & Departure Lounge – this float presents Territory Stars, a showcase of the unique LGBTQI Community in the Northern Territory. The float will have some very special guests, the Tiwi Island SistaGALS, Aboriginal trans women who began a crowdfunding campaign last year to raise funds to attend their first ever Mardi Gras.
NSW Teachers Federation – given everything that's gone on with Safe Schools, Mardi Gras welcomes the many teachers marching in this float, showing their support and inclusiveness for LGBTIQ equality.
DIY Rainbow's Freedom The Float – the organisation who fight for marriage equality will be decked out in classic George Michael looks in tribute to the recently deceased singer.
Sydney Queer Irish – always a float that shines, mirror balls and reflective costumes will be used to reflect the similarities between Ireland and Australia. Although geographically different, there are many similarities between the two countries including the passion for creating equality.
Trans Sydney Pride (TSP) – TSP is a Sydney based social and support group founded by binary transpeople for binary, non-binary and gender-queer transpeople. Their vision for their Parade float is to provide visibility to the trans community and show that they are strong, diverse and beautiful.
Sydney Women's AFL – with women's teams from across all states and territories, Sydney Women's AFL is made up of a mixture of straight, gay, trans, Muslim, Catholic, Christian participants who all support each other for who they are. The group will take to the streets to show that there is no place for discrimination in sport. There is no place for discrimination in life.
Australian Defence Force and DEFGLIS – Defence LGBTI Information Service – Serving with Pride, Defence is proud of its evolving culture and recognises the benefits of a diverse and inclusive workforce. Defence partners with DEFGLIS at for the Sydney Mardi Gras Parade to recognise the important support that LGBTI Defence families contribute to personnel.
Melbourne Chargers Rugby Club – Equality – On and off the field. You don't need to be straight to play! Our club is full of people who love to play sport, people that enjoy participating in a physical game and want to get out, have fun and be active. Some of us just happen to be gay!
Mardi Gras' 2017 theme is Creating Equality – a poignant message that has been a cornerstone of Mardi Gras' ethos since its humble beginnings in 1978. Equality means many things, and in 2017 Mardi Gras want to celebrate how far Australia has come in accepting and embracing its LGBTQI communities, and what positive steps there are still to make.
"We have some truly wonderful parade floats who have embraced the theme of Creating Equality," said Sydney Gay and Lesbian Mardi Gras CEO, Terese Casu. "From pure celebration and creative self-expression, to floats with a wild and witty protest call to action, the 2017 Sydney Gay and Lesbian Mardi Gras Parade will be bursting at the seams with pride and passion."
The 39th Sydney Gay and Lesbian Mardi Gras Parade takes place from 7.00pm on Saturday 4 March 2017. For a complete list of participating floats, visit: www.mardigras.org.au For more information about the Parade, visit: www.mardigras.org.au for details.
For those who can't be in Sydney, SBS will screen highlights on Sunday 5 March 2018 at 8.30pm. A Full Live Stream of the Parade will be available Saturday 4 March from 7.00pm on SBS On Demand (does not include hosts or packages).
Image: Sydney Women's AFL at the 2016 Mardi Gras Parade – photo by Hamid Mousa