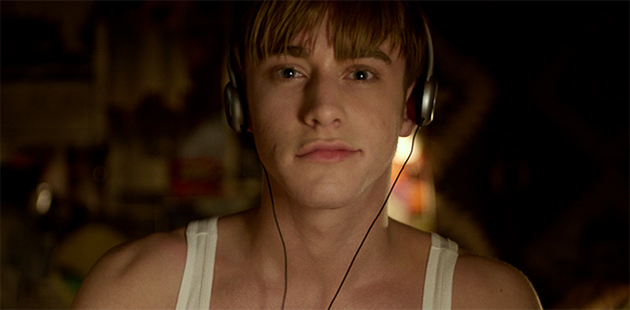 Now in its fourteenth year, the Bendigo Queer Film Festival (BQFF) is one of the few regional centres Australia wide to host its very own queer film festival running 28 – 30 April 2017.
Organisers have promised there will be something for everyone in this year's program: short films and animation; Australian and foreign features; gripping and fun docos; youth oriented content; serious drama; and comedy.
"We are proud to offer content that caters to the diversity that exists within Central Victoria," said Suellen Pepperell, Convenor Bendigo Queer Film Festival. "We are thrilled to present a great program of events that celebrate, educate and inform LGBTQIA Victorians and the wider Goldfields community."
Highlights of the 2017 Bendigo Queer Film Festival include:
A Date for Mad Mary
Friday 28 April – 7.00pm
Seána Kerslake gives the performance of the festival (possibly the performance of the year) as 'Mad' Mary McArdle, a young woman trying to slot back into her Irish backwater existence after being released from prison. Mary's walked straight back into maid-of-honour duties at her best friend's wedding, scrounging for a date and determined to prove she's not the total lost cause everyone thinks she is. Stocked with talent and shot through with wry observational heart, A Date for Mad Mary is a well worth cancelling your plans for.
AWOL
Saturday 29 April – 11.00am
Out baby butch Joey (Lola Kirke – Mistress America) considers the Army as a way out of rural Pennsylvania until a chance encounter with the older and charismatic Rayna (Breeda Wool, UnReal), married mother of two. With undeniable attraction, they immediately begin a passionate affair, hidden from Rayna's long haul trucker husband. Much to her family's dismay, Joey's resolve to escape her small town life begins to falter as she dreams of a future with Rayna. Deb Shoval's feature debut is a tender exploration of the intensity of first love constrained by rural poverty.
Miles
Saturday 29 April – 2.00pm
Miles is out and gay living in a small, rural town in Middle America and is desperate to escape to Chicago come graduation. After his mother discovers that his recently deceased father spent all their money on his mistress, Miles has no other option than to try for a sports scholarship to pay for University. His prayers are answered after he discovers a Volleyball scholarship only to face backlash from small town folk who don't want a boy playing on a women's only team.
Pulse
Saturday 29 April – 3.45pm
Mixing sexuality and teen angst with an undercurrent of sci-fi, this bold fantasy follows a gay disabled teen who undergoes a mysterious procedure that gives him the body of a young able-bodied woman in order to pursue his love object. Exploring how our bodies shape who we are and how we are perceived, Pulse is a modern day parable for the young, the queer, the disabled and for anyone who has ever struggled with their sexuality, their desires, and essentially, themselves.
Kiki
Saturday 29 April – 5.30pm
Category is Queer Activism Realness! The ball scene is alive and well in NYC, with the younger, feistier Kiki crew hungry to take the spotlight. Swedish film maker Sara Jordeno's draws a fabulously frocked line between Jennie Livingston's 1991 documentary, Paris is Burning, and her film, Kiki. Developed hand in hand with some of the key players on the scene, primarily Twiggy Pucci Garçon, founder of the Opulent Haus of PUCCI, Kiki delves into the lives of these young-people-of-colour growing up queer and trans. Their stories, while sometimes heartbreaking, never fail to inspire. The future is in good hands. And it can vogue.
Queer Conversations: a conversation on representation of queers in the media
Sunday 30 April – 10.00am
The patron's breakfast is always a very popular event on the BQFF calendar, this year it has evolved to Queer Conversations, where the way in which queers are represented in the media will be the topic of conversation. The conversation will be led by Bill Calder and Dr Graham Willett. This event will take place at Bendigo's The Capital Theatre.
Australian Shorts
Sunday 30 April – 12.30pm
This spotlight session celebrates local queer filmmaking presenting eight new shorts ranging from vibrant musicals about shop girls in love, an animation about the rules of attraction, moving dramas about lost love and getting your mojo back after a breakup – shorts include: Dance Card, Slug, Virion, Happy, You Deserve Everything, The Dam, Adult, and Sweet Dreaming.
Out Run
Sunday 30 April – 2.30pm
Bemz Benedito dreams of becoming the first transgender person in the Philippine Congress, representing the LGBTIQ party Ladlad. Documenting her journey and that of the first LGBTIQ political party in the Philippines, Ladlad, it is at times uplifting, heartbreaking and shocking. You may be surprised at the blatant, well-meaning discrimination faced by the representatives of Ladlad, by the extreme marginalisation of LGBTIQ, and particularly of transgender people and by the overwhelming odds against this little group of would-be politicos.
Women Who Kill
Sunday 30 April – 4.30pm
Brooklynites Morgan (Ingrid Jungermann) and her ex, Jean (Ann Carr) are true crime podcasters obsessed with female serial killers. As Morgan plunges into a new relationship with the beautiful and mysterious Simone (Sheila Vand) from the local food co-op, Jean's jealousy leads her to investigate. As suspicions emerge, together they ask, could Simone be a murderer or is Morgan just afraid of what it means to be in a relationship? Writer/Director Ingrid Jungermann challenges modern relationship fears of intimacy and commitment in this dark comedic psychological thriller.
The 2017 Bendigo Queer Film Festival runs 28 – 30 April. All films are screened at the La Trobe Art Institute. For more information, visit: www.bendigoqueerfilmfestival.com.au for details.
Image: Tim Broadman stars in Miles (film still)