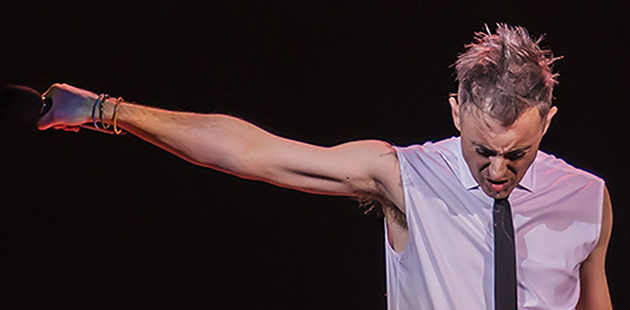 The tables are turning in 2017 and Adelaide Festival Centre's Adelaide Cabaret Festival invites you to join the revolution and discover the sumptuous offerings in this year's program. Discover new venues and old friends and expect to feel upturned, challenged and delighted by incredible performers that could change your world view.
Artistic directors Ali McGregor and Eddie Perfect together with Adelaide Festival Centre proudly serve up a program of 430 artists in 147 performances over 16 days and nights. There are 58 international artists from as far afield as the United States, Ireland, United Kingdom, Japan and New Zealand, together with 372 Australian artists including 234 from South Australia.
The 2017 festival showcases 17 world premieres, 5 Australian premieres, 25 Adelaide premieres as well as 17 Adelaide exclusives, 20 shows with international artists and 5 totally original shows commissioned or co-commissioned by Adelaide Cabaret Festival.
"Nobody can deny that the social and political landscape has become wild and bumpy in 2017," said Artistic Director Eddie Perfect. "Wherever you sit on the ideological spectrum, we all find ourselves living in George Orwell's 1984 where war is peace, ignorance is strength and lies are truth.
"In 2017 we invite our brave and open-minded audience to join us to turn the tables from fear to love, division to unity, anger to joy, and all with wit, skill, wonder and passion."
"This year we have people creating quiet revolutions in dance and theatre, loud revolutions with burlesque and tomfoolery and dissonant revolutions with unique musical collaborations," adds Artistic Director Ali McGregor. "The common theme throughout is one of LOVE: love through the discovery of another's story, a shared enjoyment of song, the ability to laugh at ourselves and question our motives and desires.
"The intimacy of cabaret means that there is an inherent level of trust between performer and audience. But there is also a level of trust that YOU, our loyal patrons put in Eddie and I. We are introducing you to some new acts and ideas. The tables that turn will not only bring fresh talent but also celebrate performers that you already know and love."
Take a first bedazzled bite of the pie with hosts Ali McGregor and Eddie Perfect during the opening weekend! Tried and tested favourite the Variety Performance Gala will feature a sizzling smorgasbord of unmissable acts over two nights, presentation of the annual Cabaret Icon Award, and a few secret ingredients.
2016's hugely successful Family Gala returns giving pint-sized theatregoers their first taste of walking the red carpet. Frock up the entire family and celebrate extra hard with 2017 also heralding the 40th birthday of Something on Saturday.
Family circle celebrations continue with the 16th instalment of Hush 16: A Piece of Quiet original Australian music created for children in hospitals blending lyrical input from Australian children, stunning vocals from The Idea of North and inspirational musical compositions by Elena Kats-Chernin, Lior and Adelaide's Zephyr Quartet.
Lior also lends his exemplary voice and songwriting prowess to Love, Loss and Compassion in which the he presents with Australian String Quartet beloved songs, selected previews from his upcoming album and a re-imagined version of Sim Shalom (Grant Peace) from the orchestral song cycle, Compassion, written with Nigel Westlake.
Turns of phrase, songwriters and wordsmiths are the bread and butter of cabaret. Whisking together incredible culinary fusions are iconic singer-songwriter Paul Kelly and magnetic Irish-French chanteuse Camille O'Sullivan who breathe new life into the works of W. B. Yeats and the poets of Erin and add newly composed songs to create Ancient Rain.
In Quartet, baritone Peter Coleman-Wright and scintillating saxophonists Nexas Quartet embark on a musical journey from Berlin and Vienna to New York and beyond with a mixture of Weimar political songs and those of Weill, Stolz and Schreker.
Winners of multiple Grammys (music's Michelin stars) are USA jazz extraordinaires guitarist Bill Frisell, paying tribute to classic American cinema tracks with and, making her Adelaide debut, the spectacular Dianne Reeves who brings her powerhouse vocals and incredible improvisational R&B stylings to the stage.
In an Australian premiere, founding Fascinating Aïda member and self-confessed chutney lover Dillie Keane takes a solo leap with Hello Dillie, a brand-new show of well-loved favourites, original songs and plenty of cheerfully filthy smut. Your heart will be further warmed (or possibly shattered into smaller pieces) by the Australian premier of Songs For Lovers (and Other Idiots) featuring the trademark wit and virtuosity of Sarah-Louise Young and Michael Roulston's decade-long partnership.
Elise McCann, 2016's Helpmann Award-winning Miss Honey in Matilda the Musical, continues her fascination with Roald Dahl's 'scrumdiddlyumptiously' sardonic characters in Dahlesque, featuring songs inspired by the movies of his books as well as original compositions of Revolting Rhymes.
Clear a space on your dance card for Penny Ashton who pays sincere apology to Jane Austen with her new musical Promise and Promiscuity, combating literary snobbery and cousin Horatio's digestions with her trusty ukulele and a slice or two of pound cake.
Major life changes are on the menu for musical comedy darling Gillian Cosgriff, whose sense of the impending probable apocalypse only adds to the anxiety of her partner's marriage proposal in To the Moon and Back, and iconoclastic New York sassy siren Lady Rizo, who is balancing new motherhood while staying atop her glittery stilettos in Multiplied.
Take a theatrical turn with shows whose sweet, indulgent theatrical heart will engulf even the staunchest attendees…but don't get too comfortable! Dusty Limits Grin's caustic observations on life, love and the ghastly state of the world will have you grasping the gin bottle in solidarity before the honey-cream hypnotic voice of Meow Meow joins forces with the Orchestrer der Kleinen Reginment in the ultimate duel of grand old dames in Souvenir, an attempt to summon the ghosts of Her Majesty's Theatre past, present and future.
Pull up a chair at Linda Catalano's table to hear One Suitcase, Four Stories, tales of migration, family and her nonna's best recipes which you'll prepare and eat together. You'll need a glass of wine or two to stomach the explosive dramas of Australian theatre darling Christie Whelan Browne's fictitious family in Vigil, when prodigal daughter Liz bursts through the door on Christmas Day demanding answers and truths that can't be soothed with Christmas carols.
Intimate undertones of loss, longing, joy and hope bubble to the surface of Robyn Archer's The Sound of Falling Stars, starring Cameron Goodall who inhabits the unmatchable souls of Elvis Presley, Sam Cooke, Kurt Cobain, Jeff Buckley and many more. For main course, anarchic punk gypsies The Tiger Lillies serve up a riotous cocktail of music-hall antics, mad accordion and bar room brawls with The Very Worst of The Tiger Lillies.
And who else could be the dessert special but Le Gateau Chocolat in Black. His velvety voice and heart-warming confessions assisted by songs from Wagner, Purcell, Nina Simone and Whitney Houston will have you feeling like you've spent a soul-satisfying session with your dearest friend.
Far greater value than any intoxicated best man's speech are the uproarious sketch and improvisational talents of the Pajama Men, whose jubilant Pterodactyl Nights will have you shrieking into the night, and velvet-draped nightingale Tina Del Twist (the genius comic invention of Wes Snelling) adds her brie-shredding wit to many of the classics in Gold Glass, backed by her guitar-toting maestro Stephen Weir.
Making her Adelaide debut is one of New York City's funniest people. With appearances in Inside Amy Schumer, Sex And The City and Trainwreck under her belt, Bridget Everett will teach you to Pound It! as only she can in her outrageous, gut wrenching manner, letting her explosive vocal talent take over once the flesh is truly sexed-out (and it may take all night).
Turning heads are those masterful main course shows which you ignore at your peril – indigestion be dammed! At long last gracing the Adelaide stage is a shape-shifting trickster and legendary showman who knows a thing or two about Cabaret. Alan Cumming Sings Sappy Songs draws on his infamous Club Cumming dressing room evenings and shares some of his most hilarious, distressing and heart-wrenching stories in one unmissable evening.
The otherworldly bodies, theatrical circus atmosphere and burlesque bravado of Brisbane's own Briefs boys must be seen to be believed in Close Encounters. Their brand new show boldly goes beyond the limits of masculinity, taste and decency. The drag antics continue as Courtney Act reminds you there's no place like home with The Girl From Oz, throwing onto the backyard barbeque a meat tray of Australian hits from AC/DC to Xanadu.
Self-confessed gay superhero and 2017 Adelaide Fringe Best Cabaret winner Reuben Kaye demands you accompany him on a Journey to the Centre of Attention, charting his rise from bullied schoolyard scapegoat to keeper of one of London's most divine voices and giving him a firm run for the glittery money is Kim David Smith, who premieres his brand-new show Morphium Kabarett conjuring Peter Allen, David Bowie, Kylie and Marlene Dietrich in the ultimate dinner party dream performance of 1920s Berlin.
In need of a siesta? Strange Bedfellows have the bed if slumber is not actually desired. Underfunded and over-lubricated, Australian opera's enfants terribles present Bedlam, lithium laced musical shock therapy, with multiple Helpmann Award winners Jacqueline Dark and Kanen Breen donning their fishnets and strait jackets to take asylum on the Artspace centre stage.
Direct from the Gold Coast and channeling David Copperfield and Claudia Schiffer circa 1989 are Peter & Bambi Heaven with The Magic Inside, a spectacular magical act with the emphasis on tack and all the sequins you could choke on. If you do choke , Ryan Gonzales will happily bang you (on the back), stab you (in the heart) and serenade you Latino-style with Hispanic Attack, fiery hits from Jennifer Lopez, Gloria Estefan and Enrique Iglesias, and possibly even his former Menudo band mate turned sworn enemy Ricky Martin.
The best of Berlin, Rogers & Hart, Sondheim and Peter Allen are sprinkled liberally amongst stories of 50 years on and off the stage in Carlotta: Queen of the Cross, starring Australia's living legend, political activist and inspiration for Priscilla, Queen of the Desert. Lucky: Songs by Kylie pays homage to Australia's slightly younger royal figure but unquestionable pop princess, brought to full hot pants-popping life by Michael Griffiths and his impeccably bottomed four piece band.
Adelaide Cabaret Festival favourite, five-time Grammy and two-time Emmy nominee, and extraordinaire interpreter of the Great American Songbook, Michael Feinstein joins forces with a 17-piece big band for Sinatra and Friends. Performing a lip smacking blend of incredible swing songs and vintage ballads, plus delightful seldom-sampled arrangements, Feinstein will pay tribute to Liza Minnelli, Ella Fitzgerald, Peggy Lee, Rosemary Clooney, Sammy Davis Jr. and more.
Several of Australia's sassiest and silver-tongued women raise their glasses in tribute to iconic songs and performers, with Cath Alcorn fresh from her 2016 Sydney Theatre Award nomination (Best Cabaret Show) to present Cathartic, applying her razor sharp touch and impeccable versatility to smoking hot melodies from Blondie to Beyonce; and Amanda Harrison (Wicked), Chelsea Renton-Gibb (Cabaret, Chicago) and Melissa Langton (The Fabulous Singlettes) unite as Cyrens: the Swinging Songbook of Cy Coleman, presenting the ultimate thank you to Broadway jazz pianist and composer of iconic shows including Sweet Charity and Barnum.
Carole King's Tapestry is still an undisputed top table centerpiece almost 50 years after its release and top-tier artists Vika Bull and Debra Byrne, backed by the Brill Band, will ensure that you feel the earth move, know that you've got a friend, and feel like a natural woman more than ever. The work of trailblazer and incomparable talent Jacques Brel, is brought to life by Ali McGregor and a teeming kitchen cupboard of cabaret friends in Brel, capturing the Belgian singer-songwriter's pathos, wit and intensity.
Paying tribute to fictitious women including Lucy in the sky with diamonds, Eleanor Rigby and Penny Lane is the very much alive Lady Beatle. Naomi Price's crowd-pleasing performance as Adele in Rumour Has It wowed last year at Adelaide Cabaret Festival 2017 and in Lady Beatle she brings new flavours to The Beatles' immortal catalogue.
Pour yourself a final nightcap with the Closing Variety Gala – Songs of Love and Revolution. Ali McGregor, Eddie Perfect and the hottest acts from the closing weekend take to the stage to sign off on another incredible Adelaide Festival Centre.
With the Festival Theatre playing host to Matilda the Musical, most of Adelaide Cabaret Festival's venues including the fabulous Magic Mirrors Spiegeltent can be found on the Dunstan Playhouse Riverdeck at the southern side of the Riverbank Footbridge. Her Majesty's Theatre which will host a number of events is a short walk away on Grote Street.
There is free entertainment a plenty with late nights in Piano Bar at the Bistro, Late Night DJs every Friday and Saturday night from 11:30pm (as well as Sunday night of the opening weekend), workshops and the fabulous local band The AirBenders in Bands in the Wintergarden.
The 2017 Adelaide Cabaret Festival runs 9 – 24 June. For more information, visit: www.adelaidecabaretfestival.com.au for details.
Image: Alan Cumming (supplied)