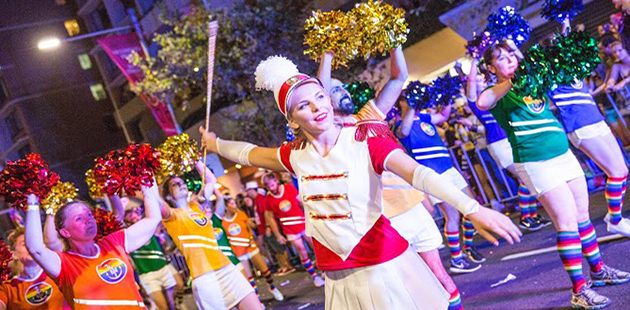 From world-class cabaret, theatre and musical performances, premiere film screenings, visual art exhibitions and community events, the 2016 Sydney Gay and Lesbian Mardi Gras features a jam-packed program of delights including the world-famous Parade and Party on Saturday 5 March. The Australian Pride Network takes a look at a few events worth checking-out!
Sydney Gay and Lesbian Mardi Gras Fairday
Victoria Park, Camperdown: Sunday 21 February
The official start to the Sydney Gay and Lesbian Mardi Gras, Fair Day is one of the most-loved and colourful community events on the LGBTI calendar. With more than 80,000 people expected to attend, a full day of live performances, roaming drag talent, community stalls, kids' activities, entertainment, fabulous gourmet food, and plenty of opportunities for retail therapy has been planned.
Caroline Bowditch: Falling in Love with Frida
Riverside Theatre, Parramatta: 4 & 5 March
An intimate and enticing performance exploring the life, loves and legacy of painter Frida Kahlo. It is a reclaiming of a disabled artist, a love like obsession, and an enquiry into how we shape what we are remembered for and how much we can really control others' memories of us. It exposes many little-known facts about the infamous woman, remembered for her art. Where affinities and parallels are drawn, happy distractions are employed and a tale of 'the great concealer' is skilfully revealed by and through powerful yet fragile bodies.
Gaybies: We Are Not a Hypothetical
Sydney Town Hall: continues to 9 March
With many children of LGBTQI parents regularly facing the challenge of growing up hearing their families being denigrated by media and politicians, this public art exhibition by Jez Smith with Casey Legler, aims to increase visibility of children, teens and young adults currently living with LGBTIQ parents in Australia and show how beautiful and diverse modern Australian families are.
GX Australia
Australian Technology Park: 27 & 28 February
Australia's first convention for queer geeks, gamers, and all of their friends! Whatever your identity, hobbies, or interests, GX Australia aims to provide a safe and inclusive space for everyone to have fun, and is the first time that the highly successful GaymerX/GX Convention has traveled overseas.
Hats Off! for Harmony
Seymour Centre: Monday 22 February – 8.00pm
Once again, Oz Showbiz Cares / Equity Fights AIDS gathers the glittering stars of Sydney's music theatre and cabaret industry to raise funds for the fight against HIV and AIDS. Join Ambassador, Trevor Ashley along with hosts, Tom Sharah and Gillian Cosgriff, as they are joined by a fantastic line-up of Australia's leading performers in a glorious celebration of of music that unites us all.
Hot & Heavy / It's Complicated
Watch This Space Gallery
Our curated up of amazing local and international emerging artists present personal, insightful and provocative and at times uncomfortable perspectives on the contemporary experience of sexually and gender diverse people and their communities in a world that has seen gay activism and liberation movements for nearly half a century. Hot & Heavy continues to 27 February and features Ron Kibble (USA), Dervin Batarlo (UK) and Travis de Jonk (AUS). It's Complicated runs 28 February – 19 March and features Genderpop (USA), Grant Cook (Melbourne), and BK KU (Sydney/Korea).
Ladies Day
SBW Stables Theatre: continues to 26 March
It's Ladies Day at the Broome races and the divinely beautiful Mike is the toast of the track.  But amongst the froth and festivity, a brutal act of violence reminds us that life is not just all swishy hemlines, debonair gents and fascinators galore. Alana Valentine is one of Australia's best playwrights. She pent months interviewing the gay community of Broome to create a play that asks questions about tolerance, isolation, love, hope and the right to have your story told.
Little Black Dress Run
Darling Harbour Foreshore: Sunday 28 February
LBD has become a must do event of the Mardi Gras season and generates much-needed funds for Charity. Dressing up in your best Little Black Dress and having so much fun you wont even notice your exercising. Each participant will seek donations from family and friends and will run/walk around a 3km course in Darling Harbour. Entertainment and celebrity LBD auction before the run and drinks and nibbles after to celebrate your good deed.
Kaleidoscope
Kings Cross Theatre: 22 February – 4 March
Kaleidoscope tells the story of a normal day in the life of Gabriel, a young trans guy just trying to leave his house. In a one-sided conversation with his reflection, Gabe reveals regrets of lost love, anxieties about sex and flirting, and the struggle to be trans and gay in the Sydney clubbing scene. As he deals with who he sees reflected back at him, he becomes so much than what the mirror shows him.
The Killing of Sister George
King Street Theatre: 24 February – 12 March
Sister George is a beloved character on a popular BBC soap opera, a cheerful nurse who bicycles about the countryside singing hymns and doing good. In private life, June Buckridge the actress, is a swaggering, foul-mouthed, alcoholic in a long-term relationship with Alice McNaught. A dip in listener ratings sees the possible end for Sister George. This groundbreaking play is a biting satire on the public and private lives of a 'cultural icon'. It's depiction of the underground London lesbian scene of the 1960s, at a time when openly lesbian characters were not portrayed onstage, has earned itself cult status.
The Pride
Eternity Playhouse: continues to 5 March
Alexi Kaye Campbell's Olivier Award-winning The Pride is a remarkable reflection on our times, our past and society's journey. Two stories shifting from 1958 to the present and back again. In the first, Oliver and Phillip fall for each other but are forced to be strangers to both desire and to themselves. In the other, the rainbow-stickered present, anonymous sex and empty style collide with the human heart.
Rainbow Room
Sydney Opera House: 3 – 5 March
Celebrate Mardi Gras at the Rainbow Room this summer and be part of the unofficial festival club, where you can expect world-class entertainment that is always surprising and hilarious. For three nights only, the Sydney Opera House will paint the sails rainbow with a line-up of stars that will certainly get your party started including: Courtney Act & Trevor Ashley, Gretel Killeen, Marney McQueen and the All-Star Drag Review featuring DJ Jimmy Dee.
The Ritz
New Theatre: continues to 5 March
On the run from his homicidal mobster brother-in-law, a hapless middle-aged businessman takes refuge in a seedy, Manhattan bathhouse, mistaking it for a hotel. Amidst the amyl-nitrate-scented clouds he encounters chubby chasers, go-go boys, bumbling detectives, gay orgies and a Bette Midler wannabe with dreams of Broadway fame. Terrence McNally's madcap farce, written at the height of the gay sexual revolution before AIDS changed the world, offers a glimpse of a lifestyle both hedonistic and celebratory, when anything seemed possible.
This Boy's in Love
Ensemble Theatre: 21 – 28 February
It's time to paint the rainbow and unleash the world's first one-man gay rom-com cabaret! Through hilarious and heartfelt songs, physical comedy and candid storytelling, This Boy's in Love reveals that the desires of the human heart are universal, no matter for whom it beats. Adriano Cappelletta performs an all-singing, all-daggy-dancing comedy confessional that will inspire you to take the leap into love's bright abyss.
William Yang: Stories of Love and Death
Stills Gallery: continues to 5 March
William Yang has moved between theatre, photography and film throughout his long career. Central to all these art forms is the camera and also William's life story, his living biography. His work is always about his identity as a Chinese Australian gay man. He is always playing the role of chronicler and storyteller. The exhibition will feature several strands of Yang's photography for which he is now well known including some of his classic black and white sequences About My Mother and Sadness his portraiture of celebrities and his historic documentary work.
Sydney Gay and Lesbian Mardi Gras Parade
Oxford and Flinders Streets, Darlinghurst: Saturday 5 March
It is an event that captivates the nation and reverberates around the world. Join 10,000 fabulous people as they unite for a glittering explosion of pride in the heart of Sydney's gay and lesbian district. Born from a single night of political protest in 1978, the true Mardi Gras spirit lives on 38 years later, bringing the city to a standstill with hundreds and thousands lining the streets in support of equality, pride and a dazzling spectacle of sparkles and self-expression. From the outrageously adorned, to the sassy, satirical and serious, Mardi Gras welcomes the community in a fabulous festivity of love that knows no bounds.
The 2016 Sydney Gay and Lesbian Mardi Gras continues to Sunday 6 March. For more information and to view full program, visit: www.mardigras.org.au for details.
Image: Sydney Gay and Lesbian Mardi Gras Parade – photo by Joslyn Kent Photography