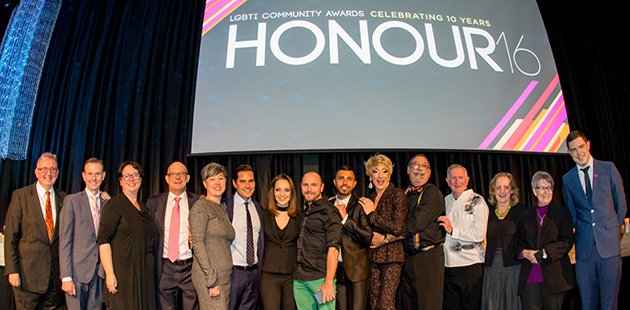 People and organisations with long histories of serving NSW's LGBTI community took out the lion's share of awards last night at NSW's annual LGBTI community service awards.
Now in their tenth year, the Honour Awards recognises outstanding achievements within or contributions to NSW's LGBTI community. The awards are also a gala fundraising event for LGBTI charity Aurora and for ACON, NSW's leading HIV support, HIV prevention and LGBTI health organisation.
The eight winners were selected from a diverse field of 170 nominations and 34 finalists, and were presented with their awards at a ceremony at the Ivy Ballroom in Sydney. The event was attended by over 350 people and raised over $50,000 for LGBTI health initiatives supported by ACON and Aurora.
Several recipients were recognised for their decades-long commitment to advocating for the LGBTI community. Rev Dorothy McRae-McMahon was presented with the Community Hero Award for over 30 years of spiritual leadership for LGBTI people and the LGBTI community. Royal Prince Alfred Hospital nurse Garry Trotter picked up the Health & Wellbeing Award for over 30 years of being a leader in the HIV sector and working with people affected by HIV and AIDS.
The Community Organisation Award went to Mature Aged Gays, better known as MAG, for their 25 years of providing support, health education services and social activities for older gay and same sex attracted men. Cultural icon the New Theatre took out the Arts and Entertainment Award its 25 year commitment to LGBTI content and productions, particularly as part of the Sydney Gay & Lesbian Mardi Gras Festival. Mark Kuzma, alter ego of Australian drag icon Claire De Lune, won in the Business category for his Oxford Street restaurant Claire's Kitchen At Le Salon and for his 30 year commitment to supporting a broad range of LGBTI community causes and organisations.
Other award winners included SBS reporter and producer Patrick Abboud who was honoured in the Media category for his work on the broadcaster presenting extensive LGBTI content. LGBTI rights advocates Sally Rugg and Chris Pycroft jointly took out the Young Achiever Award for their work focusing on equality for LGBTI people through Ms Rugg's work as marriage equality director at Get Up! and Mr Pycroft's work as Co-Convenor of the NSW Gay and Lesbian Rights Lobby. Lismore artist Lionel Bawden received the Cayte Latta Memorial Award for Visual Arts for The Core of the Limitless – a sculpture exploring themes of flux, transformation and the relationship between one's internal and external world.
The ACON President's Award for extraordinary service to the LGBTI community went to the NSW Parliamentary LGBTI Cross Party Working Group which involves members from all sides of NSW politics working together to champion issues affecting the LGBTI community.
ACON President Dr Justin Koonin congratulated the winners and all the finalists on their achievements and community service. "Last night's event was a truly inspirational and thoroughly entertaining evening and a great celebration of the dynamic spirit of our community," said Dr Koonin. "I'd like to thank all the people who submitted nominations as well as all our guests for coming along and supporting ACON and Aurora."
Aurora Chair Alison King extended her thanks to the event's partners and supporters: "We thank our event partners SX Magazine, Sydney Gay and Lesbian Business Association, Sydney Gay and Lesbian Mardi Gras, Foxtel Arts, Merivale, Glyde Health, Chase Gallery and Crowd Comms as well as all the people, businesses and organisations which donated items for the silent auction."
Community Hero Award – Rev Dorothy McRae-McMahon
For over 30 years Dorothy has been a spiritual leader for LGBTI people and the LGBTI community and has championed acceptance and inclusion of LGBTI people in faith-based organisations. A peace activist in the 1960s, Dorothy was ordained a minister in the Uniting Church in 1982, leading the Pitt St congregation in Sydney and then taking on the role of National Director of Mission before becoming one of the first Uniting Church ministers to 'come out', subsequently becoming a leader in the successful campaign to have homosexual ministers formally accepted within the Uniting Church, arguing that homosexuality was a sign of wholeness rather than evidence of moral decay. After retiring in 1997, has remained engaged in ministry in an inner-Sydney Uniting Church, worked as co-editor of the South Sydney Herald and has continued to be recognised as an internationally renowned writer, liturgist and feminist theologian.
Young Achiever Award – Sally Rugg and Chris Pycroft (joint winners)
Chris Pycroft – Chris has been a part of the non-profit sector for 10 years, focusing on mental health, disability and inclusion, and equality for LGBTI people. Chris was appointed Co-Convenor of the NSW Gay and Lesbian Rights Lobby in October 2015, after spending four years on GLRL's Committee of Management. Other roles Chris has had include Technology and Innovations Collective Advisor for the Young and Well Cooperative Research Centre and a Youth Ambassador for ReachOut.com. Chris has contributed to many mental health and suicide prevention organisations since 2007, including launching the Growing Up Queer report alongside Michael Kirby and Associate Professor Jane Burns in 2014, and continues to advocate for the mental health and wellbeing of LGBTI people.
Sally Rugg – Sally Rugg is the marriage equality director at GetUp! Her work building grassroots power combines digital activism, community engagement, stunts, rallies and cut-through creative content to inspire tens-of-thousands of people to take action on the campaign. This year, Sally's work has been key in the campaign against the plebiscite. As well as direct campaigning on the issue, her work has been instrumental in building the public narrative of the poll as unviable, unnecessary and that it's unacceptable to have a popular vote on LGBTQIA+ rights. Sally speaks regularly in the media, at events and online to advocate for LGBTQIA+ rights, She's involved in the community response to protect the Safe Schools programme, and on Saturdays volunteers as a youth worker at Twenty10. Sally is a passionate member of the LGBTQIA+ community and is grateful every day to be part of this family.
Community Organisation Award – Mature Aged Gays
Better known as MAG, Mature Age Gays is a social group for older gay and bisexual men and their supporters. MAG was founded by the legendary Steve Ostrow in 1991 through a project of ACON and this year marks 25 years of service to its community. MAG provides peer support, health education services and social activities for mature aged men, regardless of how they choose to identify themselves. MAG is one of the largest groups for older gay men in Australia and is committed to creating a welcoming and safe environment for all those attending. MAG is well known for its Sydney Gay & Lesbian Mardi Gras Fair Day and Parade participation which always proves extremely popular. MAG's mission statement is: "We care for each other, sharing friendships and affection with people in similar situations, so as to lead as full a life as possible."
Media Award – Patrick Abboud
Pat is a reporter, producer, presenter and documentary filmmaker who has worked across television, online, radio, social and interactive media, including long stints with both the ABC and SBS, where he currently hosts youth current affairs show The Feed and also co-hosts and directs content for the SBS Mardi Gras broadcast. Pat is a passionate advocate for LGBTI content on the broadcaster and has been nominated for his extensive body of work over the last 12 months relating to LGBTI issues. Pat recently came out publicly as a gay Arab/Australian man and has since been volunteering as a mentor with queer organisations working with young LGBTI people from culturally diverse backgrounds.
Health & Wellbeing Award – Garry Trotter
Staring his nursing career in 1977, Garry has worked at the Royal Prince Alfred Hospital since 1981 in various roles but his enduring legacy will be his contribution to the RPAH's HIV/AIDS services in which he has been involved since the start of the epidemic in 1985. He was instrumental in setting up the HIV inpatient ward and outpatient services at RPAH and over the last 30 years has provided vital care and support to thousands of patients as well as their partners, families and friends. During his career, he has also been a key participant in many important HIV/AIDS related research projects, has served on the board of the Australasian Society for HIV Medicine and is seen as a leader in the nursing community for HIV issues. He is currently heavily involved in efforts to make HIV prevention treatment PrEP available to people in NSW and is passionate about the lives of PLHIV and reducing transmission to the community.
Arts & Entertainment Award – New Theatre
New Theatre – Since its establishment in 1932, New Theatre has produced plays on many important political and human rights issues and since 1994 has also presented shows as part of the Sydney Gay & Lesbian Mardi Gras. Through this commitment to queer theatre, New Theatre has not only provided a unique platform for LGBTI stories to be told on the stage, but has also fostered the careers of hundreds of LGBTI writers, producers, directors and other practitioners. New Theatre has been nominated for their 25 year commitment to LGBTI content and productions for the Gay & Lesbian Mardi Gras and for recognising diverse sexualities and genders as an important demographic within the theatre's community and audience.
Business Award – Claire's Kitchen/Mark Kuzma
Marc Kuzma has carved out a unique and successful niche for himself in Sydney's dining and entertainment sectors as a chef, restaurateur, nightclub operator, TV personality and drag performer. His almost 30 year career has seen him star as a TV chef on The Midday Show, a music show host on Channel V and as his alter ego Claire de Lune on countless stages and arenas. He was also the founding manager of the popular Slide Bar on Oxford St, and creator of the long-running El'circo dinner show that is now touring Australia. In addition to these achievements, Marc established the successful Oxford St eatery Clarie's Kitchen At Le Salon several years ago and continues his 30 year commitment to supporting a broad range of LGBTI community causes and organisations.
Cayte Latta Memorial Awards For Visual Arts – Lionel Bawden
Lionel is an eminent visual artist based in Lismore in NSW working predominantly in sculpture, but also painting, performance and installation. Lionel's sculptural works harness landscape as a stand-in for the body, where personal themes of desire, longing, disappearance and interconnection become abstracted in a generative process to create form. In the artist's core practise, he uses thousands of hexagonal coloured pencils as a sculptural material, reconfigured and carved into amorphous shapes, mining the material's rich qualities of colour, geometry and metaphor. Themes of homosexuality and disclosure have become subtly embedded into his sculpture exploring themes of flux, transformation and the relationship between one's internal and external world. Lionel's entry, The Core of the Limitless, continues his use of landscape and growing forms from nature as stand-ins for the body.
ACON President's Award – NSW Parliamentary LGBTI Cross Party Working Group
Established in 2012, and with the original aim of advancing marriage equality within the NSW Parliament, the Cross Party Group involves members from all sides of politics working together to champion issues affecting the LGBTI community. Comprising Liberal MP Bruce Notley-Smith, Labor MLC Penny Sharpe, Greens MP Jenny Leong, Nationals Legislative Council Deputy President Trevor Khan, independent MP Alex Greenwich and Legislative Council President Don Harwin, the Group will be honoured with the ACON President's Award for their ongoing commitment to legislative reforms that benefit LGBTI people and their families. The Group's members have worked together to successfully advocate for a range of issues including expunging historical homosexual offences, abolishing the 'gay panic' legal defence, delivering an parliamentary apology to the brutalised participants of the first Sydney Gay and Lesbian Mardi Gras and generating support for NSW's strategy for ending HIV.
For more information, visit: www.honourawards.com.au for details.
Image: 2016 Honour Awards Winners – photo by Deep Field Photography