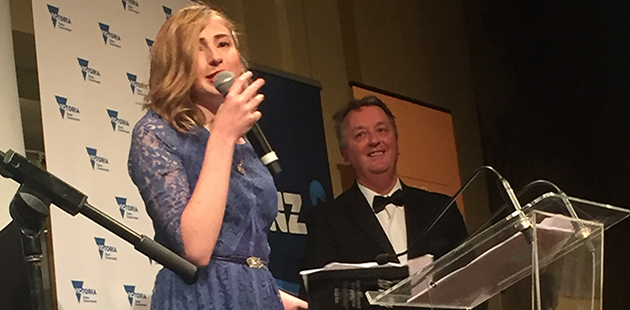 The winners of the 2016 GLOBE Community Awards were announced at the third annual gala on Friday night hosted by the hilarious Judith Lucy.
Around 400 people attended the gala event at Myer Mural Hall to recognise and celebrate the achievements of individuals and groups who serve the GLBTI community. The event, this year, was delivered in partnership with the Victorian Government.
GLOBE President David Micallef is proud of the entire GLBTI community: "So many people work hard to make our community great; this is hardly an exhaustive list," said Mr Micallef. "Here we recognise some of the great change makers, who are leading the way equality in Victoria and in Australia."
The major award, GLBTI Person of the Year went to Georgie Stone, a young transgender woman who has put herself forward to change laws and ease the path of those who follow. At sixteen years old, Georgie stands as an advocate for the entire community.
"Georgie is doing work that will change the lives of millions of young transgender people in years to come. Without her, and her family's willingness to stand up and put themselves forward, our laws may still be restricting the lives of young transgender people who need to live their true lives," said Mr Micallef.
"Every GLBTI Person of the Year finalist was under 30 this year, which shows that we, as a community, are building a legacy that builds our young people up to stand for their own views. We must continue with this foundation that allows you GLBTI Australians to have a strong voice. We must always listen to every generation for the perspective they bring."
Mr Micallef congratulated all of this year's finalists and winners: "Year on year we see an incredible caliber of nominees who do inspirational work to support those who identify as gay, lesbian, bisexual, transgender and intersex in our community."
The GLOBE Community Awards are the only awards to recognise excellence in Victoria's GLBTI community. In 2016 the judges were once again challenged to shortlist an extraordinary pool of nominations and ultimately decide on winners.
The winners of the 2016 GLOBE Community Awards are:
A Healthy Community:
Equinox Gender Diverse Health Centre
Connecting the GLBTI Community:
SWAG Albury/Wodonga
ANZ Excellence in Business:
LGBTI Jobs
Protecting our Community: (sponsored by Lander & Rogers)
Blue Cross, Proud to be Me
Media Excellence:
James Findlay
Artist of the Year:
Gavin Roach
Straight Ally of the Year: (sponsored by IBM)
Matt Finnis – St Kilda Football Club
Volunteer of the Year:
Rebecca Bauer – Melbourne Inclusive Church
The John Marriot Sportsperson of the Year: (sponsored by AESOP)
Cassio Muniz Goncalves – Melbourne Spikers
MCV People's Choice Award:
Roz Ward
Victorian GLBTI Person of the Year:
Georgie Stone
For more information, visit: awards.globemelbourne.com.au for details.
Image: Georgie Stone with Minister for Equality, Martin Foley – courtesy of GLOBE Melbourne