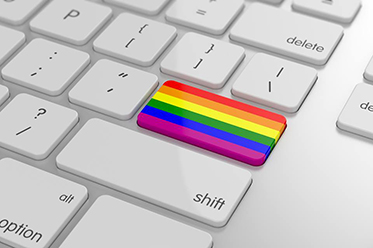 The OutStanding LGBTI Short Story Competition has been launched for 2014.  Independent Member for Sydney Alex Greenwich, patron of the competition, announced the theme of On The Edge at a small celebration of committee and friends at Stonewall recently.
LGBTI writers now have until 1st September to produce a brilliant story of 750 words. Generous prizes have been donated by Mardi Gras, The PopShop, Bookshop Darlinghurst, and NSW Writers Centre, with a great cash prize of $1000 donated by community members up for grabs as first prize.
This prestigious competition attracts writers from all over Australia and New Zealand, and is growing every year. Last year 94 stories were received and judges, Gail Hewison, Robert Tait, and Rowan Savage are expecting more this year as word spreads via a lively Facebook page.
As Robert said at the launch … "when other people tell our stories they usually get it wrong , it is important for us to tell our own stories! And this competition provides a place for our creative voices to be heard! "
The Awards will be presented at Upstairs Bar at Stonewall on Sunday 28th September at 4.00pm.
For more information, visit: www.outstandingstories.net for details, or keep up-to-date via their Facebook page.