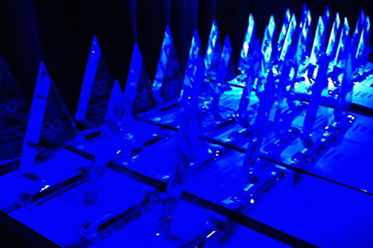 Mardi Gras Volunteers, Parade entrants, Fair Day and Festival participants, staff, board and community supporters came together to celebrate the spectacular 2014 season at the Mardi Gras Awards presented last night at Sydney's Beresford Hotel.
The night kicked off with thank you drinks for the incredible volunteers who make Mardi Gras a reality, and the announcement of the workforce awards including Trudy Sumner as Volunteer of the Year.
Then the night rolled on with Fair Day, Festival and Parade awards, including the inaugural Ron Austin Award for Most Fabulous Parade Entry, which went to the unforgettable Tina and her Turners. This award has been named in honour of Ron's role as one of the pioneers of Sydney Gay and Lesbian Mardi Gras.
Performances by Jag-B featuring Gemma Wood and special guest Matt Mitcham rounded out a fantastic night celebrating the passion, creativity and dedication of the many people and organisations who made Sydney Gay and Lesbian Mardi Gras 2014 burst with all the colours of the kaleidoscope.
The 2014 Mardi Gras Award Winners are:
Workforce Awards
Award for Excellence in Innovation: Mardi Gras Party Creative Team
Award For Excellence In Service: Mitchell Price
Award For Excellence In Teamwork: Mardi Gras Medical Team
I-Care Award: Gabby Canette
Award For Excellence In Leadership: Sam Hartland
Achievement Awards: Ignatius Jones, John Kininjjew, Craig Maroun, Angela Sinnett
Volunteer Of The Year: Trudy Sumner
Fair Day Awards
Best Fair Day Commercial Stall: Digital Camera Warehouse
Best Fair Day Community Stall: Inspire Foundation
Best Fair Day Youth Stall: Wear It Purple
Fair Day Stall Of The Year: Muscle Meals Direct
Fundraising Person Of The Year: Blayke Fisher
Festival Awards
Best Community Event: Make Play Workshops by Object Australian Design Centre
Best Visual Arts Event: Toy With Me by Richard Hedger
Best Performing Arts Event: A Boy And A Bean by Nick Atkins
Festival Event Of The Year: Day For Night by Performance Space
Best Window Display: Garb by Craig Craig
Parade Awards 
Best Parade Choreography: Dr Mark's Marching Academy
Best Parade Costume Design: Thai'd Together
Best Parade Float Design: Sea Of Love by Hot Kandi
Best Parade Individual Entrant: Exterminate Homophobia by Kathy Sant and Jenny Mann
Ron Austin Award For Fabulous Parade Entry: Tina And Her Turners
Lifetime Achievement Awards
Jane Becker, Liz Dods, Ignatius Jones, Ron Muncaster, Kevin 'Kabi' Rigby, Steph Sands
Congratulations to all Award Winners. For more information, visit: www.mardigras.org.au for details.
Image: courtesy of Sydney Gay and Lesbian Mardi Gras