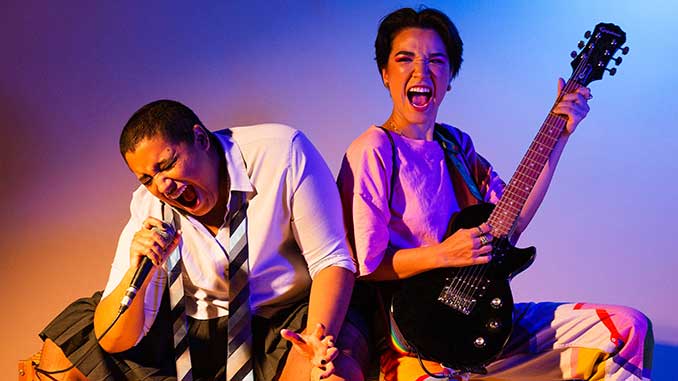 107 is back: bigger, better and brattier this November. Premiering to critical acclaim and standing ovations at Summer Nights 2022, 107 is a fun and fierce homegrown musical celebrating the resilience of our youth.
Four girls meet on a hot, summer morning, killing time and testing boundaries as they wait for the school bus.
Writer and composer Michele Gould describes the show as "flipping stereotypes on their heads, whilst also flipping them off. A fever dream of my private school memories, rambunctious friends, and the experience of growing up queer."
Brought to life by a powerhouse ensemble and a pop-punk soundtrack that's guaranteed to get stuck in your head, jump on board the angsty peak hour ride down the highway of friendship.
"Dynamic and energetic, the performers sparking and fizzing…a musical for those who are not willing to give up their voice or have not spoken up yet…hands down one of the best new soundtracks around." – Fourth Wall Media
Writer / Composer: Michele Gould (she/they) | Director / Designer: Daley Rangi (they/them) | Featuring: Lukas Perez (they/them), Ruby Short (she/her), Sun-Mi Clyburn (she/her), Melody Castledine (she/her) | Arranger / Vocal Director: Vanitha Hart (she/her) | Music Producer: Luke Minness (he/him) | Lighting Designer: Katrina Johnston (she/her) | Stage Manager: Ari Rahim (they/them)
---
107
The Blue Room Theatre, 53 James Street, Northbridge (Perth)
Season: 3 – 19 November 2022 (preview: 1 November)
Information and Bookings: www.blueroom.org.au
Image: Socks & Sandals presents 107 – photo by Nicolee Fox