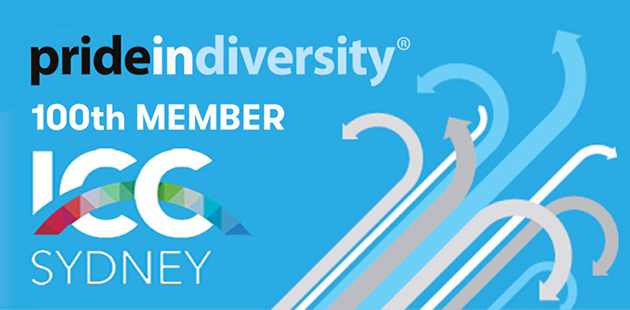 Pride in Diversity, Australia's first and only national not-for-profit employer support program for all aspects of LGBTI workplace inclusion, has announced it has signed the International Convention Centre Sydney (ICC Sydney) as its 100th member.
Pride in Diversity is a social inclusion program of ACON – NSW's leading HIV prevention, HIV support and LGBTI organisation, and counts some of the nation's top companies as its members.
"With workplace equality now an integral part of many businesses in Australia, more and more companies are recognising the enormous value and benefits of creating an inclusive workplace for their lesbian, gay, bisexual, transgender and intersex (LGBTI) employees," said ACON President, Mark Orr.
"All the available data shows that people will perform better and make a more productive contribution to a workplace if they can be themselves and feel safe at work. That is precisely why so many of Australia's leading companies have recognised that workplace inclusion is not only good for their employees but also good for their business bottom line."
"Just over five years ago, Pride in Diversity had eight foundation members including the Australian Federal Police, Department of Defence, Goldman Sachs, IBM,ING, KPMG, Lendlease, Telstra and we now we have a diverse and expanding membership base."
Pride in Diversity Director Dawn Hough welcomed the International Convention Centre Sydney, saying: "We are absolutely delighted to welcome on board the International Convention Centre City Sydney as our 100th member."
"By joining Pride in Diversity companies have the opportunity to showcase their commitment to equality and diversity in the workplace, as demonstrated by one of our founding members Lendlease, who are also part of the Public Private Partnership with the NSW Government that is delivering ICC Sydney.
"We are very proud to be working with 100 incredible members. We look forward to establishing new relationships with those who have come on board recently and continuing with those who we have worked with over the years to change the landscape of every workplace so that a person's LGBT identity is – no more or less – important than any other aspect of identity amongst all employees. And of course we look forward to welcoming our next 100 members."
ICC Sydney CEO Geoff Donaghy said the AEG Ogden managed venue would welcome guests from across Sydney, the nation and the world and just as its patrons represented diverse nations, industries, ages, sexual orientation and career paths, its people would represent a diverse workforce.
"At ICC Sydney, we recognise and value the different knowledge, skills, backgrounds and perspectives that people bring to work irrespective of their age, gender, ethnicity, sexual orientation or social background," sais Mr Donaghy.
"Workforce diversity builds organisational capability and will help us deliver on our goals for collaboration, productivity and innovation. An ingredient in our world class guest experience will be the diversity visible within our workforce, our partners, our supplier base, and our activity."
Pride in Diversity also operates the Australian Workplace Equality Index (AWEI) – which is a free service provided annually that evaluates and benchmarks LGBTI inclusiveness in Australian workplaces. It comprises the largest and only national employee survey designed to gauge the overall impact of inclusion initiatives on organisational culture as well as identifying and non-identifying employees.
The AWEI Index and its associated top 20 Inclusive Awards drive best practice in Australia and set a comparative benchmark for Australian employers across all sectors.
For more information, visit: www.prideindiversity.com.au for details.