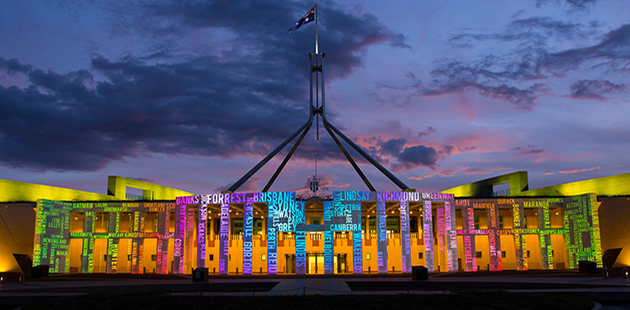 Enlighten Festival: March 2023** (dates to be confirmed)
Canberra will shine bright with culture and creativity as the Enlighten Festival brings together the best autumn events. Explore the Enlighten Illuminations as they light up the national attractions after dark, or be mesmerised as a spotlight shines on local film-makers at Lights! Canberra! Action! Brighten your morning and see the sky taken over by colourful hot air balloons at Canberra Balloon Spectacular, before you watch the sunset to the perfect soundtrack at Symphony in the Park.
---
National Folk Festival: 6 – 10 April 2023**
The National Folk Festival is a celebration of all things folk, featuring music, dance, circus and spoken word. From high-end entertainment to grassroots activities, from traditional and contemporary grooves to the quirky and unusual, the festival program is designed to inspire, enliven and entertain.
---
International AIDS Candlelight Memorial (Canberra): May 2023 (date to be confirmed)
Candlelight Memorial events are held globally to honour the memory of all people who have lost their lives to HIV and AIDS and to reignite community activism in the response to HIV.
---
Floriade: 17 September – 16 October 2022
Floriade is an annual month-long celebration of spring in the heart of Australia's capital. The theme this year is the Sounds of Spring, and visitors will enjoy a vibrant display of over a million blooms set to a soundtrack of diverse musical performances in a new and exciting program which will be announced later in the year. Nightfest is also back from 29 September – 2 October.
---
SpringOUT Festival: November 2022 (dates to be confirmed)
The SpringOUT Festival is Canberra's queer cultural festival which affirms the pride, joy, dignity and identity of Canberra's LGBTIQ (lesbian, gay, bisexual, transgender, intersex and queer) communities through events of celebration.
---
Fair Day (Canberra): Saturday 29 October 2022
One of Canberra's major grassroots community events, Fair Day has been held annually since the first SpringOUT Pride Festival in 1999. Come to Glebe Park for a fun filled day of markets, fabulous food and entertainment celebrating the diversity of Canberra's LGBTIQ communities. More information to come…
---
Canberra Bushdance: Saturday 19 November 2022
Held for over 30 years, the Canberra Bushdance is a fun night of dancing with people of all flavours. Dust off your hat, polish your boots and get ready to kick up some dust, as the live band leads you through those dances you may remember from primary school – like Strip the Willow, The Waves of Bondi, as well as some crazy polkas and some more genteel promenades.
---
World AIDS Day: Wednesday 1 December 2022
World AIDS Day is held on 1 December each year. It raises awareness across the world and in the community about HIV and AIDS. It is a day for the community to show their support for people living with HIV and to commemorate people who have died of AIDS related conditions or other conditions associated with HIV.
---
If your festival or event is not listed above, and you would like to submit for consideration, please send an email to: reception@australianpridenetwork.com.au Your festival or event must be not-for-profit and primarily coordinated by those who identify as LGBTIQ. (Events organised by individuals or commercial entities will not be considered)
Image: Parliament House, Canberra – photo by Richard Tuffin (courtesy of Visit Canberra)
Note: ** festival contains significant LGBTIQ content