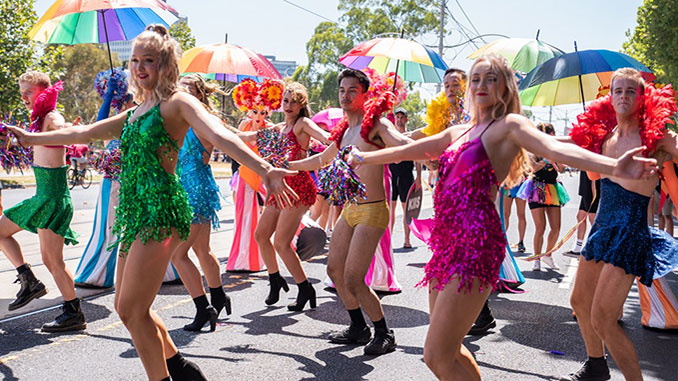 Midsumma Festival: 23 January – 13 February 2022
Midsumma Festival is Australia's premier queer arts and cultural festival, bringing together a diverse mix of LGBTQIA+ artists, performers, communities and audiences. With an explosion of queer events that center around hidden and mainstream queer culture, locally and internationally, the festival program is made up of diverse art forms and genres, including visual arts, live music, theatre, spoken word, cabaret, film, parties, sport, social events, and public forums.
---
Midsumma Pride March: Sunday 6 February 2022
25 years ago, Melbourne's LGBTQIA community took to the streets in a show of solidarity and pride. In 2021, more than 7000 marches will remember that the Midsumma Pride March is about affirming that we're fabulous, we're loved, we're diverse and we're proud. We all march in solidarity for those who can not.
---
GLOBE Community Awards: Friday 11 February 2022
Since 2014, the GLOBE Community Awards has become an integral part of Victoria's LGBTI community – celebrating achievement in Victoria's Lesbian, Gay, Bisexual, Transgender and Intersex communities, highlighting the work of a diverse range of organisations and individuals that benefit and unite the Victorian LGBTI community.
---
Melbourne Pride: Sunday 13 February 2022
Melbourne Pride – a Road to Pride is a Victorian State Government initiative designed to celebrate the 40th anniversary of the decriminalisation of homosexuality within Victoria, marked by a one-day street party festival on Smith and Gertrude Streets, Fitzroy, that will be delivered by Midsumma.
---
Geelong Rainbow Festival:  February 2021 (dates to be confirmed)
The Geelong Rainbow Festival is an opportunity for the local and surrounding Queer (LGBTIQA+) community to come together and unite as one! Three jam-packed days full of events, music and so much more!
---
St Kilda Festival: Sunday 13 February 2022**
Join Australia's biggest FREE celebration of summer, showcasing Australian artists and talent against the spectacular natural beauty of the St Kilda foreshore. Held on the second Sunday in February, the St Kilda Festival routinely attracts over 400,000 attendees.
---
Gaytimes Festival (Gembrook): 18 – 20 February 2022
Frolic in the forest you'll never forget… Gaytimes is a boutique music, arts and camping festival for the whole lesbian, gay, bisexual, trans, queer and gender diverse community. Over two nights and three full days, Gaytimes will feature their most epic lineup yet across multiple stages. It is a festival that welcomes all the colours of the rainbow, and their friends.
---
ChillOut Festival (Daylesford): 10 – 14 March 2022
From humble beginnings, ChillOut has grown to become the biggest and longest-running Country Queer Pride event in regional Australia. Now in its 25th year, ChillOut is recognised as a culturally important and nationally celebrated LGBTIQ pride event, supporting and representing Queer pride for all regional people.
---
Bendigo Pride Festival: 18 March – 3 April 2022
The Bendigo PRIDE Festival is a community initiated and run event that celebrates, explores and promotes diversity and inclusion within the Loddon Malle Region with particular focus on LGBTIQA+ communities and people.
---
Melbourne International Comedy Festival: 30 March – 24 April 2022**
The Melbourne International Comedy Festival literally takes over Australia's comedy capital, Melbourne, each autumn with an enormous program of stand-up comedy, cabaret, theatre, street performance, film, television, radio and visual arts.
---
Bendigo Queer Film Festival: March 2022 (dates to be confirmed)
The Bendigo Queer Film Festival provides cultural and artistic opportunities to gay, lesbian, bisexual, transgender, intersex and queer (LGBTI) people living in Central Victoria. The Festival attracts people from all over Victoria and interstate. We are proud to be one of the few regional centres Australia wide, which hosts its own queer film festival.
---
Castlemaine Pride: April 2022 (date to be confirmed)
Get your picnic blankets ready! Castlemaine Pride – Picnic in the park is back in 2021. Join us for a celebration of diversity & equality for all ages!! Entertainment, dog show, food, beer & wine all day. (optional BYO) Fabulous costumes and rainbow paraphernalia are strongly encouraged. Find us near the Tea Rooms at the Castlemaine Botanical gardens
---
YIRRAMBOI  Festival: May 2022**(dates to be confirmed)
Meaning Tomorrow in the shared local languages of the Boonwurrung and Woiwurrung peoples, YIRRAMBOI is a celebration of the diversity and continuous evolution of the longest living cultures in the World. It features a unique and exciting program of free and low-cost events spanning genres and art forms including music, dance, theatre, film, exhibitions, markets, fashion parades, family-friendly events, talks and symposiums.
---
International AIDS Candlelight Memorial: (Melbourne) – May 2022 (date to be confirmed)
---
St Kilda Film Festival: 2022** (dates to be confirmed)
St Kilda Film Festival provides the most comprehensive overview of the national short film industry, screening a diverse selection of short films from around the country alongside a rich program of international showcases, special screenings and events plus Australia's largest free Filmmaker Development Program.
---
RISING Melbourne: May – June 2022** (dates to be confirmed)
Taking the place of the Melbourne International Arts Festival and White Night Melbourne, RISING is a major new cultural event for the Asia Pacific Region created by a diverse team of local, national and international artists and curators. RISING will begin on the evening of the total lunar eclipse in May 2021.
---
Emerging Writers' Festival: June 2022**(dates to be confirmed)
The Emerging Writers' Festival (EWF) is one of Australia's most established and well-respected literary festivals. EWF exists to develop, nurture and promote Australia's new writing talent, creating platforms for connecting writing communities and their audiences. In 2021, the festival will be held online.
---
Melbourne Cabaret Festival: June 2022**(dates to be confirmed)
The Melbourne Cabaret Festival is one of Melbourne's major winter arts events. Over the past 10 years, the Festival has evolved into one which provides a perfect launching pad for new cabaret shows.
---
Melbourne International Film Festival:  4 – 21 August 2022**
Presenting a curated global program of innovative screen experiences and the world's largest showcase of exceptional Australian filmmaking, MIFF is an accessible, iconic cultural event that provides transformative experiences for audiences and filmmakers alike.
---
Southern HiBearnation: (dates to be confirmed)
For over the past 20 years bears from all over Australia, New Zealand and beyond have gathered in Melbourne for the biggest celebration of bear pride – Southern HiBearnation. Each year, Vic Bears put together a schedule of events for bears and their admirers to enjoy – from the big dance parties, to free films in the afternoon, hearty lunches, educational workshops and more.
---
Melbourne Fringe: 6 – 23 October 2022**
Melbourne Fringe transforms our city into a platform for every kind of artform imaginable, supporting over 3,000 artists to present 450+ works in 170+ venues to more than 360,000 people. Fringe celebrates freedom of artistic expression, taking voices from the margins and amplify them across the city – embracing risk through an un-curated festival which supports anyone to participate.
---
Northside Bizarre: (date to be confirmed)
The much-loved Northside Bizarre has been called 'a mini-Folsom Street party fundraiser' for two of Melbourne's biggest LGBTI community organisations – JOY 94.9 and Thorne Harbour's David Williams Fund.
---
Melbourne Queer Games Festival: October 2022 (date to be confirmed)
Melbourne Queer Games Festival aims to inform, entertain and challenge LGBTIQ players by reflecting their lives in games. while bringing the best of world queer culture to Melbourne and enhance the reputation of Australian game developers.
---
Geelong Pride Film Festival: October – November 2022 (dates to be confirmed)
This October, Geelong Pride Film Festival will bring you a special online event. We'll have packages of films from our 2020 festival that you can watch at home. We can't wait to share these great films with our community.
---
OUT in the OPEN Festival (Shepparton): 31 October – 13 November 2022
Now in it's 11th year, there's something for everyone in this 11 day celebration of the LGBTIQA+ community including performances, dining experiences, education opportunities, tours and sharing all wrapped up in a fun festival experience
---
OUT in the OPEN Carnival Day (Shepparton): November 2022 (date to be confirmed)
Celebrating LGBTI+ pride and community diversity, Carnival Day in Shepparton's Queen's Gardens is OUT in the OPEN's big event. Wander through the stalls and markets; savour the smells and tastes of fresh local produce and home-made treats. There's music, entertainment and information galore!
---
Transgender Day of Remembrance: November 2022 (date to be confirmed)
Transgender Day of Remembrance (TDOR) is an annual observance that honours the memory of the transgender people whose lives were lost in acts of anti-transgender violence.
---
Melbourne Queer Film Festival: November 2022 (dates to be confirmed)
For more than 30 years, Melbourne Queer Film Festival (MQFF) has engaged the community to showcase the finest, contemporary queer cinema from Australia and beyond in the largest queer film festival in the Southern Hemisphere. The program encompasses Australian and International features, documentaries and shorts, including World Premieres, Australian Premieres, and Melbourne Premieres.
---
Ballarat Dark Frolic Festival: November 2022 (dates to be confirmed)
BFF is an annual, not-for-profit, volunteer-run festival promoting lesbian, gay, bisexual, transgender, intersex, queer and asexual (LGBTIQA+) regional arts and culture. In its fifth year, the festival will be bold, dark, and unapologetically queer. It will be unlike anything Ballarat has seen before. Come Frolic with us under the Dark Rainbow.
---
Carols by Queerlight: December 2022 (dates to be confirmed)
Back by popular demand, Carols by Queerlight makes its triumphant return for 2021. Join the Melbourne Rainbow Band and our special guests Rachel Dunham, Trudi Camilleri and Justin Clausen as we kick off the silly season in style. Also returning are the CbQ Singers – our seasonal choir will be returning to give voice to those Christmas hits. Stay tuned for more information!
---
Pride Cup
Pride Cup has grown into a national movement for change that transcends sport. Events are held throughout the year. Check the Pride Cup website for more details.
---
A Week of Leather: (dates to confirmed)
Over 7 days A Week of Leather (AWOL) celebrates the diversity of leather and fetish with the men who love it, live it and are it.
---
If your festival or event is not listed above, and you would like to submit for consideration, please send an email to: reception@australianpridenetwork.com.au Your festival or event must be not-for-profit and primarily coordinated by those who identify as LGBTIQ. (Events organised by individuals or commercial entities will not be considered)
Image: Midsumma Pride March 2019 – photo by Suzanne Balding
Note: ** festival contains significant LGBTIQ content